La Terrasse features a very nice, very well-written
live review
of Sunday's Momus / Germlin show at Stereo in Glasgow. Joe Howe (Germlin) is now installed with his girlfriend Emma in our living room (they're taking a several-week-long holiday here before relocating to Aberdeen) and I'm in a position to answer the question that
came up yesterday
, about what stuff they'd glom onto at our place.
Joe got fascinated by a small painting propped on top of a speaker, a reproduction I bought in a local junk shop for €5 of
A Luteplayer Carousing with a Young Woman
by Hendrick Terbrugghen, painted in Utrecht in the 1580s.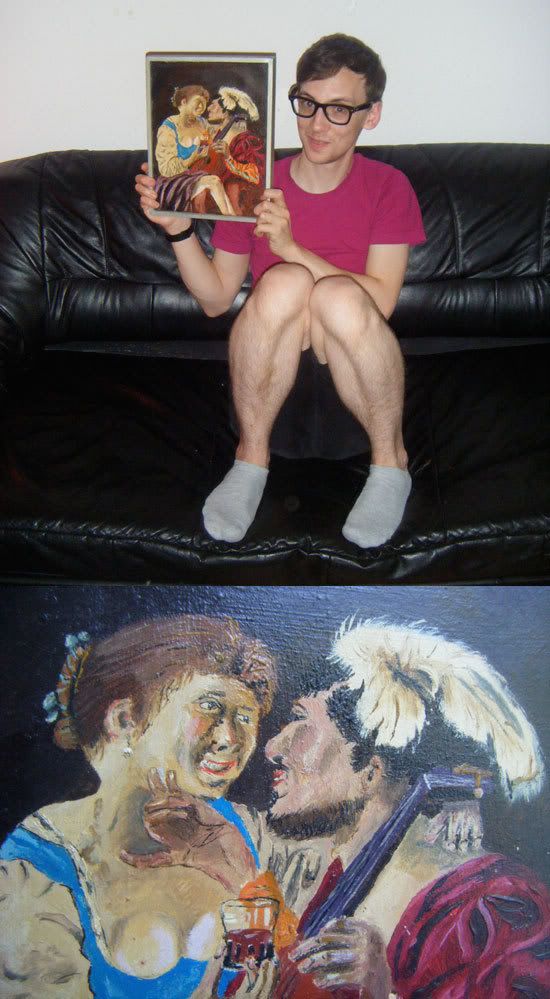 "I like how it's really sort of -- they've tried to be very honest, to make an honest representation of something they liked, but all the weird faults give it its own character " Joe explains.
The woman already has a sort of grotesquely elongated skull and a funny face in the original, but my crude junk store reproduction makes her even odder-looking.
Emma chose a calligraphic painting I'd made of our rabbit. (She's asked me to point out that what she's wearing in the picture is her pajamas.)
"Cos I really like the rabbit, it's as simple as that," says Emma.