The first thing I did this morning was read some
dispatches
, on the Guardian site, from the Festival Fringe, currently turning my home town of Edinburgh carnivalesque. I read the elderly and irritating Clive James -- who, like many mainstream media personalities, got his start in Edinburgh --
pimping his solo show
with lines of slick self-deprecation like "There are veteran quinces with more magnetism. But it won't matter as long as I can still talk." The leering, drawling James had some advice to impart: "pack the line... as on the page, what you say on stage should give value for money, bringing a lot in."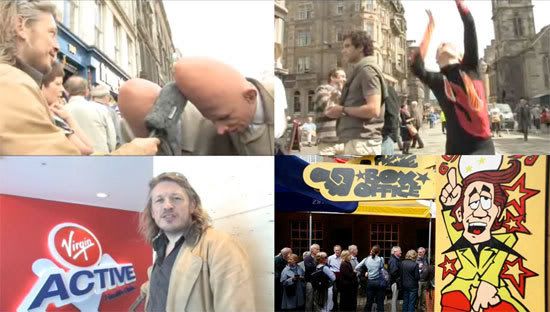 I then watched comedian Richard Herring -- who, like James, is looking about fifty years older than he used to -- guiding us, with painful affability and the same patter of slick self-deprecation, through this year's Fringe comedy acts at the Pleasance.
Herring's video
reminded me just how aesthetically offensive I find Edinburgh Festival comedy, and how glad I am not to be there right now. Why is Herring posing so ostentatiously in front of that horrible Virgin logo in the video? Because it's a fitness centre, and fitness / unfitness is one of the central structuring dialectics of comedy -- you're unfit, generally, because you're drunk and hung over (as Herring himself professes to be in the vid). The other major, central structuring dialectic is self-deprecation / self-glorification.
Comedians have to invest a lot of money in their Edinburgh shows these days (facing, Herring tells us, losses of £20,000 rather than the £2000 or so it used to cost if they flopped). They're desperate to be liked, desperate to be able to launch profitable media careers and become household names. Yet they're aware that their self-promotional efforts make them very annoying. The self-deprecation (an inverted form of arrogance,
especially in the hands of the English
) is the alkaline they mix with the acid of their ambition. It also reflects, perhaps, the bipolar personality of a lot of comics, who love and loathe themselves in equal measure, and swing between jubilation and desperation. Like rock critics, comics seem to be deeply aware of their own shortcomings, and to incorporate them into their work like a row of double A Duracells powered by vanity masquerading as self-contempt.
I
have
been to comedy on the Edinburgh Festival, as recently as 2005. I went to see Demitri Martin, and found him quite funny and clever -- perhaps because he's less Anglo-Saxon -- no boasts of being wasted or a failure for him, just clever concepts. I
wrote about my 2005 festival experience for Wired
, but, being me, ended the piece on a high of quite a different kind: the experience of a work of art (Ian Hamilton Finlay's garden).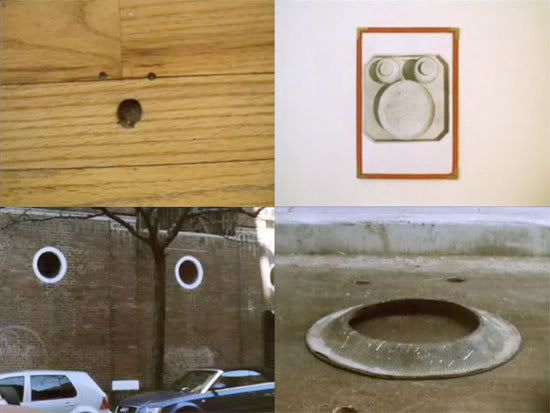 This morning the same thing happened -- nauseated by this glimpse of the Festival Fringe (jokes about getting your wedding sponsored by T-Mobile -- "shit service, no reception", Herring's feeble autobiographical piece about being the headmaster's son), I escaped to the quieter, higher pastures of art video, selecting from my
MeFeedia art videos feed
a piece called
Eyeballing
by Rosalind Nashashibi.
Nothing could be simpler or more universal than Nashashibi's film. People from any culture could understand and appreciate it. Babies could respond. It's about the benign paranoia which makes us see human faces in any shape containing something to represent two eyes and something to represent a mouth. Compared with the comedy sketches reported in the Guardian, you immediately notice something about this video. It's quieter (just the sound of the streets, no commentary), slower, more confident, more winning. It doesn't fill the frame with an irritating showbiz personality with a poorly-chosen wardrobe. It doesn't demand -- via self-deprecation -- to be liked. And it doesn't assume that your attention will wander if it fails to "pack the line" (in Clive James' formula). In fact, it unpacks the line.
It also appeals to a different part of the brain. If comedy makes a concerted rush for the verbal-logical left brain, visual art heads for our primitive, intuitive right brain, a place of pictures, desires, reflexes and instincts. Looking at Nashashibi's faces, I quickly get a sense of aesthetic pleasure which goes back to my childhood, to views of mother leaning over the cot, to tales of anthropomorphised animals, to fear (there's a face in the wall!) and the imagination that fuels it. My collecting instinct is stirred, my inner designer is invoked, but humour isn't absent either: these faces, after all, are visual puns. I watch them accumulate with delight, I recognise the mindset that would want to collect them and the mindset that would want to exhibit them. I don't feel dirty or cheapened or used after the film is finished, and I don't have a hangover to bore my friends describing the next morning, under garish cartoons of dopey-looking people in the Pleasance courtyard.
If you're in Edinburgh, then, I'd recommend giving the Pleasance a miss and heading, instead, to the
Annuale 08
art festival. You'll feel much better about yourself in the morning.