Japan got a little closer this week, thanks to Google's addition of the country (along with Australia) to its list of terrains visible via
Streetview
, Google Maps' layer of human's-eye-view, 360 degree street level photos of (in theory) every street in each city covered. Cities added include Tokyo, Osaka, Kyoto, Sendai, Sapporo, even
Hakodate
, where I did a residency three years ago.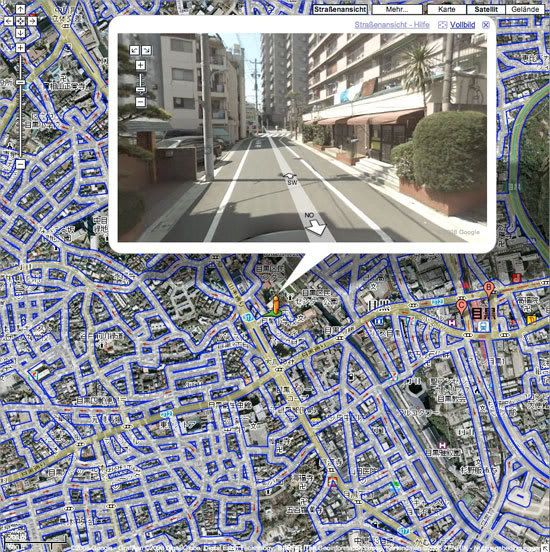 I spent quite a while on Tuesday going for virtual walks in familiar, favourite neighbourhoods. Above, for instance, is a Streetview view of the Meguro flat where I spent much of 2001 and 2002 (it's up on the lefthand side). And here's my favourite Tokyo people-watching -- okay, girlwatching -- spot: Cafe Sign, at the exit of Daikanyama Station.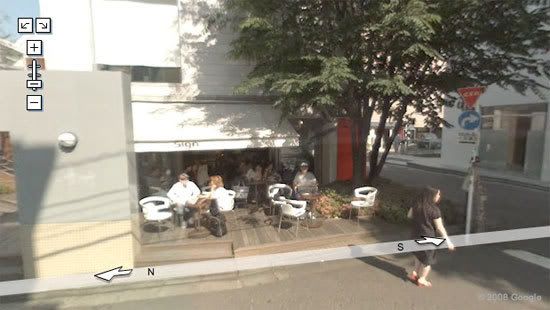 It's a little pricey, but they do good iced coffee and have a patio positioned in the car-free, people-dense area right outside the station. If you're sneaky, you can buy your second coffee cheaper than the first from the stall across the road. Street style photographers and fashion students from nearby colleges lurk here, photographing the beautiful people. My last trips to Cafe Sign were to
meet Lullatone
and
Roger McDonald
.
Here's nearby "funky shack",
Bonjour Records
:
You can zoom fairly far through the open door of Bonjour, but if you want to see what CDs they're featuring on their racks you have to go
to their website
, which features a rack of sleeve snaps not unlike the real thing. Oh look, here's a new
Kitsuné compilation
with a weird tomato puree motif on the sleeve! It's not quite being there, but it's not quite
not
being there either, when you can actually examine and even buy the stuff online. (Not that I'll be buying anything; we post-materialists mostly window-shop.)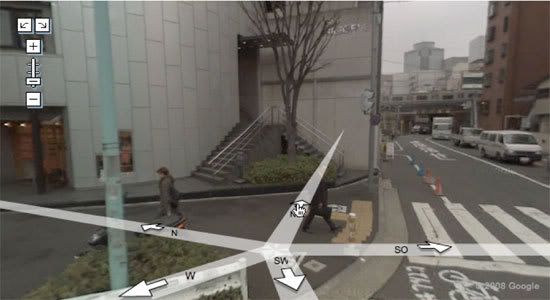 You quickly learn how to "walk" through Streetview via the keyboard arrow buttons (up is forward, down back, left and right allow you to swivel your head and look around you, plus and minus zoom in and out, and the diagonal arrow buttons let you look -- but not move -- up or down).
There are some limitations, and they're particularly evident in the Japanization of Streetview. The pictures are taken from the roof of a car; since many of Japan's most interesting places are pedestrian-only (the arcades of Osaka, for instance), you won't see them here. Even Hisae's family house, located on a narrow street in Tennoji, isn't visible to Streetview -- this view (several streets away) is the closest you can get:
People-watching is frustrated by Google's privacy policy: faces are strategically blurred. And, in a city in which most journeys are made by public transport, this is a car's point of view, which makes it frustratingly distant. This is as close as the freeway-bound Google camera could get to Alin Huma's Ginza pad, for instance -- we're trapped on the wrong side of the elevated Shuto Expressway, and the building (along with the Nakagin Capsule Tower beside it) is all but invisible.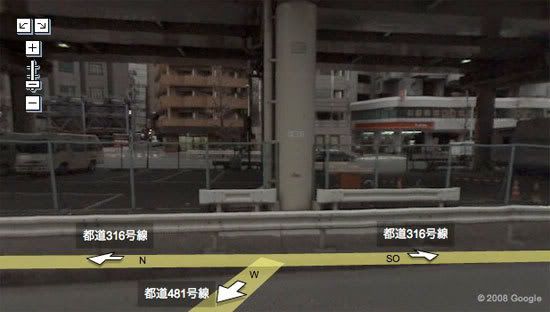 How close to Tokyo can you get when you can't climb onto trains? Well, I guess there are always David Crawford's
Stop Motion Studies
for that. Imagine a Google Streetview which included the trains, and which updated views of the people riding them every few seconds!
Some quirks of the system were being discussed on Japanese bulletin boards this week: the Google car intrudes into some shots and has been digitally removed, which has left some people limbless in the pictures. In one sequence the Google car is seen being stopped by the police, apparently for speeding. In others, sun flares chop big white gaps out of buildings.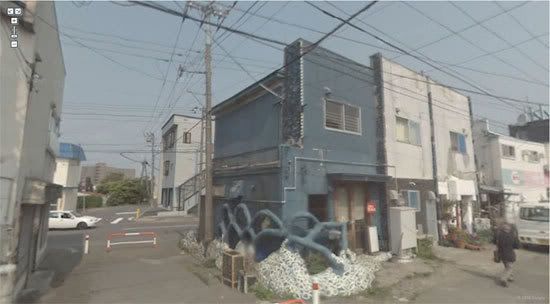 I found that the digital
flanerie
got more interesting the more immersive and intuitive the interface became. I zoomed the screen so that only the picture box was visible, then projected it big on my wall. My wireless keyboard was a good enough navigation tool, but I couldn't resist downloading Iospirit's $20
Remote Buddy AJAX remote
, an ingenious piece of software which turns your iPhone or iPod Touch into a programmable remote. Basically, the Touch controls the desktop computer via a webpage and a local server. You can also reconfigure Apple's little white Remote Control.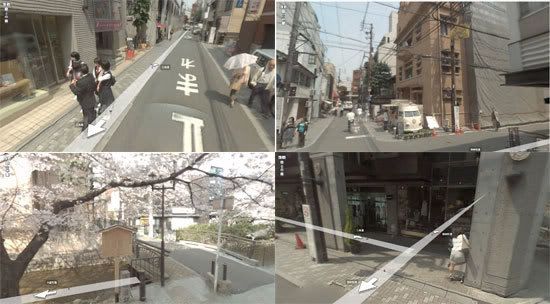 I programmed various gadgets to control these Japanese walks with the idea of throwing a Streetview party for our Japanese friends here in Berlin. We'd eat Japanese food and take turns in giving guided tours of our favourite haunts. "I think you'll find that's an idea that leaves Japanese people a lot less excited than it leaves you," said Hisae.