Blogs are the new record labels! So it seems, anyway. I've already given you some videos, a re-release program, and a bit of A&R scouting this week. Now I can report that another blog, Systems of Romance, is giving away in its entirety my very first recorded work,
The Man on Your Street
by my first band The Happy Family.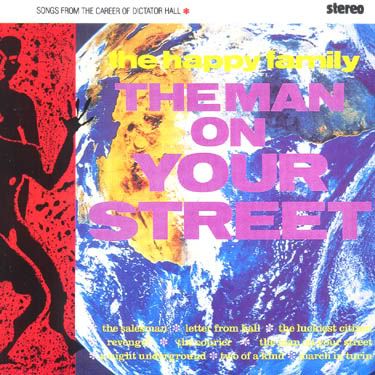 The leak may not best please 4AD Records, who financed the recording back in 1982 and are still offering
digital downloads
in their shop for 79 pence a track. "Released 01 November 82", they note, adding "Hearing Momus' Nick Currie singing in a decidedly youthful fashion is one thing, but is the album itself any good? Happily the one full-length work that the Happy Family gave the world, expanded on CD thanks to the inclusion of the Puritans single, is a wry little treat."
I
quite
like the album, I wouldn't put it higher than that. I think there's more magic in the rough
Germs of Gems
demo which convinced Malcolm Ross to put the band together for me. And I wish (again!) that we'd let
Vaughan Oliver
do the sleeve. We were taken to his house to meet him and everything, yet I insisted stubbornly on making his potential silk purse into my own eyesore-ish sow's ear.
Accounts of the album tend to stress what we
didn't
sound like rather than what we did. "The band's sound is very different than the material 4AD was releasing at the time," says Systems of Romance. "Instead of budding ethereal or doom-ridden post-punk, the Happy Family had more in common with Brel-esque pop, tossing in several literary sensibilities." That was deliberate; the doomy thing (which you can hear in Innermost Thoughts, the track that interested 4AD in the first place) was already getting to be a bit of a cliché, so I steered the project in the direction of Brechtian
Neue Sachlichkeit
rather than sickly Germanic Romanticism, and in the direction of personae and plot and artifice rather than direct, "authentic" personal expression. (See my old essay,
Beyond the Pale
.)
Actually, it was quite a personal album. Personal-political, anyway. Britain at the time was undergoing a major swing to the right, and this was reflected in my own family. My parents, who had been Liberal Party members in the 1960s, divorced in 1981 and my mother ran off with an unrepentant Thatcherite. That story -- transmuted into a tale of fascists and terrorists set in the alpine scenery of northern Italy and Switzerland (the dramatic scenery I was enjoying
two weeks ago
, in fact) -- is what gives my tale its emotional vigour.
"Comparisons to Josef K were both inevitable and frequent," writes Ryan Foley on the
Merry Muses of Caledonia
site. "Unfair, too, as The Happy Family's The Man On Your Street bore little resemblance to anything produced by the aforementioned Sound Of Young Scotland act."
I actually wanted us to sound more like Josef K than we did -- I was a bit annoyed when bassist Davy Weddell spent his advance (I split the publishing money five ways) on a Fender Jazz bass, because the odd rubber-bandy thrum of his cheapo Woolworth's bass had been a big part of Josef K's sound. We never clanged and chimed in the loud, Velvety-punky way the K did -- my arrangements were too polite, and I played semi-acoustic rhythm guitar rather than a hard, hot, brittle, tremolo-armed Fender Jaguar. But with the arrival of Neill Martin on keyboards, the Josef K sound was no longer a relevant comparison. The K avoided keyboards. We, meanwhile, added a Korg M10, a string machine, and a funky clavinet formerly owned by Midge Ure's band Slik.
By the way, Neill is the only Happy Family-ist I see to this day. He teaches at the Celtic Studies department of Edinburgh University.
Here's
how he looked last month. He reminded me that the little riff he played in
King Solomon's Song and Mine
(on the first Momus album) was actually a quote from the Happy Family song The Mistake (part of the free download). It was there to signal the idea that selling your life "for a song" is... a mistake.
Systems of Romance is wrong to say that "ten demos for an unreleased second album surfaced in 1985 as The Business Of Living". Actually, James Nice's 1985 tape release on LTM was a set of demos for the first album. James came to my recent
Glasgow gig
and expressed an interest in releasing the seven Momus Creation albums through
Les Temps Modernes
. He approached Sony, who quoted some laughably stiff licensing fees. So maybe some day I'll make them available as free downloads here on Click Opera. Blogs are, after all, the new record labels.