A trip to a friend's flat is a chance to absorb and exchange information -- what they're into, where they've been, where they're going. You get onto the same page with someone by entering their space. You synchronize watches, you do "signature specification". It's field work in a flat.
At the weekend my friend
Jan Lindenberg
-- an art student when I met him, Jan now works in sustainability design research for a telecoms company -- invited about four of us to his place (he just lives round the corner in Neukolln) so that we could tell him about stuff he could do on his upcoming trip to Japan. Jeweller
Naoko Ogawa
also wanted me to advise her on places to go in Vienna during her upcoming trip there. And Hisae needed her clunky, broken printer tested.

As usual -- and with Jan's permission -- I snapped the stuff on his tables and shelves, if only so I could google it later. Someone's room is like an appendix of footnotes. Or do I mean that a blog entry about someone's room is like a footnoted appendix to the room? In the photo above, for instance, there's an URL:
CAC Bretigny
turns out to be a contemporary art space in Brétigny, France, currently showing two artists exhibited in this year's Berlin Biennial, Rosalind Nashashibi and Lucy Skaer. Their 2006 work Flash in the Metropolitan saw them lighting various ethnographic pieces in New York's Metropolitan Museum of Art with strobe lights, highlighting a question I raised in my
Museums are better than clubs
piece: "What if Dionysus lived in a museum?"

Jan's flat is chilly compared with ours, but the lack of heat just shows his commitment to sustainability, and -- being as big a Japan fan as I am -- he supplies Japanese-style blankets (recycled ones!) that you can either fold on the floor and sit on or drape around yourself. I'm very jealous of his Technics SL1200 turntable, which on Saturday was playing New Order's Power, Corruption and Lies -- a record I bought when it first came out in 1983, and which produced all sorts of weird juxtapositions in my head (when I was listening to it I was working a data entry job at Lloyds Bowmaker in Edinburgh, living in a mezzanine room overlooking the Firth of Forth). The CD is Kalk Seeds, a
Karaoke Kalk
compilation which includes a Toog track.
Flexibility -- Design in a fast-changing society
is an exhibition Jan recently saw in Turin (currently Design World Capital for 2008). It's held in an old prison (the
Designboom coverage
is excellent, and the location looks amazing), and continues for another week. The exhibition "explores the diverse ways of designing the world and society starting from a concept of adaptability, from the perspective of transforming town and city environments into more elastic places, durable but also welcoming and changeable spaces". Fernando Brizio's Renewable Clothing (in which ink seeps out of open felt pens speared into a white dress) is strangely sexy:
I also liked New York design duo Antenna's pretty
sandbag installation
, an aestheticization of a flexible element associated with emergencies, wars, disasters. There's nothing like a crisis to make you focus on flexibility, impermanence and improvisation.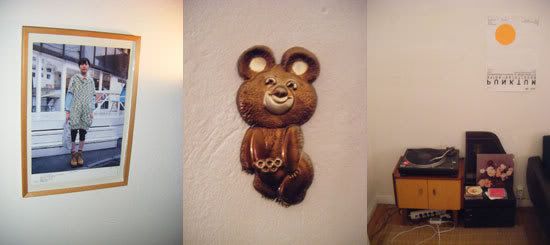 Jan has a framed picture on his wall of Yama-Sama from
Tokyo Bopper
, who's a bit of an icon at our house too. Above the record player is a poster for a Berlin photography show (now over) called PUNKTUM. You can see a Flickr slideshow of images from it
here
.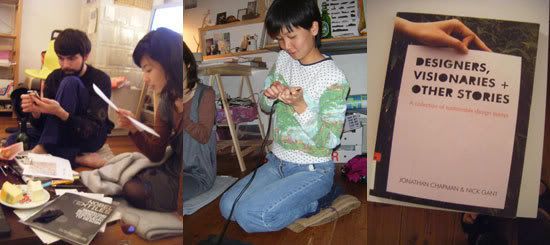 Designers, Visionaries and other Stories
is a collection of essays on sustainable design. This is very much the theme of my
Post-Materialist column
: John Wood's essay,
Relative Abundance
: Fuller's Discovery that the Glass is Always Half Full, for instance, is about the "hedonic treadmill", and calls for a new dream to replace the never-satisfied dream of American consumerism. In the new dream -- the replacement -- we'd learn to "accept rewards that place less emphasis on income, and more on an enhanced quality of life".
I turned immediately to the essay entitled "Why design anything at all?" which says: "Asking people to stop consuming is a pointless endeavour, when what we should be pursuing is redirective behaviour which steers consumers towards greener and more sustainable alternatives". By the way, Naoko is playing a new iPod app in the picture above which turns the screen into a tactile, playable guitar keyboard surprisingly like a real guitar. Does this make us consume fewer guitars (saving wood, nylon and metal) or more iPods?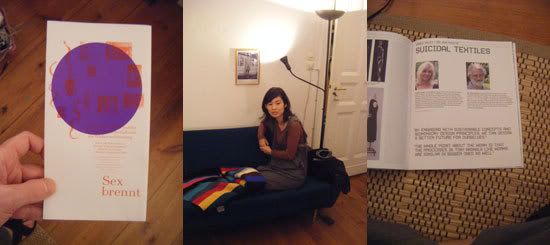 The flyer is for a show (now ended) called
Sex Brennt
, about how the Nazis in 1933 burned the books in the library of Magnus Hirschfeld's pioneering sexual research institute, the Institute for Sexual Science. Freud's books were also burned. "Down with the destruction of souls through the overvaluation of sexual drive!" the Nazis shouted.
Suicidal Textiles
is a piece shown at Nobel Textiles, a show at the ICA which showcased a collaboration between art students from St Martins and Nobel-winning scientists. The Suicidal Textiles project saw designer Carole Collet paired with biologist Sir John Sulston. The idea is that decay -- in the form of programmed cell death and bacterial breakdown -- becomes included in the design process:
"The design concept is inspired by the process of programmed cell death; deliberate cell suicide, which enables organs and limbs to develop. This process is crucial to the shape and function of every organism. Carole chose to echo this principle in her collection of garden furniture and textiles that will evolve with time; the final forms only to be revealed at the end of the 'apoptosis' process. Using biodegradable (natural) and durable (synthetic) materials. Portions of the furniture and textiles will slowly biodegrade to reveal different final forms. The process of biodegradation will also support C. elegans, which feeds on the bacteria that live in soil and compost."

Hisae is always telling me to throw out the old copies of Relax magazine we have lying around the house -- the magazine
ceased publication
in 2006 -- but Jan has them too, probably for the same reason I do:
ProQM
had a fire-sale on all its unsold copies when they moved. The battleship-like forms are actually the silhouettes of buildings, from some exhibition or other, but I'm not sure where or what. Jan, care to give us a footnote?