I don't think we've ever had a Click Opera item about a Japanese theatre director, so here's one on someone I think might be one of the most interesting new directors working anywhere. 35 year-old Toshiki Okada runs a theatre group called
chelfitsch
(always spelled in lower case, the word comes from the English "selfish"), founded in Yokohama in 1997. Okada began as a business student at Tokyo's Keio University, but became a lighting engineer at ST Spot theatre in Yokohama, mainly because he had an idea to make films and wanted to pick up lighting technique. A decade later, Okada is one of Japan's most feted experimental directors, hailed for giving a voice to the "lost generation" of Japan's 25-35 year-olds. I think the thing to do here is look at a scene from his play Five Days in March, staged earlier this year at the Japan Society in New York:
What you see there is something very interesting: a combination of super-naturalistic slang Japanese conversation (Okada calls it "super real") with body language based on real life, but heightened and exaggerated and alienated. Okada's main influences are Brecht (inventor, of course, of the Alienation Effect) and Japanese director
Oriza Hirata
, who believes that actors shouldn't ever look self-conscious. Okada puts together theatre and choreography in an unusual way; banal and trivial dialogue gets a new dimension when it's juxtaposed with observed, heightened "quotable gesture".
When I showed this scene to Hisae (who's bang in the middle of this "lost generation" demographically) she surprised me by saying she found the gestures quite natural. "But if you saw people on the street doing that you'd think they were mentally retarded!" I exclaimed. "Yes, but there are a lot of people like that," said Hisae.
It's also interesting to watch the lighting in that clip. It dims through the scene in a completely anti-naturalistic way, as if to put us on our guard against being seduced by the realism of the banter, and take us into more self-consciously formal areas. Okada may have got his first taste of this power when he was a lighting engineer (it's something I learned when I was scoring a film called The Lowdown back in 1999: music, like lighting, has an incredible power to change the meaning of a scene, especially when it's used against the grain of expectation).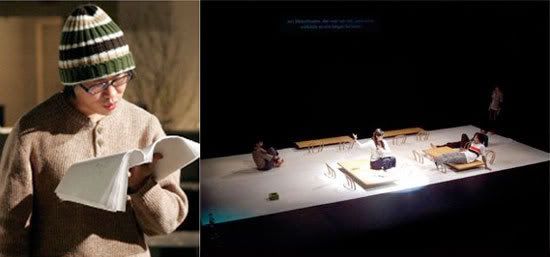 Okada's play titles have a slacker feel: On the Dangers of Marijuana, Cooler, Tissue, Mansion (those last three are dance pieces), Destination, Five Days in March (about the Iraq war), Enjoy, Freetime. Blurb about Okada's work says it focuses on "the insubstantiality of present conditions in Japan". That means -- in his new play Freetime, for instance -- a focus on phenomena like the "freeter" (
furita
), the kid who works a precarious, low-paid temp job in order to have free time to do things that matter (as long, obviously, as they don't cost much money).
Readers of
Neojaponisme
may have heard Marxy deploring the uncreative passivity and lack of spending power of this generation in
a recent podcast
, and mentioning that the only clothing company profiting in the current climate is cheapo basics store Uniqlo. "Kids have less money and if the whole culture game was about spending money, they can't do culture", Marxy says. What Okada's theatre shows is that the "lost generation" can certainly
become
culture, and very interesting culture at that.
Okada
gave a talk at the Yokohama Triennale
's Red Brick Warehouse venue on Saturday. He's showing his work soon in Paris at the new cultural centre
Le Cent Quatre
. I'll get a chance to see his work when it
comes in December
to Kreuzberg theatre HAU, and there's an American tour planned for 2009. You can read an interview with Okada
here
.