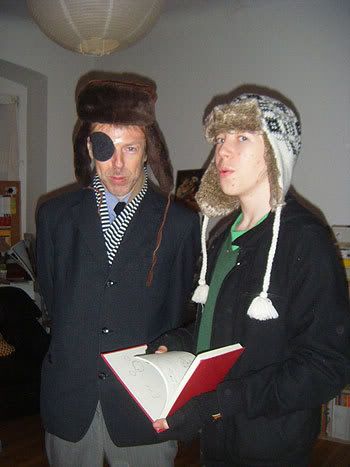 I'm performing as a rice shaman -- together with my 15 year-old nephew Robbie, in his performance art debut! -- over the weekend at
Bridge Berlin Verge 08
, one of the three big art fairs currently showing in the city (the others are
ArtForum Berlin
and
Preview
at Tempelhof Airport).
It's all happening between tonight and Sunday at Old Town Apartments, Schonhauser Allee 5, Mitte. Tonight I'm DJing at the opening party in the Hindemuth Suite (right before Jason Forrest / Donna Summer; my set starts at 7pm, his at 8pm, entry is €5), then from Friday to Sunday I'm occupying an apartment in the building, praising and blaming rice (and praising visitors) in White Trash: The Rice Experiment, a continuous performance with Robbie. There's more description of what the performance is about in
Ask the rice
and
White Trash and the Munchausen Docent
.
At 5pm on Sunday there'll be a Q&A session and Sake Toast in which Robbie and I will announce whether praising and blaming the two pots of rice has had any appreciable effect on the food's condition. Apart from us, there are 20 galleries and artist projects in the building, so come along between midday and 6pm on Friday, Saturday or Sunday and see us talking to plants.
Opening Night Haus Party Schedule:
5 –10pm Party and first look preview
Igor Josifov and Ryan Nobel perform in Von Weber II
7pm Momus spins in the Hindemuth Suite
8pm DJ Donna Summer spins in the Hindemuth Suite
8:30–10pm HÄPPI TÖLE performs in the Bach Room
10pm After party at White Trash Fast Food Restaurant,
featuring Dr. Motte, Love Parade Founder
OPENING NIGHT AFTER PARTY
White Trash Fast Food Restaurant and Diamond Lounge
Schonhauser Allee 6/7
Thursday, October 30, 10pm
Dr. Motte presents "20 Years of Acid"
The Bridge opening-night festivities continue at the world-famous White Trash Fast Food Restaurant and Diamond Lounge, where Dr. Motte, founder of the Love Parade, presents a celebration of Acid Music's 20th birthday in Berlin.