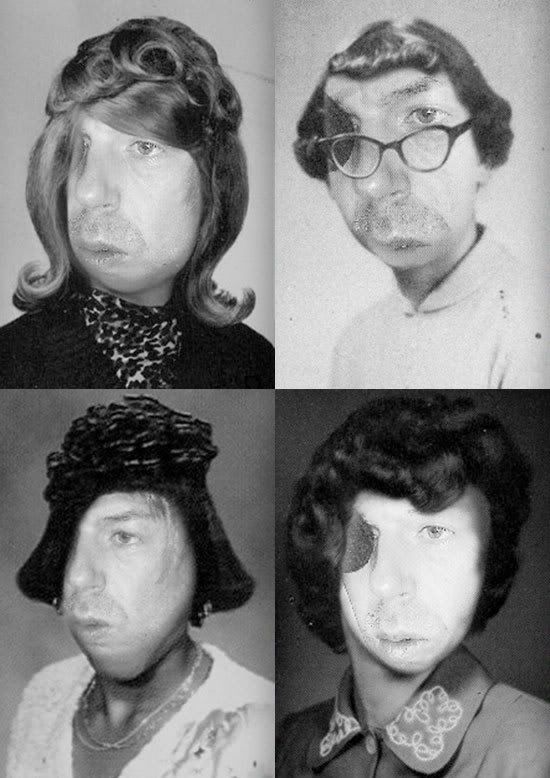 We're now just two weeks from the release of the new Momus album, Joemus. Here's the second YouTube single from the album (the first was
Mr Proctor
). It's called Widow Twanky, and it uses the
YearbookYourself
software which is pretty viral at the moment:
Joemus got its first review this week, from an online publication called
BabySue
:
Momus - Joemus (CD, Darla, Electronic/pop)
"The appropriately-titled Joemus is a collaboration between Momus and Joe Howe (Gay Against You, Germlin). The two musicians did most of their writing and recording over the internet before getting together in Berlin, Germany to finish ironing out the final details of the recordings. Joemus is a slightly kooky album that is virtually unpredictable. One track may find the band playing blippy-bloopy hummable electronic pop ("Birocracy")...but seconds later you may feel that you are listening to a modern lounge artist ("Widow Twanky"). Other cuts may give you the impression that the music is entirely experimental and crazy. The duo covers a lot of ground with these 15 tracks...so much so that the average listener is likely to be taken off guard or lost somewhere along the way. And that may be exactly the desired reaction from these two extraordinarily clever guys. Bizarre modern electronic pop cuts include "The Next Time," "Strewf!", "Goodiepal," "Fade to White," and "The Vaudevillian." Odd stuff, sometimes with a strange nervous twist... (Rating: 5/6, EXCELLENT)"
Kooky, bizarre and crazy seem like strange epithets coming from a website whose
front page
announces: "To Smintre, SNICK on the PLOCK."
Widow Twanky has already been the subject of a fun cover version by Ross Hawkins from
Idle Tigers
:
Idle Tigers: Widow Twanky
(mp3 file, 3.1MB)