Sometimes all you want to do on the internet is look at nice photos of nice people, nicely presented. Today I want to share with you some sites which represent new and slightly different ways to do just that.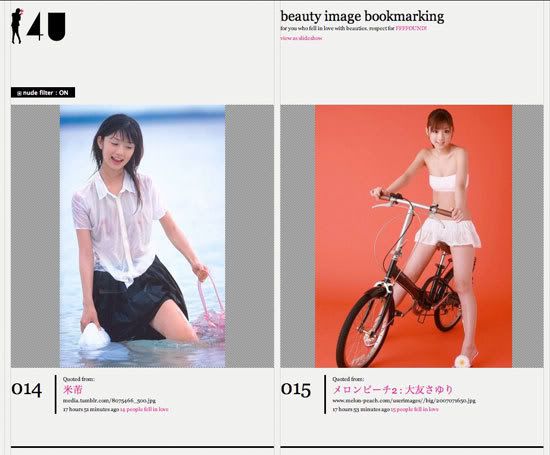 4U Beauty Image Bookmarking
is a Japanese site that aggregates glamour and gravure images (you can chose nude or non-nude settings) from other sites. It's mostly notable for mixing Asian and Western models, for its clean and elegant interface, and for the frequency of its updates (there are almost 2000 pages so far). 4U also offers an Amazon-like "if you like this, you'll also like..." feature, though none of the girls suggested worked for me. Human beauty is more difficult to cluster and bunch than book tastes, it seems.
Another photo-aggregating site with an interesting interface is
RePhoto
, also Japan-based. Rephoto scans for the most popular images on photo-hosting sites, and innovates by providing, under each featured photo, a strip-swatch showing the colours used in the chosen image. You can then click on a colour to see other photos using predominantly the same shade. Warning: clicking on flesh-shades will bring a cascade of naked flesh to your screen.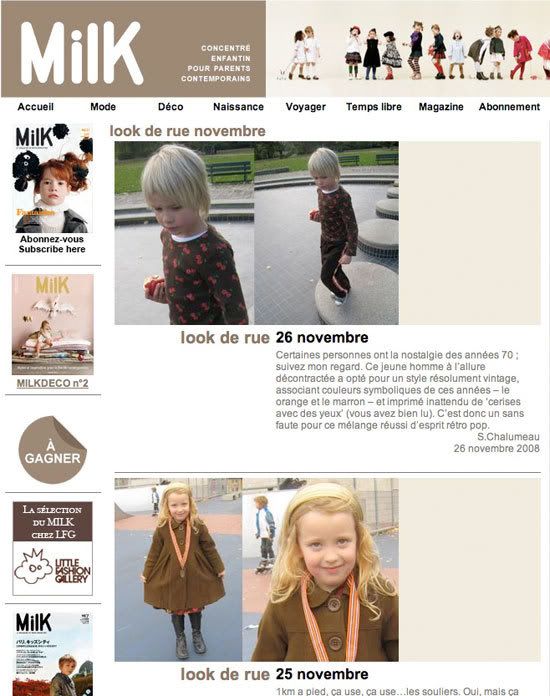 The next two sites dazzle less by their technology than their subject matter; they're street style sites, but focusing on unusual age groups. French kids' fashion magazine MilK has a feature on its website called
Look de Rue
which features casual snaps of toddlers on the street and arch captions which suggest they're completely in control of their own style: "This detached young man has opted for a resolutely vintage style," says the caption under the current photo on Look de Rue, "associating colours symbolic of the 1970s -- orange and brown -- with unexpected cherries with eyes printed on them (you read that right). Thumbs up, then, for this successful melange of the retro and pop spirits". You know, as if all this ran through a five year-old boy's head!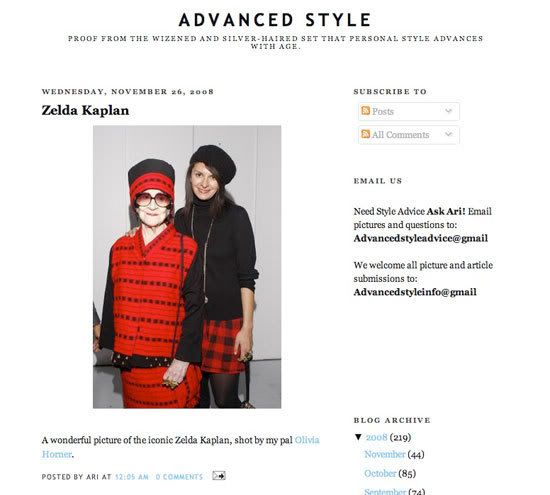 Advanced Style
risks a similar patronising tone when it heaps praise (a little too much, perhaps) on its septuagenarian subjects. "Proof from the wizened and silver-haired set that personal style advances with age," is the blog's motto. What isn't emphasized (and we can always recognize a subject deemed vulnerable by the absence of even a whisper of negativity) is that some of Advanced Style's subjects look cranky, borderline schizo, or seem to be attention-whoring their way across New York City. But all is redeemed by a subject like 93 year-old
Mimi Weddell
, a grand dame truly as "inspirational" as the blurb claims.
Where's the suggestions widget that'll bring up twenty more Mimis if we lose her?