This story -- which I've been researching as a spinoff to an essay I've been writing today for the book accompanying the Stockholm version of the Forms of Inquiry show -- seems almost too good to be true, like the
Ursula Bogner
record which turned out to be a figment of Jan Jelinek's febrile imagination.
The 32 year-old Swiss artist
Luca Frei
, who graduated from Edinburgh College of Art in 2000 but now
lives in Lund, Sweden
, published a book in 2007 called
The So-Called Utopia of the Centre Beaubourg -- An Interpretation
. This was a translation and commentary on a book published in 1976,
La soi-disant utopie du Centre Beaubourg
by Gustave Affeulpin (Éditions Entente). This 1976 book was not only set ten years into the future (its preface was dated 1986), but turned out to be the work of a sociologist called Albert Meister, although it was published (to coincide with the 1976 inauguration of the Pompidou Centre) under the name of Gustave Affeulpin, a person who didn't exist.
Are you following all this? The book by Frei is a presentation, in 2006, of a book which came out in 1976 pretending to come from ten years into the future, a work of fiction by a fictional fiction author which was also pretending to be a work of sociology, and was in fact written by a real sociologist.
As Art Monthly explained in January 2008, "Meister's novel envisages a countercultural initiative that spreads out to fill more than 75 floors sunk through sci-fi technology beneath the Centre Beaubourg in Paris. Writing under the name Gustave Affeulpin, his perspective is anchored in a projected future: the preface is dated... from the first informal assembly of those populating the 'beaubourg' below... Meister writes without chapters and somewhat over halfway through he abandons page numbers. He allows Affeulpin's story to spill out in one long shifting stream of consciousness, which flows on rather relentlessly. The freewheeling narrative has a generous tone, however, and while occasionally verging on the delirious, it can also cast a visionary spell. Whatever the infelicities of expression and implausibility, I found myself caught up in the fantasy, keen to believe in the existence of the burgeoning alternative society described."
The website of Bookworks, the publisher of Frei's commentary on Mesiter's book,
elaborates further
: "Albert Meister's fictional text imagines a radical libertarian space submerged beneath the newly erected centerpiece of French Culture. In a world turned upside down, the seventy-six storeys submerged beneath the official centre for culture provide a platform for alternative modes of work and creation. Reporting, in sometimes hysterical, sometimes more poetic language, and with tongue firmly in cheek, the narrator recounts the vacillations of free organisation, in a satire that never takes its eye of the main target: state sponsored culture."
"Meister's is a largely ironic utopia," reports Mark Crinson
in Mute magazine
, "with a logic in its momentum that often hints at JG Ballard's threatening anarchy. William Morris's Nowhere, with its affirmation of a universal creativity in the face of a crisis in the accepted social roles of work, looms somewhere behind... The anti-Beaubourg belongs to everyone, has no controls at its entrance and no cybernetic projections (a promoter of them is shouted down at the first meeting). It abolishes distinctions between masters and pupils, maker and audience.
"What do the Beaubourgians do? Everyone expresses themselves. On the 62nd floor a gathering of fifty motorbike fanatics is the anti-centre's first activity ('MOTOR = CULTURE'). Diet groups, bizarre cults and the inevitable yoga brotherhoods follow, as well as more conventional cultural activities, even classical ballet. Eros finds its way in quickly – the used sofas gain a new lease of life, shagging areas are demarcated. A diarrhoea of sounds breaks out, apparently unrelated to the anti-centre's new enriched food. A park is made on the 51st floor. Beaubourgians share all equipment. They don't buy furniture or books but have them donated (and, as it were, undonated by predatory booksellers and collectors helping themselves). They accept that sweeping or even defecating might be cultural (after all, who are they to decide?). Nurseries are rejected as areas of confinement invented by industrial society 'to marginalize those that don't yet produce'. So the kids wander, new parents are found.
"Beaubourgians oppose all academicism and want a culture of the people, for all that it may be less brilliant than the one above: 'above they consume culture, here we make it'. Squares are painted over all surfaces of the 68th floor, a harmony of individual variations. Beaubourgians struggle to free themselves from the conditions imposed on them (not a surprise there then), the 'repressive society that wiped your brain'. They make a wall mocking all prohibitive signs. They reject an administrative council and the use of money in the centre. They begin to sleep randomly, wherever their activities bring them. When a gang barricades itself into the 35th floor, terrorising nearby floors and attempting to take hostages, the Beaubourgians simply cut off the gang members' water and light supplies and let them surface after eight days. Later they feel nauseated by their own authoritarianism.
"Generally, they find their own rules of conviviality. Immigrant workers and even the stars – Godard, Foucault, Cage, Belmondo – are well received. There is an ecumenical acceptance of the 'waste' of society: hangers-on, windbags, the pre-conditionists and hair-splitters. Like Littlewood but with more aggressive language, Beaubourgians hoped to 'revitalise the spineless jukebox addicts' and 'decongest the psychotic leeches'. All this in opposition to the Cultivated, the Insipid, the Organised, the Powerful, the Moribund, the Geared-Ups; all those in thrall to the 'grammatic-repressive system'. The anti-Beaubourg inspires others. The Paris zoo is put under the care and control of its users; London's National Gallery is taken over, opening the rooms 24 hours a day and the institution is re-titled 'National Art and Conversation Gallery'; museums in Essen and Berlin follow, as well as a whole neighbourhood in Milan. The Beaubourgian is a new man: suppler, more confident, more thoughtful, and with better bowel movements. The arts become the 'practising of the art of living'. History begins.
"As if in sympathy with the call to freedom and formlessness, The So-called Utopia stops its pagination after page 122, and thereafter heads its pages enigmatically 'The End', 'Everything', 'Yes', 'Bla-Bla…', 'Echo', 'What?'"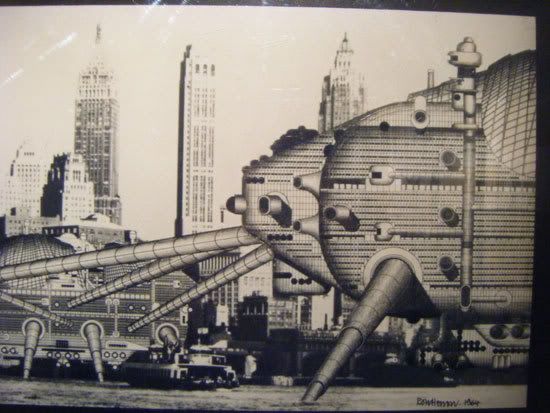 I don't have the book, but accounts of it make exciting reading for me (in between the lines of this essay I'm writing); my own book of a thousand Scotlands was intended in very much the same spirit, and will be randomly ordered and paginated. It's as if each floor of Meister's imaginary Beaubourg corresponds to one of my numbered, delirious Scotlands, each one a parallel world or "so-called Utopia" crushed by the weight of the real one resting above.