Today I have a mixed bag of things I want to signal:
1.
My latest column for Frieze
gazes at the art world through the prism of Erich Fromm's book
To Have Or To Be
, which influenced me in a post-materialist direction when I read it, aged 20, in 1980 (the year Fromm died). It's possible to experience the art world in having mode (objects, collectors, acquisitions, profit, auctions, investments) or being mode (experiences, relationships, sensations), but my article wonders just how symbiotic these modes are; does the being-mode of some depend on the having-mode of others? It's a chance, also, to re-examine Fromm's fusion of Marx and Freud: "The person exclusively concerned with having and possession is a neurotic, mentally sick person; hence it would follow that the society in which most of the members are anal characters is a sick society."
2. The next thing I want to draw your attention to is a couple of rather good cover versions of my songs. I don't know who Amanda Palmer and Steven Wilson are, but they seem to command sizeable and passionate audiences. And they've both covered songs of mine rather well. Here's Steven Wilson doing The Guitar Lesson:
And here's Amanda Palmer, on tour this month, singing I Want You, But I Don't Need You to a gratifyingly appreciative crowd (but also, I think, stretching them a little with the song's casual brutality):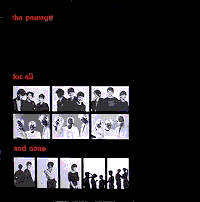 3. Finally, I want to flag some free downloads of three records by my favourite early 80s synthpop band,
The Passage
. I should really write a big long entry about The Passage one day; how their music is a complex triangulation of the concepts of fear, love and hope, a structure echoed in recurrent musical motifs which tinkle and thunder like themes in some great didactic synth-rock opera, how the political vision of this band was the most intelligently left-wing of any of the British 1980s bands, how the transition from night to day, from PM to AM, symbolizes their belief in revolutionary change, how they courted The Fall (unrequited) and slated Anderton, Manchester's evangelical chief of police (even more unrequited, despite a shared love of biblical references), how Witts recruited pretty, big-lipped, floppy-haired Andy Wilson and -- judging by the sound of his voice on some of these songs -- drugged him too, possibly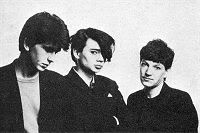 with the Hoffmann Laroche products he loved to sing about, how The Passage is what Hanns Eisler might have sounded like if he'd started a synth band and signed to Cherry Red, how Witts now teaches in
the music department at the University of Edinburgh
.
I love The Passage, and now -- thanks to this cache of illegal downloads on Castles in Space -- you can too:
The Passage: For All And None
1981 (description
here
).
The Passage: Degenerates
1982 (description
here
).
The Passage: Enflame
1983 (description
here
).
When Cherry Red asked me to list my 15 favourite tracks for a feature on their website called
My Favourite Flavours
, my list began and ended with The Passage. More Top 15 lists
here
, including Cornelius's, which includes an album of mine called, apparently, Circus Maximamus ("I'd like Momus to make another record like this"), and poet Simon Armitage's ("Nick Currie is one the all time narrative songwriters and wordsmiths").
For full listening pleasure, though, you should get
LTM's CD re-editions
of The Passage albums, which include extra tracks, singles and radio sessions. Last week I sent
LTM
a cassette of The Passage live at the Manchester Ritz for a Passage live release they're preparing. Rarely has Retro Necro sounded so good.