Another treasure has come up from my cellar, decalcified and scraped clean of rat droppings: this time it's a book by photographer Takeoshi Tanuma entitled
Bunshi No Shozo
or Pictures of Authors. The preface explains that these are "authors who built up Japanese culture after the war". The book appeared in 1990. This is my favourite photograph in it:
This shows the writer Ito Sei in his
shosai
. A
shosai
is a room for books, a study, a workspace, a den for reading and writing. For me, this photo is the archetypal Japanese literary den. Ito sits on the floor in a tiny space, seen from a staircase. A naked bulb hangs above, and from floor to ceiling books line the space, less than one tatami mat across. Perhaps this is what Atelier Bow Wow had in mind when they created their
mediapod
.
Media in my living room continues to rise higher and higher as I bring things up from the cellar and find places to stack them in my workspace. But somehow the spirit of place captured in Tanuma's photos fails to emerge in my own space, a rather transitory and cerebral abstraction through which Wii and iMac signals are projected.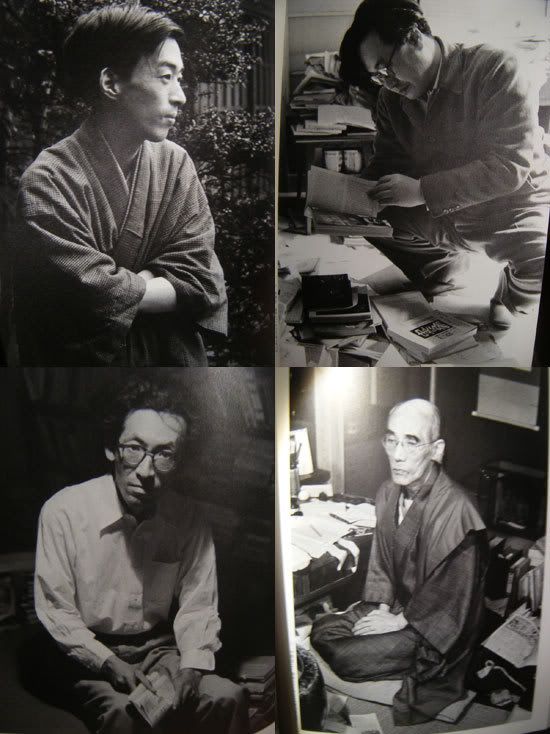 Here we see Yoshiuke Junosuke, Hotta Yoshie (below, left), Noma Hiroshi (top right, with the messy study) and Uno Koji (who looks like the austere leader of Shangri-La in
Lost Horizon
).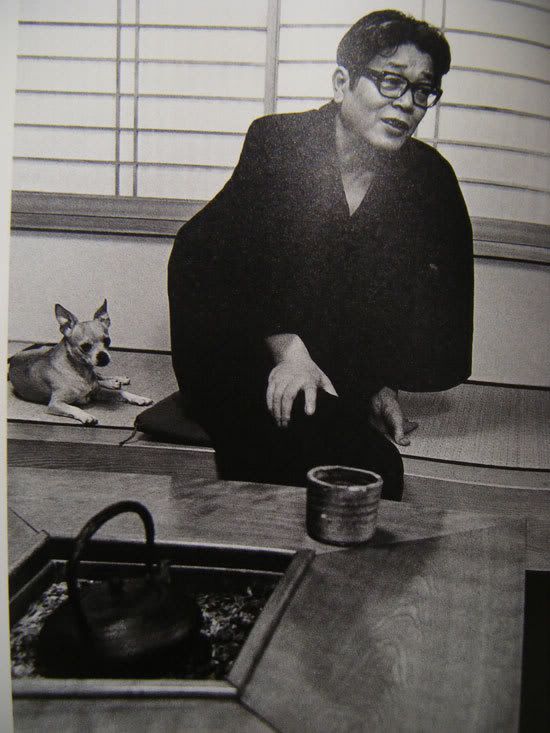 And here is Fujiwara Shinji with his traditional central fireplace and his small dog.
This of course is Yukio Mishima, hard at work composing the Sea of Fertility series, perhaps.
And this smoking man (almost all these writers smoke heavily in their dens) is suspense writer Matsumoto Seijo.