About a year ago I made a
slideshow of Japanese book covers
which happened to show the book jacket you see below, the one with the elephant on it. "Here's an elephant," I explained, helpfully, on the commentary track. What I didn't know at the time was that this was Keiya Mizuno's million-selling novel Dreams Come True, the tale of 25 year-old Hoshino Asuka, an OL whose life is going horribly wrong. Asuka gets sent (presumably from Magic Realism Central Casting) a weird fairy godfather in the shape of Ganesha, the elephant god from the Hindu pantheon. Ganesha -- who rather incongruously has an Osaka accent -- lives in a cupboard in Asuka's nice-but-shabby
shitamachi
flat. They spend most of the time slandering each other, but Ganesha tutors her towards her ultimate goal: getting married.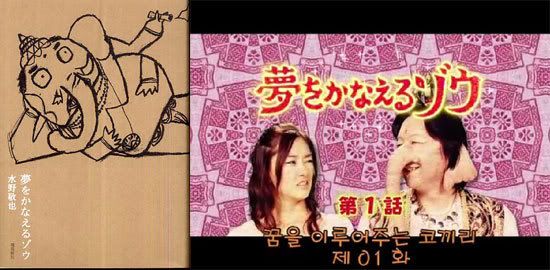 In the first part of the TV adaptation, Ganesha has Asuka cut her over-long sparkly fingernails, learn to cook, and try using her left hand instead of her right. These are all supposed to make her a better, happier person, and, in turn, help her attract a husband. I've been watching Dreams Come True and Big Nose Knows Best -- another title in the Ganesha saga -- via
Free Movie Navi
, a site which hosts pirated flash-media TV dramas from Japan, harvested from YouTube, Veoh, Pandora, Youku and Tudou. The stuff I usually watch is on
Pandora
, a Korean company that ransacks the domestic output of Japanese TV and slaps Korean subtitles under it. It's a bit hard to navigate around on the Free Movie Navi website if you don't read Japanese, so I end up choosing stuff at random. Most of it is pretty formulaic, but I enjoy the little glimpses of Japan the programmes afford, and the chance to pick up some new vocabulary. The Ganesha shows link from
this page
(look for the tiny blue episode numbers in the square brackets).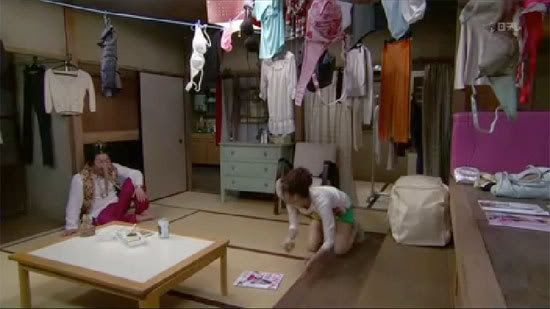 So far on Free Movie Navi I've seen a terrible "bionic schoolgirl" drama called The Masked GIrl (lots of panty-glimpses as she battles the ninja-like henchmen of The Joker), a drama in which a cancer doctor discovers he has cancer, a budding-sexuality-at-school drama, and something about a prissy little girl who buys two cut-crystal glasses in a department store and gets them smashed by a rowdy little boy. And we mustn't forget the weepie about the deaf girl who goes on holiday by the sea.
These dramas are pretty cookie-cutter, but they're non-toxic -- full of good-heartedness and tinkling pianos. Oh, and
pretty schoolgirls tied down helplessly on operating tables
.