I'm sitting in the front row of the
Club Transmediale
lecture theatre when I feel a hand on my shoulder. "Thank you for the song," says Goodiepal. The song in question is track eleven on
Joemus
, the one that recommends we "
swing with the Goodiepal
".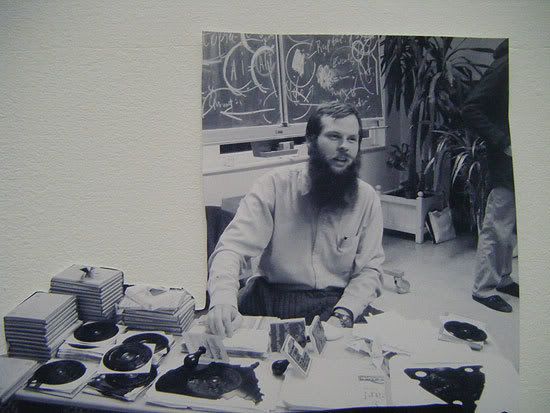 Although I've written a song named after him, I'd never met
Faroese
electronic musician, artist, educator and eccentric Kristian Vester, better known as Goodiepal, before his Berlin lecture yesterday afternoon. He came to the Kunstraum Kreuzberg to deliver a lecture at Club Transmediale entitled
"Radical Computer Music and the War on the Scandinavian Education System"
. Although his lecture was hilariously bizarre -- he tipped a table on its side and started chalking illegible diagrams on it -- it also made a lot of sense. Goodiepal's main points were:
1. Computer Music and Media Art are stupid to the extent that they ask us to replicate the way computers think rather than complement it with our own human ways of thinking. Even computers, should they develop intelligence, won't want us just to do what they already do. They'll want us to do something different. We should fox them -- and fascinate them. We should make art and music that is "unscannable".
2. The same argument that applies to the relationship between computers and humans also applies to the relationship between Scandinavia and America. There's no point Scandinavian educators regurgitating American music theory from the likes of Kim Cascone, John Cage and Morton Feldman. They must provide an alternative, another way of thinking, a specifically Scandinavian one.
Goodiepal also used the lecture to demonstrate his handmade vinyl artworks and his artist's books, many of them concerned with finding new methods of music notation which avoid showing music as a simple progression from point A to point B.
I made a ten-minute video of edited highlights of Goodiepal's lecture yesterday. He began by telling us the lecture had lost him various prestigious Media Art jobs all over the world and even got him bashed on the head with a beer bottle. (I think this talk of being beaten up for his sharp tongue is a running joke of his.) He went on to show us a model of "black dystopian America" and give a hilarious impression of Bjork.
Today between 3pm and 7pm Goodiepal supervises a workshop entitled
Mort aux Vaches Ekstra Extra
(pre-registration required, maximum fifteen people). And even if you're not in Berlin, you can hear him rehearsing the themes of his lecture in
this mp3 walkthrough
(with accompanying
snaps
).
To give you an idea of where this visionary Dane comes from, here he is in a forest outside Aarhus eight years ago, playing flute music:
And here he is in Malmo last year playing a cosmic planet game and making a soundtrack for it:
What an interesting man!