1. This game is called Click Opera Selects The Greatest Cultural Figure!
2. Its purpose is to discover the greatest cultural figure who has ever existed. According to me, as determined by you.
3. In the comments section, you, Click Opera's readers, are invited to submit binary pairs of names of cultural figures for a "battle", to be decided by me. For instance, PLATO / LAURIE ANDERSON. The binaries don't have to work in the same field or have any logical relationship with each other.
4. The figures can be living or dead, male or female, philosophers, writers, designers, film-makers, musicians. They just need to have made some recognized cultural contribution. (MOMUS is disallowed.)
5. The winner of each mini-battle will go forward to fight the winner of the next mini-battle, in strictly chronological order of comments received. The loser will drop out of the league.
6. I don't have to know all the work of the person suggested, but I do need to have heard of them and have some kind of opinion or prejudice about their work.
7. At midnight, Berlin time, a winner will be declared: Click Opera's Greatest Cultural Figure.
8. During the day, the name at the bottom of this entry will reflect the cultural figure currently in the lead.
9. This is also an exercise in how much you the readers can skew and sway the selection process by making the binary selections in the first place.
10. In other words, this is also an awareness exercise about the framing of questions in polls, or the framing of aesthetic and philosophical polarities (eg
Cage v. Branca
).
Currently in the lead:
Oscar Wilde Bruno Munari Fyodor Dostoyevsky Samuel Beckett Jacques Tati Shuji Terayama Florian Schneider William Butler Yeats Serge Gainsbourg The Buddha
Ingmar Bergman Soren Kierkegaard John Cage William Shakespeare Jorge Luis Borges Franz Kafka Brian Eno Marcel Duchamp Josef Beuys Geoffrey Chaucer Lawrence Sterne Jean Cocteau Edith Sitwell Georges Bataille Homer Goethe Pier Paolo Pasolini Italo Calvino Beatrix Potter Lord Whimsy Eye Yamataka Jean-Luc Godard Lewis Carroll William Blake Brigitte Fontaine Paul Klee Rainer Maria Rilke
Bertolt Brecht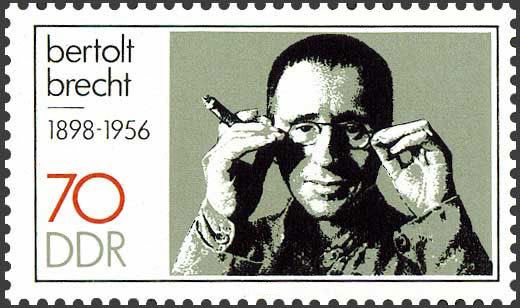 And so we have a winner. Poet, dramatist and songwriter Bertolt Brecht was considered, thoughout the neo-conservative period (1979 - 2008), the mouthpiece of a laughable, dead ideology. And yet now, as the late zeroes start to resemble more and more the late 1920s in which Brecht burst to fame with his Threepenny Opera, and as the entire world takes on the recessionary mantle of a Weimar Republic or a
Mahagonny
, Brecht's themes are fresher than whitewash and more topical than tomorrow's paper. This is a man, after all, who wrote a song called On The Stimulating Impact of Cash. My personal favourite of his plays is The Good Person of Szechuan, which could very plausibly be set in the Szechuan of today.
I'm delighted that Brecht has been nominated and elected the Greatest Cultural Figure of All Time, and I can see from his faint, cigar-smokey sage smile that he's quietly pleased too.
To celebrate, I'd like to play you Robyn Archer's version of a trenchant song by Brecht and Eisler:
Ballad on Approving of the World
(stereo mp3 file, 7.9MB, 4 mins 16 secs).