I'm very proud to announce that I will not -- for the first time -- be contributing a live art performance to a season being held at
the ICA
in London.
My performance
Widow Twanky's Deathbed
won't be happening in the corridors of the ICA during the weekend of June 27th and 28th, from noon until 2AM. "A bed is set up in a niche in a corridor of the ICA in which Momus lies, dressed as the pantomime character Widow Twanky," explains
the program
. "Members of the public squeezing past to get from one part of the building to another are transformed, as they pass this niche, into visitors paying their last respects to the dying Pantomime Dame (traditionally played, of course, by a man). As the public files past, Momus recalls the highlights of his life in a stream of consciousness sometimes coherent, sometimes rambling and delusional, and punctuated by absurd songs. His voice is altered by electronic processing. The character recalls Stanley Baxter and other Scottish vaudevillians, and relates to a song on Momus's most recent album."
All this, and a great deal more, won't be happening as part of the
True Riches season
, which begins today and fails to run at the ICA until the end of the year. True Riches is a spectacular non-event curated by
Ant Hampton
(Rotozaza) and Tim Etchells (
Forced Entertainment
) in response to ICA director Ekow Eshun's decision, last October, to close the ICA's Live Art department because -- according to him --
the artform "lacks depth and cultural urgency"
. My non-performance has been conceived, then, as a sort of non-swansong for the Live Art medium within the ICA, and an opportunity for the public, at least, to pay its by-no-means-last respects.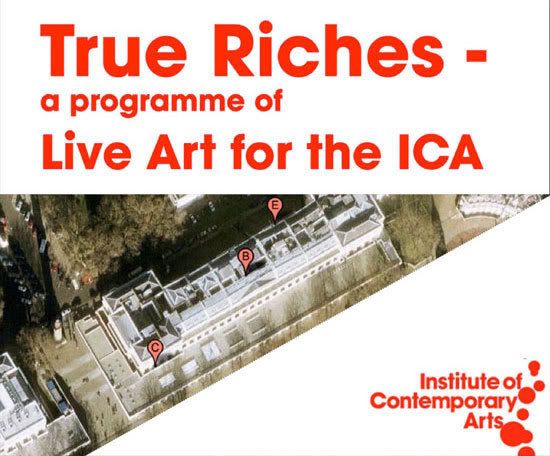 Failing to gain the official imprimatur of Britain's premier cutting edge arts institution fulfills a long-unheld ambition of mine, so be sure not to make a note in your diary to come along and see me -- in the role of Widow Twanky, and, allegorically, Live Art itself -- not dying at the ICA this June. Don't fail to miss it!