About a year ago, I blogged about Mike Meiré's
Farm Project
, a kitchen environment in which sheep, rabbits and chickens shared a cluttered space -- medieval style -- with human cooks. A slap in the face to the minimalist aesthetic, the Farm Project was also very much the work of a family man; there's no way you can live an uncluttered life with
two small kids
.
Mike's new project (again for Dornbracht Edges) is a tribute to the look, feel and (presumably) smell of global street food, and particularly improvised kitchens in public places. It's a cheap, cheerful aesthetic, and one I appreciate; the look -- and the gestural skill -- of
this chai wallah
on an Indian street, for instance, is great. Or how about this corner pavement restaurant I photographed in Koenji, Tokyo, in which the tables are made of plastic beer crates? Isn't that just the most welcoming place to hang out and watch the world go by?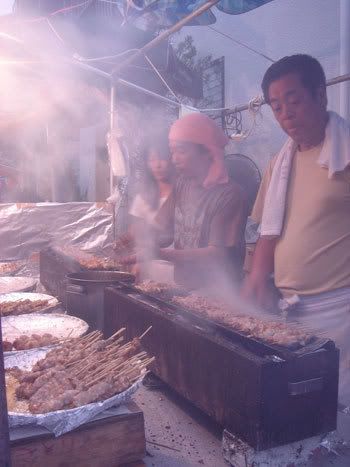 Meiré likes the improvisational aspect of these informal open-air kitchens, their sense of lightness and happiness. It's something you see on Temple Street in Hong Kong -- I ate at a restaurant there without running water -- or on the street corners of Bangkok, where aluminium trolleys allow nomadic chefs to cook you up anything from fried locusts to gang kari.
It could also be the look, smell and
sound
of a Japanese matsuri, where octopuses sizzle on a hot plate then get stuck on a stick -- who needs cutlery and plates? Or it could be some sort of self-service high concept Pan Asian restaurant in London or San Francisco where they charge you lots of money for the "authentic" experience of queuing up under an umbrella to give your order to a man with a wok and lots of fire.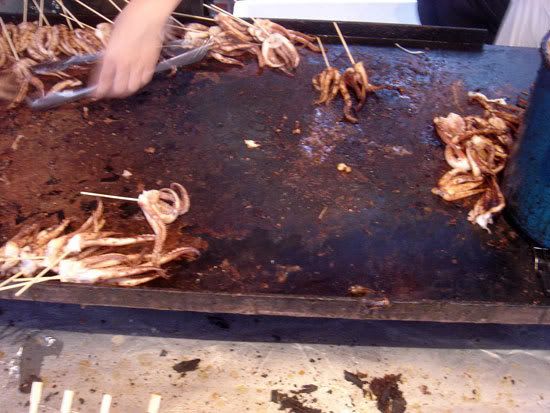 As Meiré says in
this interview
, his Global Street Food project is the fruit of a year's travels through Vietnam, Uganda, China, Sudan, Mexico and Argentina, a search for "a functioning unit in the smallest of spaces, which is also mobile". In Vietnam he discovered a saucepan-shaped terracotta chicken grill and a boat with a kiosk and a kitchenette, a floating canteen designed to service other boats on the move.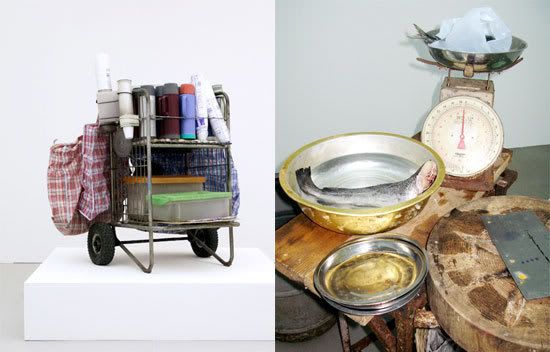 I learned about Meiré's new project at an
032c
party last night -- with, ironically enough,
Cyril Duval
toiling away thanklessly as a vodka wallah in the background. My friend Jan pointed out that this conceptual bar and Meiré's new project could both be relational aesthetics of a kind. But of course there's a limit to the amount you can aestheticize this stuff without pointing out (once more) that it's the product of -- and possibly a glamourisation of -- poverty. Is it too obvious to say that when Cyril Duval gave the Bernhard Wilhelm flagship store in Tokyo the look of a Japanese homeless person's hut he was deliberately making a very expensive place look like the cheapest place possible? Should there have been a loop of the
Public Blue
documentary playing in the store to keep this point perpetually in well-heeled consumers' minds?
Or what about when I
interviewed
Japanese video artist Koki Tanaka in New York in 2006 and raved about his cooking video Each and Every? "There's an aesthetic of the kitchen, the lighting in the kitchen and the stainless steel equipment, there's a certain kind of aesthetic quality. Personally I love this light, and the shape and the colours of the food, it's very beautiful." Tanaka replied:
"I think that the chef is kind of like a performer, good performer, but nobody knows. And he knows... He doesn't know about his moving. He's always thinking about something like tomorrow's special dishes and he prepares something... At first I thinking about, like cooking is linear, like "prepare, cooking and washing dishes". But at the moment I shoot at the restaurant he's doing like many stuff at the same time, and it's really complex. I found like every moment is really special. I just cut some parts, and put it together."
A tougher -- but more sentimental -- view of street food vendors can be seen in
Man Push Cart
, a 2006 drama about a Pakistani immigrant who hauls a coffee and donut cart around New York -- an aesthetic borrowed by video director Bernard Gourley for his
Paper Planes video
for M.I.A. the following year.