1. All my life I've been terrified and mystified by the price of houses. I never bought one because I couldn't even conceive of scraping together a quarter of a million pounds, and certainly didn't want to borrow it. Meanwhile, most houses looked incredibly shabby and conformist and depressing to me. Houses only looked exciting in architecture magazines, books, blogs. There, they almost seemed worth the money.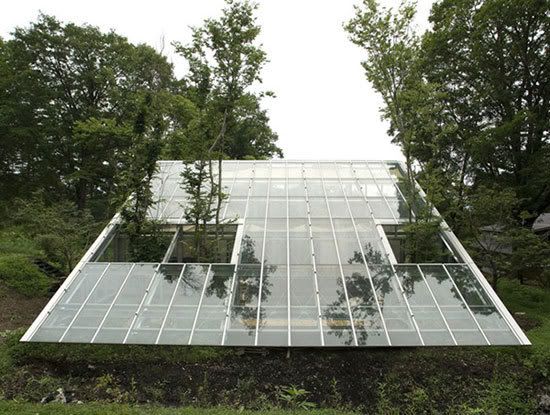 2. The trouble with expecting houses to be exciting and original -- the way you might expect a piece of music to be -- is that houses have to stand up, and be fireproof, and meet all sorts of building codes and planning restrictions. This
Camouflage House
in Japan, for instance, shaped like a greenhouse. Are you
allowed
to live in a greenhouse?
3. An extremely depressing Yahoo Answers topic headed
What would happen if I built an unconventional house that did not meet building codes?
has the following "best answer": "Before you even START building, you'll have to get a building permit from the city or local government. To do this, you'll have to provide them with architectural renderings (blueprints) that show every aspect of the house: dimensions, building materials to be used, electrical and plumbing schematics, and what the exterior will be made of, as well as other things. Some localities dictate what the exterior must look like. For example, in our city, the exterior of the house MUST BE at least 70% brick.... No matter what, it would be unadvisable to start building without the proper building permits. Not only can the city come in and tear down what you've already done, but you can be subject to fines and even jail time."
4. Imagine a world in which people could be jailed for making an unconventional piece of music! Imagine a world where the local authorities told you exactly what sounds you were allowed to make! (Actually, Britain is approaching this kind of world, at least as far as live music events go. Proposed new
legislation
not only limits volumes, but requires "planning permission" applications for concerts across pages and pages of forms, weeks in advance of a concert.)
5. So who would be an architect, when they could be a musician? Well, some people clearly get off on bending the rules. I'm very impressed by dRMM's
Sliding House
in Suffolk, recently finished. From Dezeen's account of this beautiful building, a lot of its features have come about to squeeze the maximum innovation and originality possible into the nooks and crannies of tight planning restrictions. The structure poses as three conventional forms, all looking a bit like vernacular farm architecture, sheds, and so on. "A 28m linear building of apparent simplicity follows the requisite maximum 5.8m permitted width, 7.2m height is sliced into 3 programmes; 16m house, 5m garage and 7m annexe." In the comments under Dezeen's piece, the client chips in, explaining why the stained larch shell of the house slides along rails, powered by electric motors: "the function of the roof is shade, insulation, decoration and (importantly) hiding all that scary glass from the planning officers". The unsheathed house looks like a greenhouse, you see, and you wouldn't be allowed to live in a greenhouse.

6. Maybe one reason you wouldn't be allowed to live in a greenhouse is that it's just too cheap. Part of me believes that the boringness-expensiveness of conventional houses is one gigantic conspiracy. I googled to find the price of industrial greenhouse barns designed for livestock and found one (Ovaltech -- "
the optimal breeding tunnel
", yum!) by Harnois. It's big, light, elegant -- the kind of place I'd happily live. The
FAQ
says: "Prices range from $2.50 to $3.25 per square foot for the Ovaltech... Two people working steadily could erect a 30'x100' Ovaltech greenhouse in about two days." That makes the price of an elegant Ovaltech greenhouse barn around $10,000.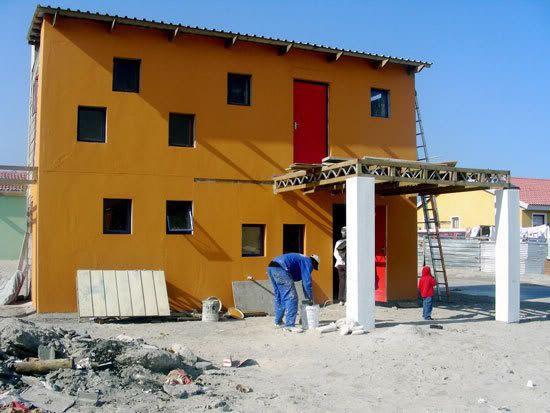 7. Okay, maybe it's not practical to live in a barn unless you're a cow. But perfectly liveable and likeable houses can be built for less than $10,000. The
Design Indaba 10x10: Ten Houses for Freedom Park
project saw ten Western architects donating pro bono open source low cost housing designs to a site outside Cape Town. The aim was to provide ten family homes of at least 42m2 for just 65,000 Rand (£4,300/$8,600) each. The budget went up because of 30% inflation during the building period, but it was still fantastically cheap and, as you can see from the
10x10 blog
, the houses are looking pretty nice. (Whether they're exactly
what the residents of Freedom Park dreamed of
is another matter.)
8. This stuff -- exacerbated, of course, by the recent-but-thankfully-now-popped housing bubble -- is why I neither became an architect nor bought a house. I always wondered why architecture student friends tended to build their first house in Mexico or some similar developing nation. Only there, it seems, are the building codes lax enough and the land and labour costs low enough for an architect to feel as free as a musician.