On his 49th birthday, Momus reflected, naturally, on the big downside; that it's a ridiculously old ("pushing 50!") age to be, and that even older ages are lined up on the other side of it, and then (eventually) The Big Nothing.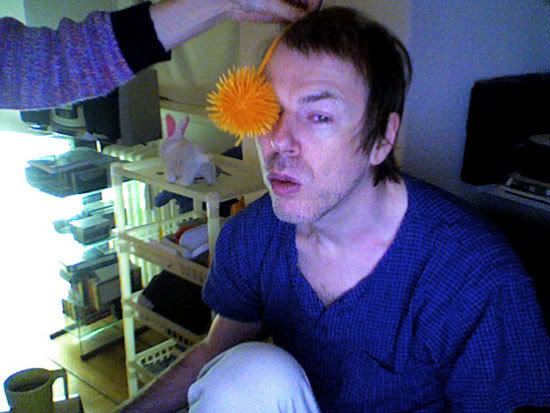 On the other hand, on the upside, his lovely girlfriend Hisae said: "You're very lucky that you're still cute at 49!" (And dangled an orange rubber massage ball over his bad eye.)
On the upside, too, the elderly Mr Momus received some very nice birthday presents. Hisae got him a bottle of peaty, firey Laphroaig Islay malt, ten years old. And composer
David Woodard
dropped by with two excellent gifts -- Shamans of the Blind Country, a film by Michael Oppitz which "pursues the main features of the Inner Asian tradition of shamanism, as preserved amongst the Northern Magar, a hilltribe in central West Nepal" (and has
a script
by William Burroughs, apparently) and a vinyl double album by Robert Ashley + Walter Marchetti entitled October 25, 2001 Merkin Concert Hall NYC, with some lovely stately piano decays on side one.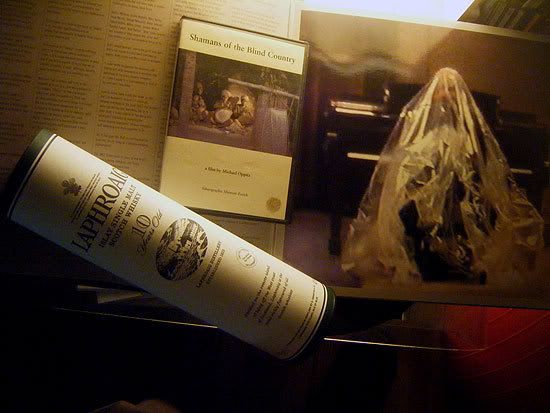 During the week of his 49th birthday, as if to intimate that he was not forgotten in the far-off British Isles, Momus was mentioned in three British daily newspapers: in a
Guardian theatre blog
about the ICA Live Art programme
True Riches
, and in articles about Howard Devoto in
The Independent
and
The Financial Times
.
Mr Momus spent the week of his 49th birthday working on the two books that will appear in 2009, The Book of Jokes and The Book of Scotlands. The Book of Jokes -- it can now be revealed! -- will be published in English by
Dalkey Archive Press
(alongside Barthelme and Rilke,
swoon
!). The Book of Jokes is also published -- towards the end of the year -- in French by
La Volte
and in German by
Blumenbar
. The Book of Scotlands will appear in late spring, in English, via
Sternberg
.
If piracy is the sincerest form of flattery, it might be worth noting (and nothing) that Mr Momus' music was changing hands for no money on the internet on the week of his 49th birthday. In addition to his
Creation albums
, a
Rapidshare version
of the album
Orgonon
was spotted, a record made with Laila France and released on Berlin's Bungalow Records in 1997. (Is it time for drum'n'bass inflected loungecore about Wilhelm Reich's concepts of the orgasm to poke its head out of the
anxious interval
?
Why not?
)
Finally, a concert. Join Momus this Saturday, February 14th as he celebrates thirty years of teenagerhood (and St Valentine's Day) with a special Berlin recital entitled 1979, comprising the first-ever live reproduction of songs he recorded at the age of 19 -- a concert version, in fact, of the recent
Innermost Thoughts podcast
. The 1979 concert takes place on Saturday 14th February at
Loophole
, Boddinstrasse 60 (u-bahn Rathaus Neukölln, map
here
) and also features pentatonic glam rock xylophone band Topmodel. Doors open 20.30.