All is not well in the world of periodical print media. Paper magazines and newspapers are dying, replaced by the activity you're engaged in right now -- reading content free off a computer screen. The big picture is of slow decline -- the New Yorker
reported
last year that since 1990, "a quarter of all American newspaper jobs have disappeared... the dwindling number of Americans who buy and read a daily paper are spending less time with it; the average is down to less than fifteen hours a month. Only nineteen per cent of Americans between the ages of eighteen and thirty-four claim even to look at a daily newspaper. The average age of the American newspaper reader is fifty-five and rising." But the short-term picture, as of early 2009, is of a sudden, precipitous decline in titles and jobs. It looks like a cull, the beginning of a rapid end.
I want to look at mainstream publications in the US and the UK, but first let's start in the tiny world of the magazines I like. In October 2008 I blogged for the New York Times about
Sede magazine
, a publication from Argentina. My focus was the question of how the financial crisis will impact what we do, and three months later I had an answer: both Sede and my New York Times job no longer existed. Juan Ignacio Moralejo, Sede's creator, plans a new magazine called Postal. I continue to write for magazines, but am currently owed over $2000 in unpaid fees. I'm beginning to wonder if this is the future for freelance writers: put weeks of work into features, then worry increasingly if the company who commissioned you will even be around in a couple of months to publish them and pay you.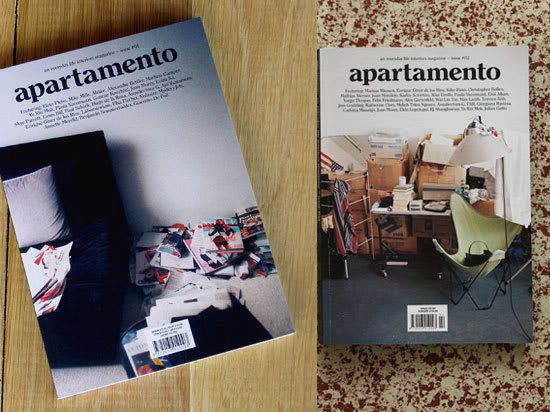 Mags I like, like
Apartamento
, Ku:nel,
Re:Standard
, CODE, MiLK, Turps, 032c and Brutus all continue, for now. But a title I blogged my appreciation of in late November,
Kateigaho International Edition
, has since disappeared. Will magazines themselves soon become
Living National Treasures
? Are
magazine shops
going the way of record shops?
Okay, let's turn away from poetic niche publications for aesthete post-materialists and look at the big mainstream players in the US and the UK. How are they doing? Well, British newspapers are doing pretty badly, according to the
latest ABC circulation stats
. All UK daily newspapers except the Daily Star saw year-on-year circulation declines. The Sun, the UK's biggest-selling paper (three million copies daily) is slipping least, The Independent is plummeting (down 14% in its daily edition, down 24.4% on Sunday).
Guardian Media Group
, despite (or because of) a
shiny new building at King's Cross
, implemented a pay freeze and bonus suspension across their whole staff. The Guardian was down around 5%.
Amongst UK music publications there's chaos; the circulation of traditional market leader -- the lobotomized, indie-oriented New Musical Express -- was down 24.3% year on year to 48,549 in the second half of 2008. At that rate of decline you don't have to be Einstein to calculate that the NME's circulation will be zero within four years. The IPC's NME was
hammered by Metal Hammer
, a metal rock mag from rivals Future Publishing, whose Classic Rock magazine overtook the NME a year ago.
Amongst the "retro necro" monthlies things weren't much better. Q lost 21.6% of its circulation in 2008, down to about 100,000 copies a month, and parity with Mojo, which fell 5.4%. Kerrang! lost 32.1%, falling to 52,272 copies. Uncut was down 4.3% to 87,069. In the US, Metal Maniacs, Metal Edge and Relix magazines all went "on hiatus".
What we could call the "glitz 'n' tits" sector of the UK market didn't do any better, with plummeting circulations seen by Maxim (down a catastrophic 41.4%), Zoo, Nuts, Loaded and FHM (down 13.5%). Weekly celeb title OK! lost 25.6% of its readers in a year. Can't say I'm sorry to hear this, personally; I hated those magazines. In the US,
bankruptcy
curtailed the activities of the Ziff Davis group.
Things get even more serious when magazine distribution companies start going bust -- we saw how foreign magazines have become almost unobtainable in Japan after
the collapse of Yohan last August
. The same thing is happening in the US right now, with reports indicating that magazine wholesalers Anderson News and Source Interlink are closing. "A worst-case scenario could have People's 1.5 million newsstand average cut to 1 million," reported
MINonline
.
There are spots of good news, though.
Mr Magazine
points out that for every magazine pronounced dead in 2008, there were 20 new launches. In the UK the overall number of magazines sold or distributed was up 3.7% year on year, to a total of 81,227,572 in the second half of 2008, up from 76,238,115 in the second half of 2003. Some magazines -- Red, Vanity Fair, Harper's Bazaar, Vogue -- saw increases or stayed level. Easy Cook magazine saw its circulation grow by 20.4%, as people increasingly spurned restaurants.
The recession's big winners were
magazines about the recession
, which increased their collective circulation 71.1% year on year, largely thanks to the appearance of a free magazine called Sense. Moneyweek was up 16.6%, The Economist was up 3.1% for its domestic edition and 6.4% for the international one, and The Week rose 6.4%. The Spectator and The Oldie also increased their sales. The meltdown meant good business for left-leaning mags: Prospect was up 3.2%.
See, that's the beauty of capitalism -- even the collapse of capitalism is making someone, somewhere money. Now, about that $2000 I'm owed...