I've spent this week doing the final edits on my Book of Scotlands, my collection of parallel world Scotlands, due out in the spring. Some of the pieces in the book produce an alternative Scotland by taking texts I've written about Japan and changing key words so that they become texts about Scotland. The world-generative power and the interest comes in the wrongness of the scenarios that result -- a wrongness which tells you something about the real Scotland. (Why
couldn't
an Edinburgh tram driver value his job more than his life, jump off his tram at Restalrig, and touch his white gloves to the skip of his cap when the sea itself cries out "Thanks for your great work, Mr Tram Driver"?)
Shortly after finishing my editing work yesterday, I was streaming BBC Radio 4 live and caught the end of a strange play. John Byrne (whom you may recall as the Scottish playwright Joe and I were
trying to channel
on the Joemus cover) was playing a character talking about Mount Fuji. I felt like I was in a
Ron Butlin
short story (I used to visit Ron when he was writer in residence at Edinburgh University, and liked his disorienting sci-fi stories a lot). That, or one of the narratives in my own Book of Scotlands. The
wrongness
of the combination of Japan and Scotland was fascinating, and telling.
When the Afternoon Play was archived, I listened to it from the beginning. This had, in fact, been a dramatisation of a short story by Yasutaka Tsutsui, The Last Smoker. You can hear the whole thing (for the next seven days)
here
. And I've made an mp3 file of the most incongruous bits of Scottish-Japanese cultural fusion here:
Afternoon Theatre: The Last Smoker (extract)
(stereo mp3 file, 1.9MB, 4 mins 25 secs)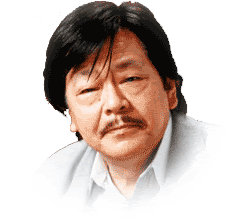 Yasutaka Tsutsui
specializes in sci-fi and metafiction. He seems to be as cantankerous as his character Haruki -- his
website
demands you apply for written permission to use any text or images from it, and he apparently went on "writer's strike" for several years in the 90s as a protest against the restrictiveness of Japanese publishers. His hatred of the media is clear from The Last Smoker's portrayal of a witch-hunting consumer magazine journalist from a Tokyo lifestyle magazine called Happymag. Persecuted by semi-fascist anti-smokers like her, Haruki wages a Mishima-esque battle for smokers' rights, ending up atop the diet building.
I'm not sure whether the radio play is good, and Tsutsui's tone annoys me somewhat. A "post-Situationist poetics of hyper-fictionality which has persistently disclosed the conspiracy between reality and fiction in the hyper-capitalist age haunted by a variety of spectacles and pseudo-events" is all well and good (that's Tsutsui's own description of what he's doing), but a lot of it just sounds like cranky, self-vindicating libertarianism to me. I know it's only a metaphor, but Japan is hardly a country where smoking is endangered, either.
I downloaded
Paprika
, an animated film for adults released by Sony in 2006, based on a Tsutsui novel. Basically, it's three genres (hardboiled detective fiction, sci-fi and fantasy) collided. There are lots of metafictional games going on (the plot concerns a dream machine that's fallen into the hands of a terrorist), but after a while it becomes hard to care. So many fantastical things happen, and there are so many dreams-within-dreams, frames-within-frames and mirrors pointing at mirrors, that you lose interest. It's like Superman; the hero has seemingly unlimited powers, never dies, and there's no coherent emotional core. Metafiction is, all too often, the last refuge of narcissistic authors, foregrounding themselves in the narrative and flexing their muscles.
On the other hand, visually Paprika reminded me of
Akira Yamaguchi's
work, which I like. And when Tsutsui's work is performed by Scottish actors, suddenly a whole new layer of metafiction is added -- one I do find it in myself to care about, because -- as I was
saying yesterday
-- I'm very interested in synthetic hybrid nations, and in
wrongness
. The motto for my Book of Scotlands is "Every lie creates a parallel world: the world in which it's true."