Today's entry is a video installation containing pottery, music, voices, hands, time, shapes, calmness and the texture of ancient video tape.
Below you'll find two clips from the legendary out-of-print VHS tape
Shoji Hamada: A Potter's Way and Work
. Please start them at the same time and let them play together on your screen. Admire the shapes and motions of the pots, and how they relate to each other. Pay special attention to the burn-out, blur and grain of the antique video tape, and any imperfections in the playback as the videos stream off YouTube's servers. These "errors" should become part of the beauty of the installation. Let the music from the two clips mingle randomly to create a third music, in somewhat the same way that Hamada's collaborations with British potter
Bernard Leach
created a British-Japanese pottery fusing both, then creating a third. Here are the clips: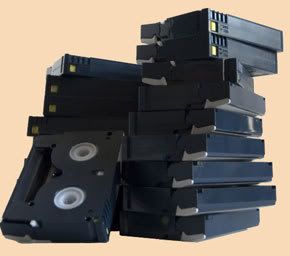 Shoji Hamada
was a Japanese potter who travelled with Bernard Leach to England in 1920. He spent three years in St Ives, then returned to Japan where he contributed to the
mingei
folk art movement, celebrating the hand-crafted art of ordinary people. In 1955, the Japanese government designated him a
Living National Treasure
.
Here's
a colour slideshow of Hamada at work, and Hamada's works, and
here's
one called Art of the Potter. My Click Opera piece about Bernard Leach is called
Good pots have errors
. Hamada died in 1978, just three years after the invention of VHS.