A couple of years ago we had a little feature here on Click Opera which listed
Hisae's Top 5 blog picks
. Today -- nudged by
rumblings
in the
gaijin
blogosphere about how boring, uncreative and compromised Japanese-language blogs are, based on and perhaps justified by the mainstream
most-hit pages
listed at the
Japan Alpha Blogger Awards
-- I thought I'd ask Hisae again for a list of her most-visited, most-appreciated Japanese blogs. She gave me a list of ten, and we were soon scrolling through them in
Safari 4
's groovy new cover flow mode.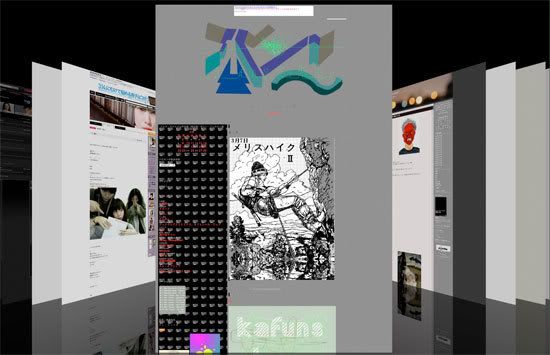 1.
EmeraldclitorixHisae
: This is a guy based in Kansai who posts images, links and information about stuff happening around him, usually in the form of a single line. He has a good circle, some interesting friends. This is one of the blogs I look at every day.
Nick
: "Emerald Clitoris" is a funky name for a blog. His visuals are pretty good too, and I can see a hiking theme emerging.
2.
PenifikkoHisae
: Penifikko is friends with the Emerald Clitorix people. He publishes a little magazine called Meris. I like this very much, it's one of the blogs I check each time it updates. I like this very strange visual style they have. If I had to make blog, I'd want it to look like this.
Nick
: That really is a great look they have! It reminds me a bit of Joe and Emma's style. Hiking again seems to be in vogue here -- there are drawings of hikers, and the Meris magazine is referred to as Meris-Hike. I can't find any images of it online, though. I imagine it as a handmade, incredibly trendy neo-hiking mag. The February 2009 edition seems to be out now.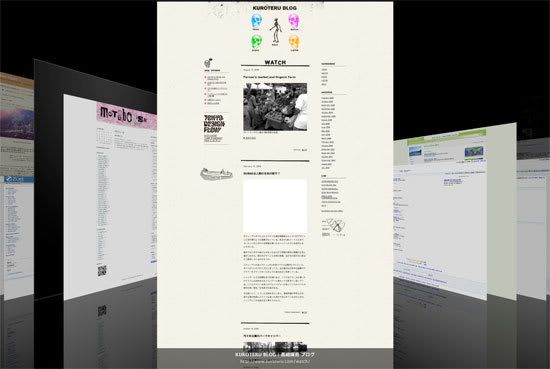 3.
FukuhenHisae
: This is a blog by the co-editor of Brutus magazine. It's nice to know what he's doing apart from publishing Brutus.
4.
Native HeartHisae
: This blog gives information about medicines and healing. It's focused on Native Americans. I like this kind of blog, it sounds superstitious, but does tell you a lot about Native American values.
Nick
: I've noticed that when Japan looks to America, it often finds a lot to identify with in the indigenous Native American culture. And black American culture, too. White American culture, not so much these days.
5.
Heimin ShinbunHisae
: This one shows one part of contemporary Japan -- young people who are very poor, temp workers, the so-called "Lost Generation", but I don't want to use that term. It shows real life, not just eating cakes in cafes. I find it very interesting and moving.
Nick
: I see cats, food, painful pictures of painful things.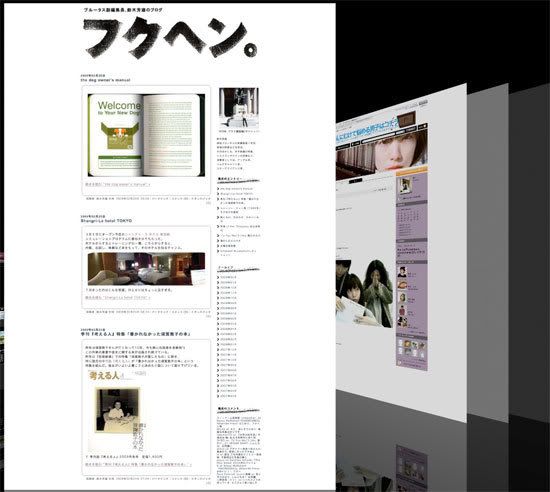 6.
MetabolismHisae
: It's difficult to find Japanese blogs that talk about design unselfconsciously, but this one does. It's by a designer with a company called Glyph, Yanagimoto Koichi.
7.
KuroteruHisae
: Teruo Kurosaki runs a design school in Sangenjaya, it's called Schooling Pad. He writes kindly and simply, maybe because he's a teacher.
Nick
: I like that, "kindly and simply"!
8.
Tatsuru UchidaHisae
: This is one of the most widely-read blogs in Japan. Uchida writes books, teaches at university. He used to be into French literature, now he's more of essayist, writing about society, the world. I like to see people's thinking. Also he picks up interesting topics.
9.
Blog of SeinoHisae
: This guy lives in Akabane in Tokyo, he's a
mangaka
. There are so many interesting people in that district, a bit to the north of Shinjuku. He often picks up and befriends eccentrics. I want to live in Akabane when I next live in Tokyo!
Nick
: Wow, these pictures where he mosaics out old people's faces look spooky!
10.
Zozo People: EriHisae
: Eri is a designer for a clothes line called
Mother
. She was the model for that famous photo by Hellen Van Meene, she posed with hair spilling out of her sleeves. In her blog she talks about her work and her clothes. Recently she put up lots of photobooth snaps, but she usually takes nice pics. I check this blog every day, I like her models.
Nick
: Ah, yes, I mentioned Hellen Van Meene's Japan Series
a couple of years ago
. Thank you, Hisae, I think you just saved Japan!