Hold the front page; early last month I told you that farming programme
Hatake No Uta
was my favourite show. Well, I've changed my mind. With the plethora of new viewing options opening up by the week (mostly thanks to
MacKeyhole TV
), I have a new favourite show. It's Asahi TV's Tatemono Tanbo (Atsushi Watanabe's Architectural Adventures), a long-running show that takes tours, weekly, of different small private houses. You can see an example of it
here
. But that's not what I want to talk about today. I want to talk about this house: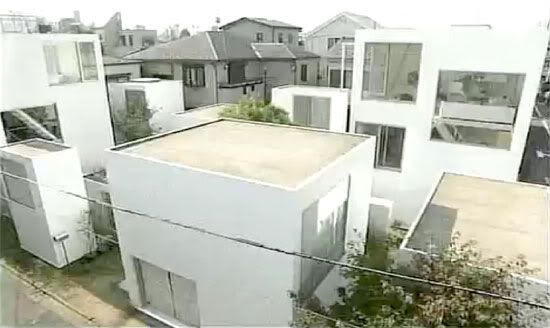 This -- the Moriyama House in Tokyo, designed by Ryue Nishizawa (the male half of
SANAA
, the team responsible for the New Museum in New York), has featured twice already on Click Opera. The
first time
I'd simply seen pictures of the house in Brutus magazine, and set myself the task of finding out where it was, based on the information supplied in Brutus (the name of a nearby station, an ariel shot that I was able to match to Google Earth satellite views).
My second Click Opera visit --
The house that fell to earth
-- was a photographic record of a real world visit I made to the Moriyama House. At around this time I started talking to an NHK producer called Momoo Arita, who wanted to film a segment of me for her show Tokyo Eye, which features foreigners talking about the Tokyo they love. I suggested the Moriyama House as a location, and Momoo started researching the house, contacting Mr Moriyama and setting up meetings with him.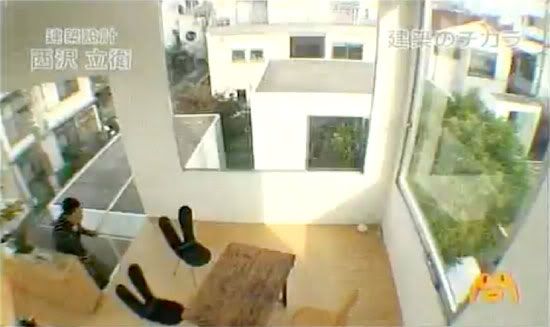 When she first arrived at Mr Moriyama's amazing Modernist castle -- a plot of ten differently-shaped cubes -- he showed her a print-out of my Click Opera article. It turned out that Moriyama-San had some of my early records, and had even noticed me photographing his house, but had bolted "like the white rabbit from Alice in Wonderland" because my eyes were "too intense". I was nevertheless given an invitation to visit the house at some point for a proper tour.
I haven't been able to take up this kind invitation, not having been back to Japan since 2007. But I was able to get a virtual tour of the Moriyama House thanks to a 28 minute NHK show, directed by Momoo Arita, that aired in Japan on January 27th and is now
available in its entirety
via Veoh. This was a special edition of
The Japanese Cultivation of Bakusho Mondai
, an educational programme in which the comedy team interviews specialists in various subjects. This time they were talking to architect Nishizawa in the Moriyama House.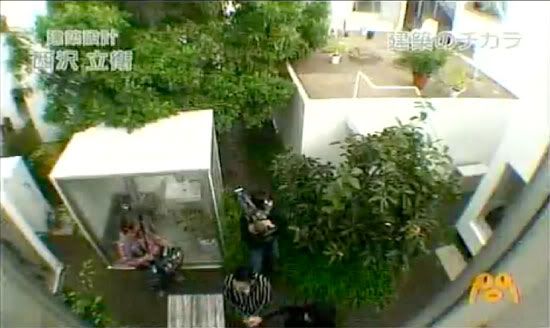 It was fascinating to know, watching this show, that I'd played a part in its inception. I still love the house; I find it admirably open and very lyrical, with its human-scaled retro-Modernism, its very Japanese concern to integrate inside and outside, culture and nature, the systematic and the quirky. Ryue Nishizawa tells Bakusho Mondai that he tends to make square shapes, influenced by the Modernist architecture he studied at college. The reclusive Mr Moriyama doesn't appear (he's apparently an avid record, book and art collector who's never seen without his lapdog), but Nishizawa says he used to run a liquor store on the same site, and built up good relations with the surrounding community.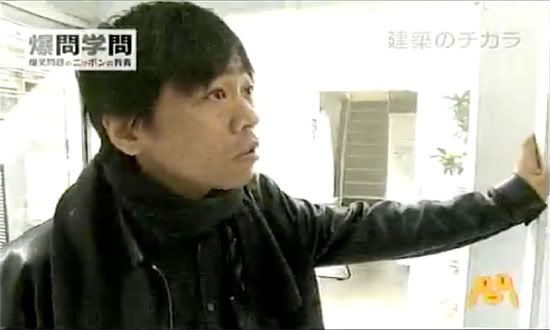 When the comedians ask whether the building's Modernist forms aren't a bit aggressive, parachuted into a rather normal suburb, Nishizawa says that he broke the cubic form into ten small pieces to make it less brutal, mixing garden greenery into the gaps. He learned a lot from the surrounding buildings, he says; each of them, while not remarkable, did something well. He likes the community atmosphere -- even the pleasure neighbours take in looking into each other's windows. If someone is doing badly, he says, it doesn't take long for others to notice, and help. At the same time, he does accept that there's something aggressive about the building's difference, and can only say that in big cities the homogenous and the heterogeneous live side by side. There are close connections, but also diversity and critical tensions too.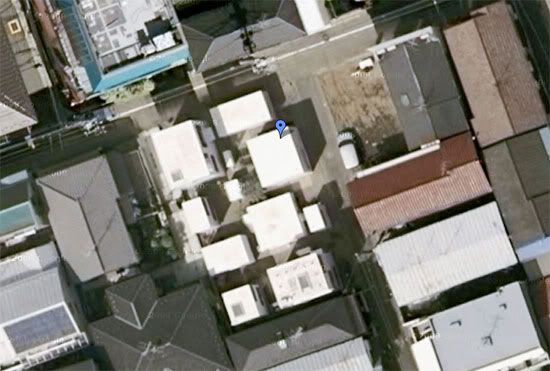 You can see plans of the Moriyama House
here
-- click on the blue dots to get 360 degree Quicktime VR views from various points (
first
floor,
second
floor,
third
floor).