A couple of weeks ago we had the Pictoplasma character design festival here in Berlin -- I went on the "character walk" (a mapped sequence of participating galleries) and attended the final party, enjoying sets by Gangpol & Mit, Andrea Crews and Ben Butler and Mousepad -- an alter ego of Joe "Joemus" Howe, who describes the festival
on his blog
. Anyway, the event brought home to me how the pop music I like, from Cornelius to the Shobo Shobo Parisians, usually has a strong visual component. In fact, it's often made by people who double as visual artists or designers; moonlighters in love with colour. People a bit like Carlos Carbonell, in fact.
Carlos is the one with the laptop in the photo above. He's Spanish, based in Barcelona. His friend is
Jordi Ferreiro
, who's his partner in the visual unit
Comte D'Urgell
, named after "an old and eccentric Catalan Count" who has an underground station in Barcelona named after him. Their portfolio is
here
. The ludic pair met while roleplay gaming online. But it's Carlos' musical project Internet2 I want to talk about today. It's a pop act that "mostly performs in art galleries and museums".
The
MySpace page for Internet2
mentions Anne Laplantine as an influence, and the
Sonar blurb
for his upcoming performance at the London Roundhouse (May 15th) says of Carlos: "A sworn enemy of convention, the man hiding behind the Internet 2 moniker mixes comedy, drama and classical music filtered electronically with a corrosive sense of humour and an absolutely hilarious spirit. He is something like an unlikely combination of Wendy Carlos and Momus on acid. This is all seasoned with a stage show that oozes irony and leaves nobody unmoved."
This isn't just me plugging people who've been compared to me -- I swear! -- but I
do
hear something of my Analog Baroque style in Internet2's music. Except that Carlos does the style (which he might prefer to call "papiroplastic watsikei" after a recent Comte D'Urgell show) much better. Roll
this video
forward to about 5 minutes to see Carlos doing his spry folk dancing routine on a MIDI keyboard carpet triggering subtle, simple samples, while wearing a blanket decorated with geometric motifs over his head and playing the clarinet.
Now, I do folk dances on stage and drape a blanket over my head (I did that exact thing in Oslo on Thursday night), but not while playing the clarinet, and not on a MIDI carpet. What's more, I've never invented
MIDI underwear
. Of course, Internet2 don't just sound like me. I also hear traces of Gangpol & Mit, Le Tone, Lullatone, Anne Laplantine, The Incredible String Band, Renaldo & the Loaf and Super Madrigal Brothers. Meanwhile, on his
Facebook page
Carlos cites Kanye West, The Smiths, Ben Folds, Sebastian Tellier and Suede as his influences. (I'm not hearing the Suede, personally. For me, the clarinet evokes early Roxy Music. And the baroque synth lines conjure up that
other
Carlos, the one who switched on Bach.)
The world of Carlos and Jordi involves, they
say
, "alchemy, mysticism, freakiness, design from 1992 Barcelona and uglyism." (Interesting
"anxious interval"
timeline there, Revival Spotters!) They're preparing an exhibition about the relationship between botany, magic and music, and you can see some of the thinking behind it in the spoof documentary above, in which the pair wear their Santa beard / ZZ Top disguises. The arrangement of the piece at the end of that mock doc is great.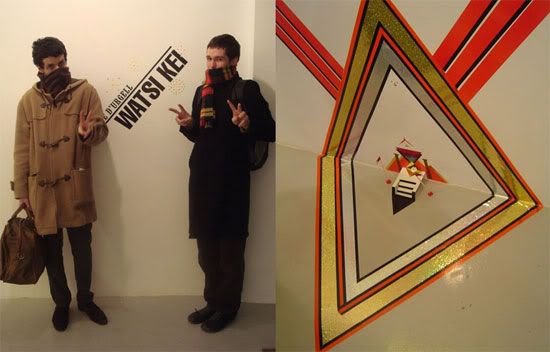 Comte D'Urgell (I keep wanting to write Compte D'Orgaz, a character from the only play Picasso ever wrote) and Internet2 are yet another sign (two more signs?) that Spain is producing some of the most interesting, fresh culture in Europe just now. They recommend Spanish fashion designer
Cruzcastillo
, who does a lot of cosmic tie-dye, and Carlos also works with "rap boyband"
Garbanzo
. You can even buy a cute
wallet
Carlos has made, but be warned: "only a pure spirit can have this wallet". The item is sold out; apparently the pure got there early.