Yesterday I let slip
en passant
that the text on the sleeve of the first Momus EP, The Beast with 3 Backs, contained references to the Moral Tales of Leopardi and the Imaginary Lives of Marcel Schwob. Today I want to flip that sleeve over and look at the man in the picture on the front: the expressionist painter
Ernst Ludwig Kirchner
, seen here watching dancing peasants in his mountain retreat at Davos.
This photo of an epicene, almost pierrot-like man watching a dancing couple expressed the EP's theme of love triangles and sexual threesomes well, but the image fascinated me for other reasons too. Kirchner is rather Bowie-like here (in fact Bowie is a collector of the work of Die Brücke, the group of painters Kirchner led), but he's also the personification of artist-as-bohemian, something I was very interested in at the age of 25. I like how he's standing, in this photo (I wish I had a better copy), in front of his own paintings. He seems to have asked or paid the peasants to dance just to observe the shapes they make. He stays outside the heteronormative contract they imply, cutting a slightly lonely figure -- a lost, delicate-looking cosmopolitan recovering from a nervous disorder in the Swiss Alps, standing apart from the rooted, earthy couple. He's someone who will reproduce culturally, not biologically.
Kirchner's years of urban bohemianism peaked a few years before, when he moved, with a group of artist friends (Max Pechstein, Erich Heckel) from the cities of Dresden and Leipzig to Berlin, setting up a studio decorated with African and Oceanic wood carvings and exotic fabrics at
Körnerstraße 45
in Berlin-Steglitz (not far from Hauptstraße, where David Bowie would live seventy-odd years later), overlooking the S-Bahn tracks. From the photos Kirchner took of the gatherings at Körnerstraße we can see that a lot of naked dancing went on, giving the painters something to sketch and paint. The studio was frequented by a group of little girls aged no more than nine or ten. Fränzi and Marzella are now familiar to us from paintings, drawings, woodblocks; they almost
are
the face of Die Brücke. Their names are in the titles -- Fränzi is Fränzi Fehrmann, the youngest daughter of a poor working class family of fifteen children. In the 1980s, when my Brücke-reverence was at its peak, my walls were covered with postcards of her.
As Bunny Smedley wrote in the
Electric Review
at the time of the 2003 Royal Academy Kirchner show, Die Brücke was "one of those all-purpose youth movements dedicated to finding the way to the future, as ever through means including free-ish love, a bit of light substance abuse and a lot of artistic innovation, finished off with a gentle dusting of self-justifying theory. In 2003 we can feel jaded about such things, but there remains every possibility that a century ago they seemed new, exciting and positively engorged with possibility. This is exactly the quality that radiates from many of Kirchner's paintings.
"Kirchner was a bohemian, living the life that fantasy tends to ascribe to artists, but which they so rarely achieve. In Kirchner's social circle, circus performers and prostitutes mingled with intellectuals and cabaret singers, modelling and messing about and having sex with each other in a casual sort of way; the decoration in the group's communal studio was inspired by African tribal art and oddities found in local markets; in the summer, the group decamped to the Moritzburg lakes outside of Dresden where they removed their clothes in order to swim, enjoy the sun or to rediscover the simple and direct sensibilities of happy savages. In short, it all sounds a bit like the way people of my generation always secretly suspect that the 1960s, which we mostly missed, might have been.
"Kirchner, at any rate, seems to have enjoyed it completely — those summer days, the carefree fun and certainly the girls. He drew and painted women endlessly. He painted his girlfriend Dodo, Mimi the exotic dancer, a pair of adolescent sisters named Franzi and Marzella who fell in with his group of friends — painted them clothed or nude, or sometimes a bestockinged or hat-wearing compromise between the two — conveying everything from affectionate camaraderie and aesthetic appreciation to frank lust. The art from this phase of his work is amazing stuff, surging with energy and overflowing with fantastic colour."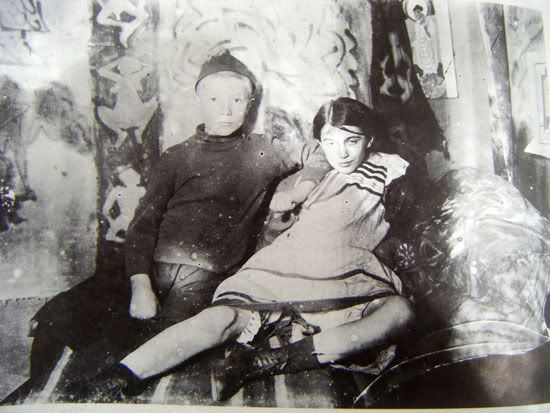 Johanna Brade traces Fränzi Fehrmann's life in some detail in the
Dictionary of Artists' Models
. "The artists were fascinated by the naturalness of the girls' movements and the unconscious eroticism they radiated," she writes. "Further, the angular form of their slender bodies conformed to the primitive art that had had a decisive influence on Die Brücke's Expressionist idiom since around 1909. Fränzi Fehrmann and Marzella were not nice, gentle girls. The pictures often show them with a sceptical, shy look. Their nudity is unposed. This makes them seem, on the one hand, vulnerable and extremely childlike, and, on the other hand, like erotic Lolitas.
"Fehrmann came from a poor background. She was the youngest of 15 children. Her father, Oskar Emil Fehrmann, was a locksmith's hand by trade but worked as a machinist from 1910. Her mother, Alma Lina Clementine Fehrmann, nee Pazi, had a small milliner's shop in Dresden and took her work to fairs to boost the family's income. When Kirchner visited Fehrmann again in Dresden on 12 February 1926, she had two illegitimate children. Kirchner noted in his sketchbook, "Fränzi herself is very sad and gloomy because of her misfortune with the children. Her youthful memories, of Moritzburg etc are the happiest part of her life." An album containing photographs from these early years, which Fehrmann had at that time and which would now be of tremendous documentary value has not been found. In 1931 she married the printer Alfred Fleischer; they divorced in 1948. Two years later, Fehrmann died in Dresden, aged just 49."