Now here's a funny thing. Ed Templeton, the Californian skateboarder and
artist
, was recently in Berlin with his wife Deanna. He happened to drop by the opening for
Nippon Edit
at Motto Berlin -- an exhibition of Japanese publications from Utrecht, Foil, Cosmic Wonder, Art Beat -- and ran a photo on
his blog
. In Ed's photo you can clearly see an eyepatched pirate engaging surreptitiously in the activity known as
"digital shoplifting"
, branded by the Japanese Magazine Publishers Association as "information theft". Instead of buying the materials on display, this brigand is videoing all the names he can find, in order to google it all when he gets home.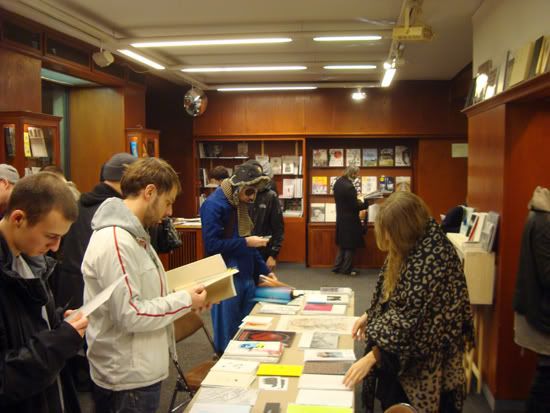 "I can base at least 38 Click Opera posts on this material," I joked to my friend Jan, who -- like Ed -- caught me fur-hatted and red-handed in my deed (as, indeed, did
Motto staff
; I'm the figure in blue snapped by Akiko, the exhibition organiser). But instead of 38 posts, I thought I'd just give you my source material all at one go and let you google it yourself. I've set my shoplifted video footage of Motto's gorgeous Japanese publications to the song The Cooper o' Fife from the
Joemus
album: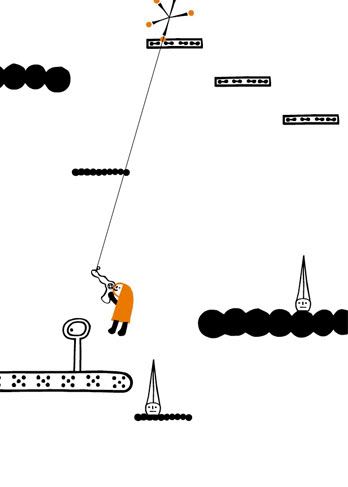 To get you started, here are some googles this material led me to. Comic book artist Erika Kobayashi has a
"starblog"
at Ecocolo magazine. She's recently been in Berlin. There are some nice new Yurie Nagashima photos at
Krash Japan
, in their special photography issue.
Akinori Oishi
(author of the comic
My Life With Rice
) exhibited at the recent
Pictopia
character designfest in Berlin. It's well worth checking his tiny
Microfilms
or playing his charming
Opniyama game
, originally developed for the 2002 opening of the Palais de Tokyo.
Digital shoplifting is the post-materialist way to shop; you just browse, take notes, then go home and google. You might say "Sure, Nick, but if everyone did that instead of buying stuff, these publications wouldn't exist in the first place." That may be so, but the nice thing about, say,
Nieves Books
is how cheap they are to produce. They're folded, stapled A4 booklets. The
Nieves Books Flickr photostream
reveals that the Zurich zineshop recently had a show featuring
Utrecht Books
(who now boast a
reading room
in Aoyama as well as their apartment shop in Nakameguro).
Here, from Utrecht's
YouTube page
, is a demonstration of the flipbook by Masashi Kawamura, Rainbow in your Hand:
The sad fact is that if I hadn't digitally-shoplifted all this material via video, I would probably have written everything down on my iPod Touch and still gone home and googled it. Incorrigibly-digital piratekind is truly irredeemable,
n'est ce pas
?