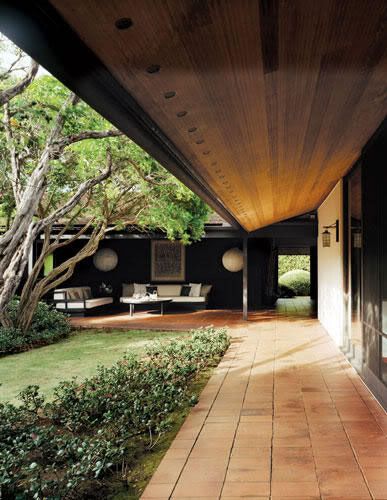 Frankfurt has a ridiculous number of excellent museums up and down the Main river, but by far the most interesting and evocative show I saw at the weekend was
Hawaiian Modern: The Architecture of Vladimir Ossipoff
at the
Deutsches Architekturmuseum
.
Ossipoff
, whose life covered almost the entire 20th century and who spent sixty years building Hawaiian "regional Modernist" houses, offices and the airport, was a Russian (from Vladivostok) brought up in Tokyo. His architecture was profoundly influenced by Japanese ideas -- he thought that Hawaii was even better suited to Japanese building types than Japan itself was -- and specifically by the aesthetic spelled out in Tanizaki's book In Praise of Shadows. Ossipoff declared a personal war on ugliness. The building on the right here is his 1952 Goodsill House at Wai'alae, Honolulu, and it shows Ossipoff's characteristic openness to nature. A house, to him, had to be like a kind of umbrella: open to nature, yet protective. You should know what season it is (Ossipoff hated air conditioning), and you should be able to feel the Hawaiian trade winds eddying around.
A
Metropolis magazine article
from last year says: "Like any good regional Modernist, Ossipoff used common sense strategies of orientation, natural ventilation, microclimates, and local materials—what landscape historian Marc Treib describes as a "modernized version of local precedent." Synthesizing Eastern and Western influences, Ossipoff drew on Japanese craftsmanship and modern architectural techniques. The Goodsill House, for example, is an adaptation of a 1950s ranch house crossed with Japanese and Hawaiian elements. It sits on a small sloping suburban lot near Diamond Head, in Honolulu, and has no front door.
"You take this pathway around to the back and see this lanai—a Hawaiian word for a traditional wall-less structure covered with either thatched or live plants," [curator Dean] Sakamoto says. "What you have in this house is an extended veranda where all the sliding screen doors open up to the garden, and there's no one single entry." For the Goodsill family, the lanai was the primary space for entertaining—an outdoor living room turned into an oasis. "The owner, Marshall Goodsill, kept his television in the lanai—basically outdoors," Sakamoto adds. "What is wonderful is that the back end of this boomerang-shaped house faces where the rain comes from, so you can sit and watch the daily shower pass over your head." Marshall's wife, Ruth, remembers being surprised at one particular detail when she visited the house as it was nearing completion: "There was an opening over the front lanai—a big hole in the roof, which we expected to fill in after we moved in, but Val said it was for moon viewing, so we left it as it is."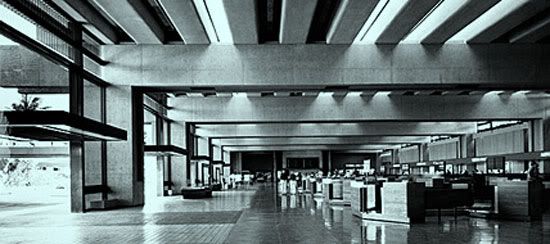 The same radical openness is visible in Ossipoff's Honolulu airport building, above. Big windows could be cantilevered open, effectively removing the walls. As the exhibition points out, this is the architecture Barack Obama would have grown up with; Ossipoff was responsible for several buildings at the school he attended.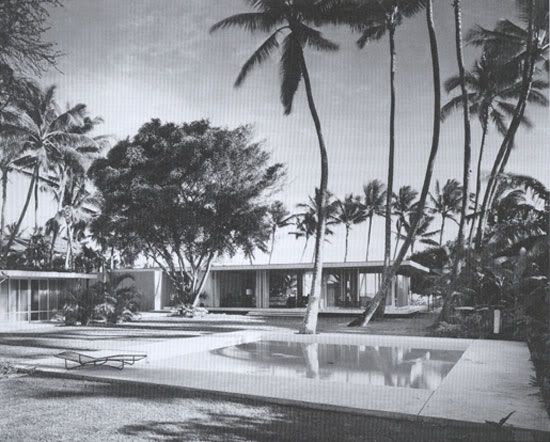 There's a David Hockney "bigger splash" feel to some of the houses, which I suppose puts them in a Los Angeles context. But Hawaii's breathtaking scenery and wilder, more open feel takes them somewhere else. It's also a question of pace; "We have a much more casual way of being formal than you do on the mainland," Ossipoff declared. And that "casual formalism" is also quite Japanese, I think.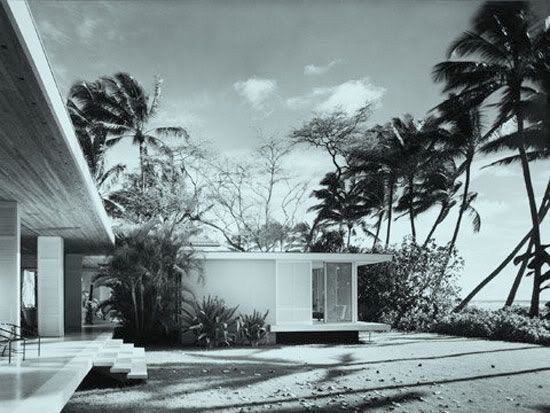 Metropolis again: "Ossipoff's strong Japanese influence was further underscored by that country's natural contract of living with nature rather than fighting against it. He was a master of using darkness and shadow to enhance his design. In a warm climate like Hawaii's, darkness equals shade, which makes the space comfortable by keeping light levels low.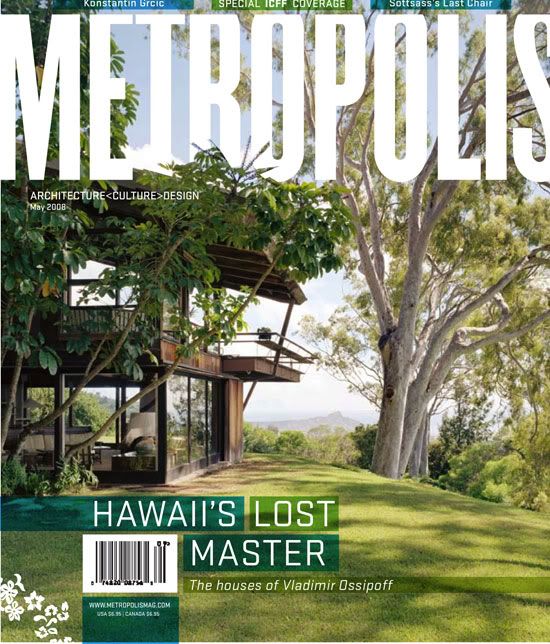 "Unlike other Modernists, who believed that architecture could conquer nature, Ossipoff had a reverence toward it. "During dramatic thunderstorms he would stand in the doorway and say, 'You're crazy to sit out there on the screen porch and watch the storm,'" Xandra Ossipoff recalls. "It was exciting and fun to watch, but he wouldn't because he'd seen what nature can do. He'd seen tidal waves and volcanoes, and he lived through that 1923 earthquake. He said to me many times that he saw the earth open up and watched a person fall into the crack. It was defining." He actively disliked air-conditioning, and in the later years, when Hawaii became paved over, he occasionally allowed clients to put an air conditioner in the bedroom. "His point was, you live in the tropics," Sakamoto says, "and if you box it up and air-condition it, you could be anywhere, couldn't you?"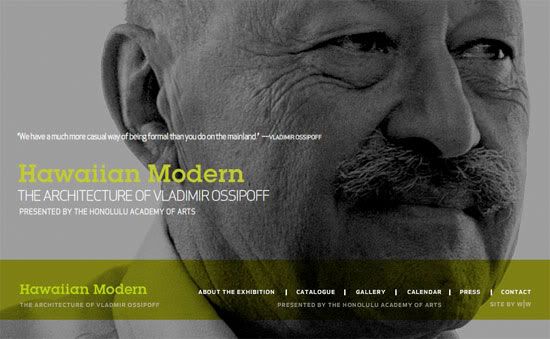 The "regional Modernisms" theme -- how mainstream Modernism played out in various more-or-less lush and exotic locations, and how it was softened and changed by them -- is another variant, perhaps, on the idea of openness to the wind, the moon, the seasons and nature. In Hawaii, guided by this Japanized Russian, it seems like Modernism itself opened up, loosened up, and put down roots.