I know most of you are sick of hearing about my art show now, and I'll shut up about it soon, I promise. But it's obviously the most important thing happening in my life at the moment -- an intense daily soap opera that we write in real time -- and these pages are going to reflect that. Today the notoriously-hard-to-please art critic Roberta Smith gives the show a thumbs-up
review in the New York Times
, so I'm just going to run what she said. It's important to me; there's absolutely no money in this show for Aki or for me, but we definitely want people to think it's great. We want them to come, and linger, and ponder, and come again.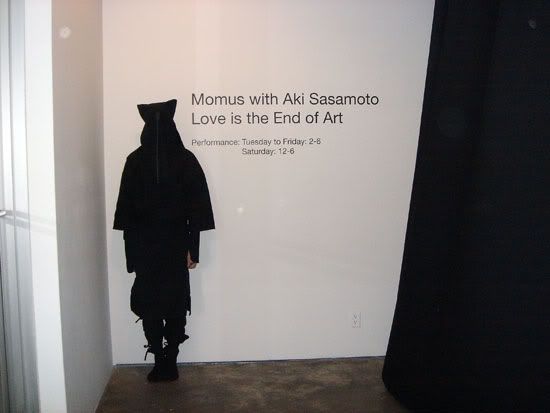 New York Times, Art and Design section, Friday May 8th 2009
MOMUS WITH AKI SASAMOTO
'Love Is the End of Art'
Zach Feuer Gallery
530 West 24th Street, Chelsea
Through May 16
My short visit to Momus's third performance-exhibition at the Feuer Gallery on its opening day earlier this week established one thing: I'll be back. This time Momus, a British musician-turned-performance-artist, has teamed up with Aki Sasamoto, a recent graduate of Columbia University's M.F.A. program in performance, sculpture, dance and installation, and, apparently, an all-around natural in terms of stage presence.
From 2 to 6 p.m. on weekdays and noon to 6 p.m. on Saturdays, Ms. Sasamoto will draw diagrams on the wall and perform various tasks that include tossing potatoes attached to bungee cords and dicing grapefruits with Japanese ice skates, while breaking into monologues that have a wile and wildness all their own.
Filling in the silences, Momus alternates between the role of commentator (art critic, according to the news release) and spurned lover. Dressed as a Kabuki stagehand in head-to-toe black, wielding a clip-on lamp and occasionally mounting a ladder, he tracks every move Ms. Sasamoto makes, only to be ignored in return, as any Kabuki stagehand would be.
The activities have a Dadaistic flair, but it is the improvised verbal back and forth — assured, sharp and from the core — that grips. The lack of demarcation between art and audience also keeps you on your toes.
ROBERTA SMITH
It's really nice that our review gets juxtaposed with
this review
of Sophie Calle's show Take Care of Yourself (Paula Cooper Gallery), which I saw at the Venice Biennale in 2007, and which is a great piece, somewhat in the same vein.
I really admire how Calle gets close to the bone of her own emotional life in her work. In Take Care of Yourself she showed a lover's kiss-off email to a variety of people (a clown, a singer, a shrink, and so on) and got them to interpret it and suggest ripostes. The theme of unrequited love obviously chimes with the theme of Love is the End of Art: if Aki's character
did
have anything to say to the obsessed stalker-kuroko who follows her every movement, it would probably be "take care of yourself".