Mori
in Japanese means "forest" and a Mori Girl (森ガール) is a girl who looks like she lives amongst cedar and pine trees. She's part Little Red Ridinghood (although she prefers dark blue, dark green or bordeaux brown to bright red), part Marie Antoinette pastoral fantasy, part Alice in Wonderland.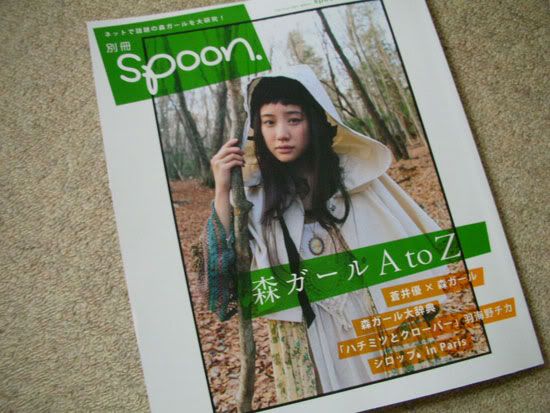 Although Mori Girl sounds like the sort of meme that fashion magazines mint -- and indeed Spoon magazine published a one-shot in March, a Mori Girl A-Z -- the term actually originated two years ago in a
Mixi community
. "You look like a girl in the forest!" someone remarked to Choco, the group's founder, one day. She began the group, and by June 2009 it had 8000 members.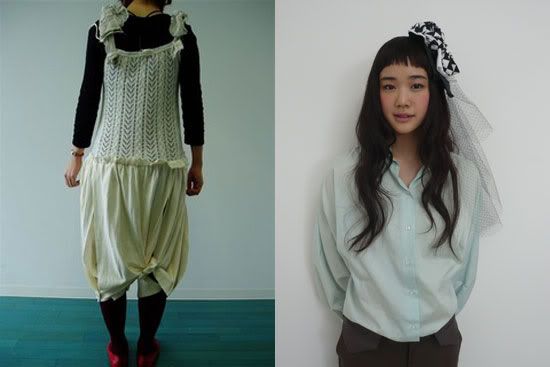 Spoon chose the indefatigably wholesome Aoi Yu to incarnate the ideal Mori Girl in its mook (she looks like a Jane Austen heroine in the photos), but Miyazaki Aoi as Satonaka Shizuru is also cited as an example of the type. As 2009 wore on, dedicated blogs like
Mori Girl Diner
sprang up, articles on
Nikkei Trendy Net
appeared, and the inevitable
Nichaneru threads
debated the look. Nikkei told its readers that Mori Girls didn't come from the forest, but from the Tokyo districts of Koenji, Shimokitazawa and Daikanyama, though the country-styled lasses were marching in a frilly military mass to capture the city's fashion prize, Harajuku.
Amongst the magazines welcoming the movement were Spoon, Fudge and Spur. Favoured designers were Cocue, Tsumori Chisato, Cuccia, and Scandinavian brands (or faux-Scandinavian brands) like
Minä Perhonen
and
Marimekko
(every Mori Girl aspires in some deep way, it seems, to be Swedish). The Mori Girl's fictional archetype was declared to be Hagu, the primal, pretty art student from
Honey and Clover
.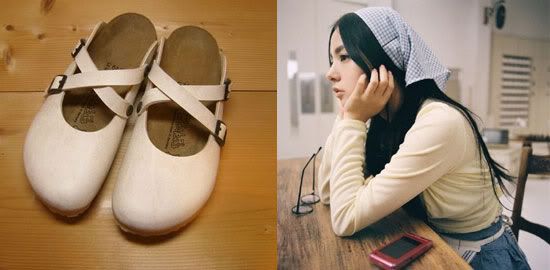 Want to know whether you have Mori Girl potential? You might want to measure yourself against the Mixi Group checklist, which comprises sixty items. According to this list, the Mori Girl likes loose dresses and skirts, seldom wears trousers, prefers twisted things to simple ones, seems like
natural-kei
(a related style) but is actually more contrived, cares about the quality of materials, likes ethnic styles, wears A-line skirts and dresses, likes the style of little children, has a taste for dresses or blouses which look like smocks, doesn't like clothes which are sweet from head to toe, favours dark blue, dark green and bordeaux brown, looks good in warm colours, prefers short nails (an important differentiator from the loud, vulgar
gyaru
style endorsed by mags like Can Cam), likes fur, knitwear, fluffy hats and ear-muffs, ponchos and boleros, wants to carry a leather bag, tends to use a pochette (a sort of pocket on a strap), prefers small gold things to silver things, likes old things, like the expensive antique watches old people have, likes a large-motif necklace, sports animal motifs and candy motifs, checks and dots, floral retro, lace, leggings or tights, basic round-toed flat shoes.
The Mori Girl might wear trainers, but if she does they'll be slip-ons, looking loose and cute. She prefers walnut buttons to normal ones, wears a chunky stole or scarf around her neck, in winter wears a basic turtleneck, likes to layer clothes, is attracted to puff-sleeves, likes fairy tales, is pale-skinned, with loose hair, probably bobbed with a straight fringe, or, alternatively, has a straight fringe with long loose permed hair. The Mori Girl (often described as small-breasted) isn't a Lolita, but is girly. She likes the mail order company Felissimo, especially their label
Syrup
. She sucks on
Q-Pot
confectionery and likes relaxing in cafes or taking a walk, camera in hand. Her favourite shops are old-fashioned general stores. She's a bit of a collector, and likes to find cute books in bookshops. Furniture shops and handmade things excite her. Her favourite seasons are autumn and winter. She vaguely aims to visit Scandinavia one day. When applying make-up, she puts red circles on her cheeks, imparting a glow of country health. There's something soft -- almost transparent -- about the Mori Girl. As she goes by, you sense the subtle scent of flowers.
"But what's the appeal of Mori Girls to men?" Hisae asked me. "Oh, it's quite simple," I said. "They look so wholesome that we can't help wanting to make them dirty."