Hisae and I braved the cold, wet weather currently gripping Berlin in its clammy hands to see the
DMY09 Youngsters
design show at Treptower Arena. But something about the kind of design on display in shows like this just strikes me as wrong and boring at the moment. It's probably the recession -- the economic equivalent of a rainy day.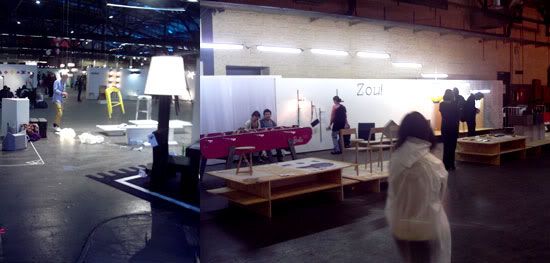 While it was a buzz to get into a big, dry aircraft hangar-like space and see a bunch of young design-oriented people, a lot of the work on show struck me as "conversation piece" design: "Oh look, you have a set of bookshelves that tilt / a pair of chopsticks that work like a fork / a square-framed bicycle!" Does the world really need gimmicks like these? Like the iconic architecture of the last fifteen years, this stuff seems designed not for use, but to a) get magazine features, b) grab eyeballs in big design fairs and c) if it is bought and taken home, spark unbearably bourgeois conversations at dinner parties. I'd like to have seen more work wearing the hair shirts of utility, sustainability and affordability, because frankly I think in the current climate design
should
be asking what it can do for the poor.
There's still room for optical pizzazz, though, as
Alice Rawsthorn's account of design at the Venice Art Biennale
makes clear: the picture above is Tobias Rehberger's zappy cafe for the Palazzo delle Esposizioni.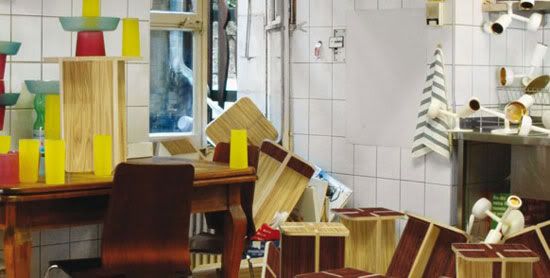 At DMY09 too there were spots of sunshine; Swiss designer
Béatrice Durandard
's "vivid objects" were refreshing, and I liked the
Sandberg Institute's experimental apartment
project.
There was also an intriguing "jellyfish theremin" by
Yuri Suzuki
, whose Prepared Turntable (above) both looks and sounds great. Suzuki's statement for the DMY catalogue points up how design can help in times of depression: "A strange story from Japan: a particular train line had a higher suicide rate than other train lines. A music specialist found out that the alarming departure sound of the train psychologically affected people, creating despair or uneasiness. So the train company changed the sound in some stations. Yuri Suzuki's design aim is to create products that can change properties between humans and sound."