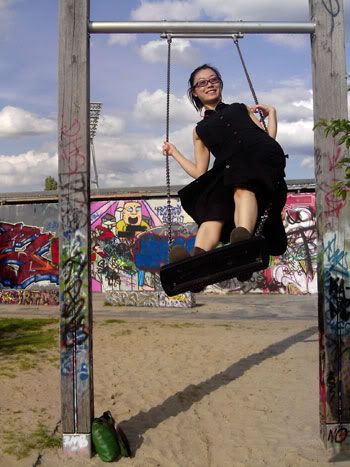 Aki Sasamoto was in Berlin yesterday, and Hisae and I spent the day showing her "our" Berlin. On the only sunny day in weeks, we had lunch at Monsieur Vuong, where we ran into novelist
Julian Gough
, then coffee at
Bonanza Coffee Heroes
, some wild swinging on the swings at Mauerpark, a visit to the atmospheric toilets at Wohnzimmer, some chocolate purchases at
In't Veld
, a trip to Friedrichshain and finally a 2am appearance on the WFMU (New Jersey) show Sound and Safe hosted by Trent Wolbe, on which I sang live versions of Scottish Lips and Widow Twanky, and did an interview with Aki. You can hear an mp3 of the appearance
here
, 36 minutes in.
(By the way, I have to correct my statement about the artist Arp, who supplied the title for Scottish Lips: I said on the show that I "always get Hans and Jean Arp mixed up". In fact, they were
the same person
.)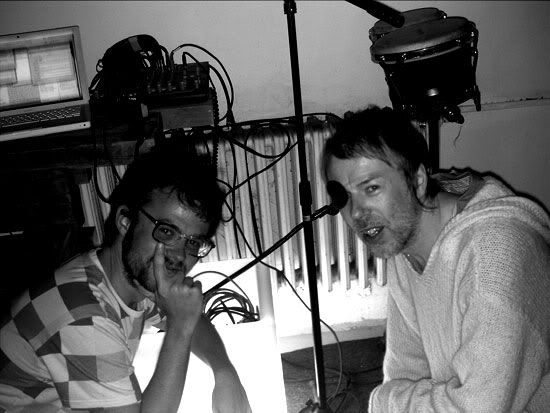 The WFMU show came live from a converted stable in Kreuzberg now used by the artist team
AIDS-3D
(Daniel Keller and Nik Kosmas), whose OMG obelisk is one of the
star pieces
in the Generational show currently showing at the New Museum in New York (you can see more of their work
here
). That obelisk is what gave
my piece about the show
its title. Trent's show is pretty interesting --
last week
he was in Barcelona interviewing Carlos Carbonell from
Internet2
.
Another guest on the show last night (it went out live between 9pm and 11 EST, which meant 2am and 5am Berlin time) was the legendary
Hanayo
, the trainee geisha who appeared on the cover of The Face magazine in 1992 and has been Berlin's most famous Japanese resident since the turn of the century. Hanayo is a photographer, performance artist and singer. Her section of the show begins about one hour and 18 minutes in and her website is called
Hanayo's Mystery Farthouse
. She sings a lovely France Gall song at about 1 hour 24, stranged out with tons of digital delay.
Hanayo's latest musical project is called
Wooden Veil
:
The Wooden Veil project -- a brilliantly spooky krautrock-Shinto drone orchestra -- seems to involve Berlin scenesters like Marcel Turkowsky, Mario Campos and Brent Wadden, a friend of Joe Howe and Emma (you can see Brent's paintings
here
and his LiveJournal
here
). Hanayo plays out with this track by J-rap star Coma-chi:
By this time Aki and I had melted away into the night: dawn was blueing the Berlin sky and the birds were beginning to sing.