"Shibuya-kei princess"
Kahimi Karie
reveals in her
lifestyle column in the MyLOHAS blog
that she's working on a new album, her first since 2006's Nunki. Jim O'Rourke -- who's collaborated as much with KK this decade as I did back in the 90s -- is involved.
Kahimi doesn't revisit her 1990s hits much -- she's much more interested in quiet left-field experimentalism these days -- but another singer is currently doing that for her.
Aira Mitsuki
released her first album, C.O.P.Y., at the end of 2008.
Here's
her cover of Kahimi's early song Mike Alway's Diary, and
this
is her take on Cornelius' big hit Star Fruits Surf Rider.
When I first heard these, I thought that Aira Mitsuki must be a robot singer, like Yamaha Vocaloid2 "singer" Miku Hatsune:
I marveled at the engineering feat of catching Kahimi's inflexions so accurately in software, and planned immediately to buy the Aira Mitsuki package so I could score a new string of hits in Japan. But it seems she's a real girl, albeit with definite tendencies towards the robotic, the
technotic
, and the
Barbie
-baric.
When it comes to summing up the true essence of Shibuya-kei, though, I think "melody designers" (that's their jingle showreel above) Lullatone probably do it better. Their song
A Plastic Bag in the Wind
(from the new album
Songs That Spin in Circles
) has the naive bossa feel of I Am A Kitten. If I ever wanted to make a robotic-retro version of Shibuya-kei, Lullatone would be my bitches.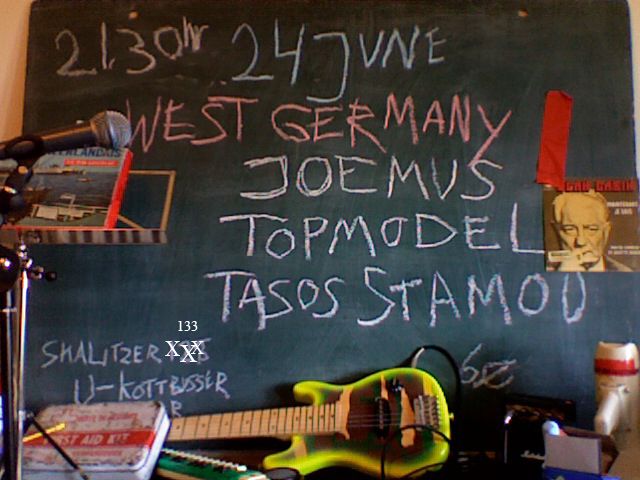 But -- like Kahimi -- I'm too interested in the present to do that. Joemus -- now a band! -- plays a live set of improvised, unheard material
at West Germany on Wednesday night
. Rather than recreating the
Joemus album
, we've decided to recreate the experience of making the Joemus album -- that moment when I received unfamiliar tracks from Joe and tried to write and sing lyrics over the top of them. So I'm going to be attempting to sing new songs over Joe tracks I've never heard before. Impro is the opposite of retro.