When the Serpentine Gallery Pavillion opens on Sunday, it'll be Britain's first exposure to
SANAA
, the architectural team of Ryue Nishizawa and Kazuyo Sejima, responsible for New York's wildly successful New Museum.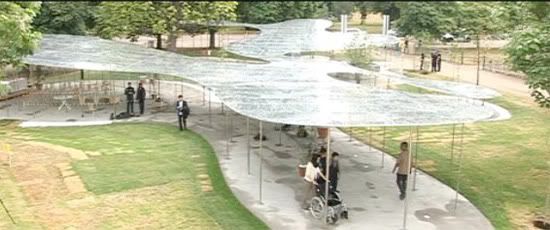 Every July the Serpentine Gallery -- currently under the direction of the enlightened Hans Ulrich Obrist -- lets an architect erect a temporary pavilion in its Kensington Gardens enclosure. SANAA's, the ninth in the series, is certainly the least bombastic. As the Times' architecture critic Tom Dyckhoff explains in
a video on the paper's site
, the Japanese team has built a light plane of polished aluminium sloping modestly towards the ground across pillars and bendy plexiglass walls. The inside space, dotted with Nishizawa's white
bunny chairs
, merges inside and outside. From a distance, the mirrored structure seems to blend with the trees, like a calm sheet of reflective water.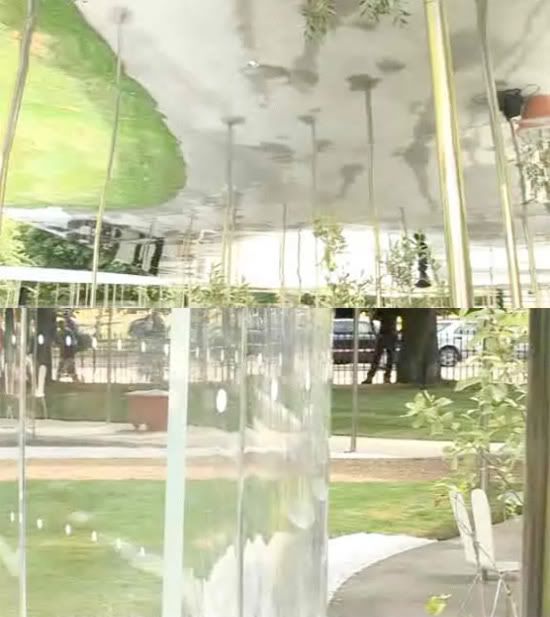 Equally reproachful of bombast is the music of Otomo Yoshihide, the subject of a
new documentary
called KIKOE. Filmmaker Iwai Chikara (who also runs a club with Yoshihide) filmed the musician over ten years, building up 500 hours of footage of concerts, interviews and sessions, which he's edited down to 99 minutes. Chikara calls it "a document of a system observed from a fixed point" -- the fixed point being Yoshihide himself, and the "system" being collaborators like Sachiko M and Kahimi Karie. The film shows at Shibuya Eurospace later this month before heading out to European film festivals.
Yoshihide is part of the
No Input
onkyo movement which shares a certain organic minimalism with SANAA's architecture. "I just wanna listen, no playing," as Sachiko M puts it, and I can imagine SANAA saying the same about Kensington Gardens -- their building really seems to want to listen to the park rather than dominate it.
My final example of a Japanese dislike of bombast comes in the form of the documentary
Jesus Camp
, which we watched last night on the recommendation of Japanese friends. The Christian evangelicals depicted in Rachel Grady and Heidi Ewing's 2006 film probably won't surprise anyone -- they're a well-explored, even over-familiar subject, and for the moment they've lost their mainstream political capital -- but what I found interesting here were the cut-aways to a Japanese studio discussion in which a short-skirted woman exclaims to an expert how sorry she is for American kids whose ideologically-motivated home-schooling doesn't allow them to study art or music -- let alone Darwinian evolution -- and whose parents are so out of love with the world that they can't wait to die.
"It's truly scary that 25% of Americans think this way!" these Japanese commentators agree. A religion, or a culture, with a little more love for its surroundings -- and a little less bombast -- suits them better.