When I first moved to the northern tip of Neukolln in 2006 there was a funky little record store (it also sold comics, jagged grungy silkscreens, books of pervy photos of wounded Japanese girls by Romaine Slocombe, and copies of FRUiTS magazine) on my street called
Le Petit Mignon
, run by a frenchman called Guillaume Siffert.
In
March 2007
Le Petit Mignon closed its Neukolln shop, moved up to the Torstrasse in Mitte, and merged with
Staalplaat
, a Dutch record shop and label which started as a cassette distribution operation in 1982. At the time, it looked like Le Petit Mignon was getting "upwardly mobile", moving from a marginal area to hipster central in Mitte. But in early 2009 rumours started to reach our ears that Le Prodigal Mignon was seeking to return to Neukolln, bringing Staalplaat with it. Guillaume spent a couple of months scouting locations, and finally settled on Flughafenstrasse, a busy commercial, working class street that slopes down from Tempelhof Airport to the Neukolln town hall.
The new Neukolln Staalplaat -- called
Staalplaat Working Space
-- opened in late April. I made my first visit last night, to see a
Midori Hirano
show in their concert space at the back. I actually missed Midori's set because of a fireworks display at Tempelhof, catching instead the sensuously placid guitar sounds of
Rac-ka
, a duo from Osaka.
It felt good being in there, even if there was something a bit cautious about the way Guillaume had to unlock the door to let us in. On the
Staalplaat blog page
Rinus details not just the new venue's problems with noise-obsessed neighbours, but their view that "the neighbourhood is turning into a red-light district, with illegal prostitution, women-, drugs-, and arms trafficking, bribery, violence and noise disturbances."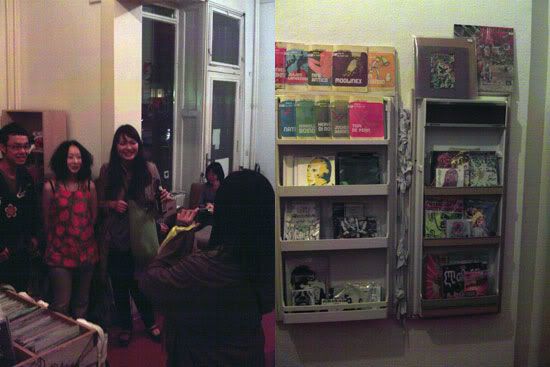 I personally felt a big hippy-alternative vibe of calm. Staalplaat's concert room has sofas. It's very quiet in there (and not just because of the neighbour with the decibel meter) and the only lighting is a couple of candles and some ghostly ambient seep from the backyard. When experimental music is playing, you're instantly in a Wire magazine article, and when the show is over and the audience mills out into the shop area you feel something of the vibe of the old Rough Trade shop in Covent Garden, the one under Slam City Skates.
The move back into Neukolln -- deeper into Neukolln, in the developing area around Boddinstrasse -- seems to have given Staalplaat a rush of relevance, a new mission and energy. Whereas, up in Mitte, Staalplaat pretty much blended in, sensibility-wise, with neighbours like
Bongout Gallery
and
Neurotitan
, down here in "deep Neukolln" it seems to be back on the cutting edge, joining semi-squat cultural guerilla operations like
Loophole
(from which I did a
livecast
back in February at the invitation of the ubiquitous Rinus Van Alebeek). The gamble seems to have paid off; foot traffic into Staalplaat during the day is apparently rather higher down here "in the middle of nowhere" (actually close to happening spots like Weserstrasse) than it was up on tacky Torstrasse, the Oxford Street of Berlin hip.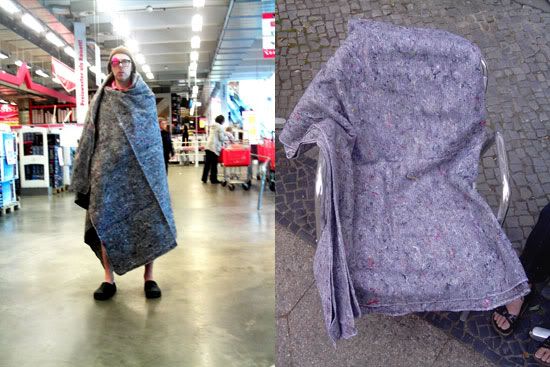 Neukolln may not have Mitte's buy-yourself-hip clothes boutiques (oh shit, did
Best Shop
close down already? Maybe Mitte doesn't have them either!) but it does offer less conventional clothing possibilities. I'd recommend a trip to the gigantic Bauhaus store on Hasenheide, directly across the road from Viet-café
Hamy
, our cut-price version of Mitte's
Monsieur Vuong
. At Bauhaus you can marvel at gorgeously utilitarian gas cannisters, chipboard slabs, orange-painted trolleys and red nested toolboxes.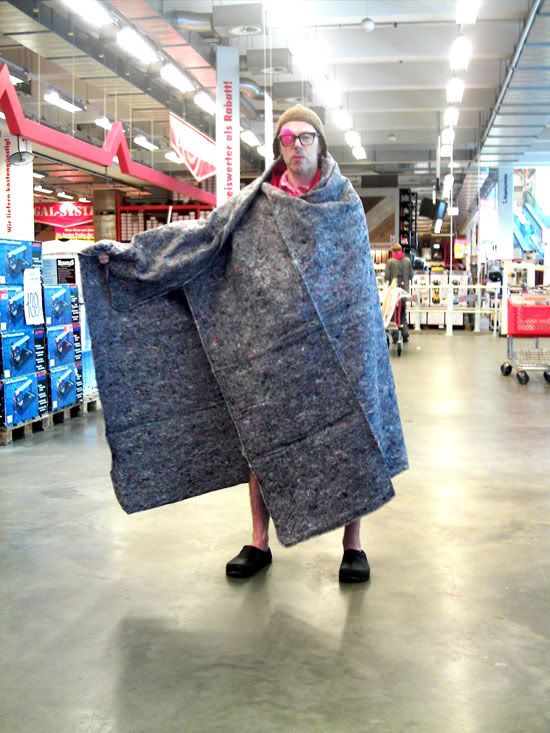 Copying
Jan Lindenberg
-- my personal style guru, who uses them to soften his recycled MDF chairs -- I bought a €4.60 recycled Bauhaus packing blanket yesterday and modeled it for Hisae's camera right there in the store, to the amusement of Saturday shoppers. I run the pictures here so that Twit Opera and the Anons can mock me
as if I weren't already mocking myself
, and because
milky_eyes
was complaining yesterday about the absence of photos of me. Packing blankets -- like deep Neukolln -- are where it's at, man. You read it here first.