"He stuck a needle in his arm and lives and breathes no more". That's basically my reaction to the death-by-heroin of New York artist Dash Snow on Monday night. Others
reacted differently
, from ArtForum's "meh" blog report to
Francesca Gavin's Guardian piece
calling him "an icon for our times".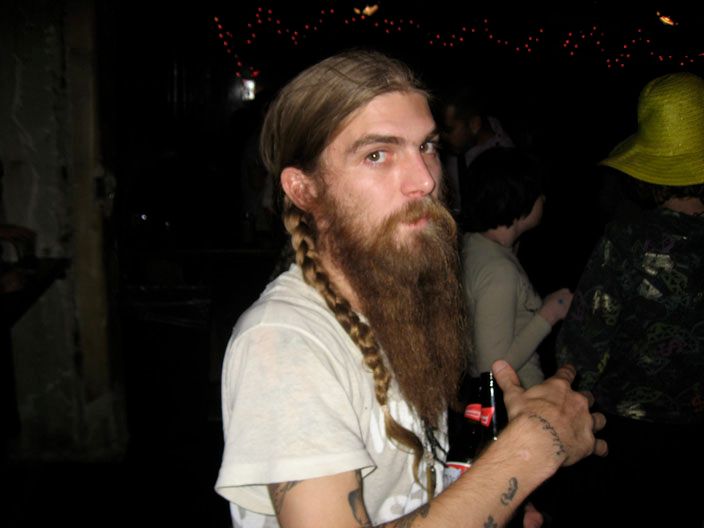 My response yesterday was that "I need to have more thoughts about something before I want to write about it," but today I thought I'd dig up some previous thoughts I'd published about the artist -- things I said about Dash Snow while he was still alive -- just to see what kind of composite sketch they created. I emphasize
sketch
, because I never met Snow -- though I knew some of his friends, like Ryan McGinley -- and didn't think about him very much.
One thing I did share with Snow was that we were both selected to represent (
ahem
) young American art at the 2006 Whitney Biennial. Dash had a corner with some semen-spattered newspaper clippings and a record turntable, and I was the Unreliable Tour Guide. It was my job to mock the other art in the show, so when I came to Dash's little heap of yellowing books and papers I'd point to the record player and say: "Some people use turntables to listen to music, others to snort cocaine. You can snort it at four speeds, 16, 33, 45 and -- if you're really in a hurry -- 78 RPM."
Sometimes I'd take the opportunity to tell the story of Rob Pruitt, who was hounded out of the overly-PC late-80s art world after a "black show" featuring minstrelsy, and welcomed back into it after a "white show" fifteen years later that featured a long line of cocaine on a gallery floor, free to anyone undignified enough to get down on hands and knees and snort it.
The other Dash Snow narrative I did at the Whitney concerned his hatred of phones, computers, email, magazines, newspapers and other communications media, a fact which was often inserted into
profiles of Snow
to establish his Romantic otherness. "It's just a shame I had to read about this in a fashion magazine," I lamented, "rather than scraped in the dust of a desolate forest clearing with a ram's horn."
In
The camera is mightier than the rock
, my riposte to a silly anti-hipster article in Adbusters, I said: "Unfortunately, Haddow fails to get down to the serious business of art criticsm -- to tell us whether Dash Snow is better than Terence Koh, and whether Ryan McGinley is more interesting than Ryan McGinness, and why. You cannot dismiss a whole culture based on one sketchy description of a DJ mix. But the Catch-22 is that as soon as you start talking about how skulls are dull, or how Koh is better than Snow, you're basically carrying on the conversation the subculture carries on with itself on a daily basis. Jeremiads are therefore a safer option for the naysayer than prac crit."
That, by the way, was my opinion; the art world would have lost a much more talented artist had Terence Koh died on Monday.
In
a comment on the Neomarxisme blog
(the topic was Tokion Japan's relaunch as a magazine vaunting creative foreigners to Japanese as "exemplary") I flagged the problem with hyping edgier-than-thou scenesters:
"Matthew Damhave, who leaves a message a couple of lines above mine here, has recently set up a New York magazine which is very much a "me and my friends" magazine (his friends are NY hipsters like Dash Snow). There's no racial element there. But what is very much there is the whole idea of "me and my friends" being exemplary because other people are less interesting, even to other people themselves. This is where the whole idea gets sketchy... My people are interesting, yours are dull. This gets problematical when you're actually trying to sell a product to the people you think are dull. That problem then gets compounded when there's also a racial divide between the "interesting" and the "dull". I think Japanese readers will find this, as Marxy seems to be implying rather more politely than I am, distasteful. It's not the 80s any more." I could have added, it's not the early 19th century any more, because this is a Romantic trope (and perhaps Romantic tripe too).
There was also a mention in
The post-fashion forest
, a piece about Mark Borthwick. "The thing about this neo-hippy thing -- and there's a darker shadow-version of it in figures like Dash Snow and Jonathan Meese -- is that it's super-sexy. Devendra is sexy, Borthwick is sexy, Hisham is sexy, and Eye... well, according to the Papermag blog "He generates such great energy, power and sexual vibes that my friend Kazumi kept saying, "I need to go home and take a cold shower!""
And actually, I do think wild, inventive sex is what Snow probably did best, and most valuably (as documented by the Rivington Arms archive of
his Polaroids
, for instance). He may have written his own epitaph when he scrawled on the wall of a Deitch installation: "I MAY NOT GO DOWN IN HISTORY BUT I'LL GO DOWN ON YER LIL SISTER".