The Book of Scotlands
-- my first book -- has been, up until now, vaporware. It's existed, publicly, as a series of
proposals
, promises, premises, outlines, excerpts and
readings
. Not only is the book a series of descriptions of Scotlands which do not actually exist, but it hasn't, itself, existed either. Until now.
I'm delighted to announce that The Book of Scotlands -- did I mention it was my first book? -- is now available for immediate delivery via
Amazon.de
. The other Amazons will get it in a few weeks (stock is being shipped to the US by sea). Meanwhile, people out there are actually
reading
the tome, and some are already tweeting
their impressions
. Press reviews are imminent, and on August 15th I'll be doing
dramatised readings
from the book at ProQM in Berlin. Here's an extract from the book, the bit where Stanley Baxter tells Scotland to stop masturbating -- with impressive results!
* Scotland 45
It's a little-known fact that Alfred Kinsey came to Scotland shortly after publishing
Sexual Behavior in the Human Female
. He came with his friend Alan Lomax, the ethno-musicologist. It was partly a holiday, but the pair also wanted to pursue their interests; Lomax wanted to make recordings of sea shanties, Kinsey to compile data on Scottish masturbation.
And so, over three weeks during the hot summer of 1954, the two Americans travelled the length and breadth of Scotland. They listened to old sailors singing what they remembered of sea songs, and harvested sensitive data on masturbation. No sooner had an old man put down his fiddle after playing for Lomax's Revox than he was quizzed by Kinsey on his one-handed technique. The pike-faced old musicians were assured that, although all credit would be given them for the music, for the sex survey they would be strictly Trad/Anon.
Lomax managed to record some wonderful ballads, but what Kinsey discovered shocked him profoundly. Scots were masturbating far too much; on average, 6.7 times per day. At this rate of sexual squandor, the nation wouldn't last far beyond 1978. Something had to be done.
Kinsey and Lomax formed a delegation and made an urgent visit to the Scottish government. Lomax handed over priceless folk recordings, then Kinsey rose to speak.
"Gentlemen," he said, "after an extensive random survey of Scottish sexual habits, mostly focused on fiddlers, I have made a disturbing discovery. The Scots are masturbating too much. Birth and productivity rates are sure to nosedive over the next decades. At this rate, there won't be a single Scot left by the year 2000."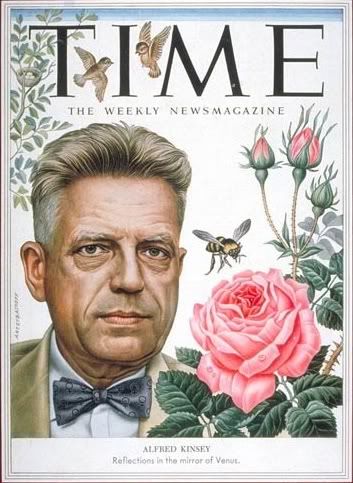 The Scottish leaders took Kinsey seriously; after all, he had recently appeared on the cover of Time magazine, surrounded by birds, flowers and bees.
"What do you suggest we do?" they asked.
Kinsey outlined an extensive promotional campaign with the slogan "Stop masturbating!"
Only this direct approach could bring the nation to its senses, and save it from sinking to its knees.
After the meeting, Kinsey and Lomax were given bowls of Scottish onion soup and glasses of Scottish mead before being driven to Turnhouse Airport and put aboard a Caravelle jet bound for New York. They sat in first class, smoking briarwood pipes and gazing down at the Atlantic through the gaily-curtained floor-to-ceiling windows (later deemed a serious design flaw).
The Scottish government decided to act on Kinsey's advice. They launched a major publicity campaign advising the Scottish people to "Stop masturbating!" Ads were shown in cinemas before and after every film (it was still the age of almost universal cinema-going). They featured a crowd of old sea-dog fiddlers sawing away vigorously at violins, suddenly interrupted by Stanley Baxter. Pushing the men aside and screwing up his rough-hewn Glasgow face, Baxter said directly into the camera: "STOP MASTURBATING!"
The campaign was a great success. Masturbation went quickly out of fashion in Scotland, and the results didn't take long to make themselves felt. Work productivity rates soared along with the birthrate, and the nation's GDP skyrocketed. Before long there was enough excess income for the Scottish prime minister, Margaret Muir, to promise, in a famous 1961 speech, that Scotland would put a man on the moon before decade's end.
In 1969 the entire world watched as that promise was fulfilled on live television. I remember the scene well. I was lying in an air-conditioned room in the French city of Montpelier, masturbating.