The
September issue of The Wire
is out, with a rather gorgeous Donald Milne photo shoot of "the world's most beautiful man", David Sylvian, spashed all over it.
It's actually a pretty good issue, with features on Aki Onda, Vietnamese pop, and a review by one Nick Currie of a Berlin art show --
Allora and Calzadilla's piece
at the Temporary Kunsthalle, in which they installed a temporary ceiling halfway up the wall and had a flamenco dancer stamping away invisibly above our heads.
I thought I'd go through the issue today with yesterday's theme of authoritarianism-and-creativity in mind, just as a reminder of how insistently this "false binary" tends to play out when artists are interviewed about their lives.
My art review ends: "My friend, the composer David Woodard, was just whispering something about David Byrne's
Playing The Building
piece when the guard came over and told us, rather sharply, to stop talking. "The artists wish visitors to experience an imaginative landscape," she explained, "and that requires silence in the room." We complied, but not without experiencing a brief echo of another imaginative landscape: the authoritarian republic administered from this site 20 years ago." Notice how authoritarianism there is attributed not just to the defunct DDR (Allora and Calzadilla's piece specifically references the now-demolished Palast der Republik, the DDR parliament next door), but to the artists themselves.
Later, there's an extensive interview with another friend, Aki Onda. A couple of pages in Onda (whose father was born in Korea, and who travelled a lot when he was a child) says, in a pull quote blown up big on the page: "I really hated Japan. I thought it's just boring. If that's the only system you know, you have to obey it, but I knew many other countries".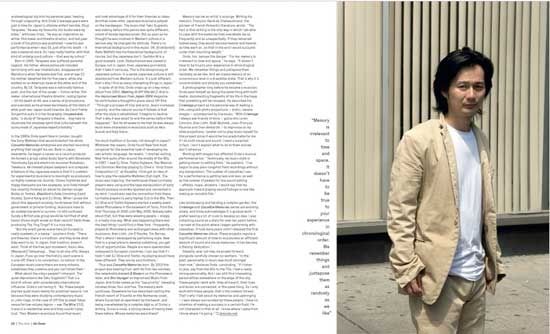 The brush-with-authority theme continues as Onda describes his schooldays: "I quit kindergarten within four days," he recalls. "Every morning I cried and refused to go, and my parents gave up. On the first day we had to take a nap and I didn't want to obey. In elementary school all I did was drawing, I didn't listen to what the teachers said at all. People just ignored me. But later, Japanese junior high school is really conservative and the rules are strict. I had long hair and I completely ignored them, so they called my parents, who didn't take it seriously. They told me I should do whatever I believed. So I became famous as the only student who completely ignored the system. I skipped classes. And then I shut my mouth for five years. I didn't say a word. I was just obsessively reading books. And sometimes I went to university classes. My father was teaching there, so I knew the professors."
Later, though, Onda says that his Cassette Memories project has been an attempt to come to terms with this childhood. So authoritarianism and creativity connect; one dimension can be the irritating grain of sand the oyster turns, in the other, into a pearl.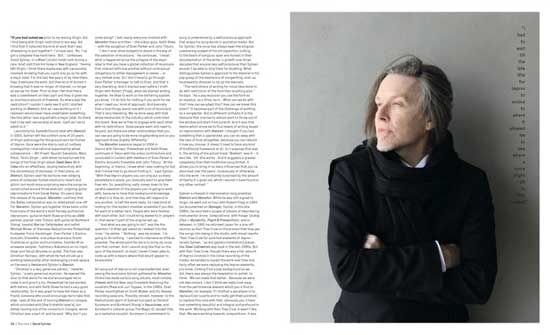 In the Sylvian feature the rebellion is against God and his representatives on earth: "Undertones of violence ripple through a number of tracks: the first, most significant occurrence coming on the disillusioned opener "Small Metal Gods", which is a barely veiled allusion to Sylvian's break with the gurus who have played such a large role in his art and life these past 20 years. Picking out the layered and intercut improvisations of Polwechsel, Fennesz, Nakamura and Otomo, Sylvian sings: "
I've placed the gods/In a zip-loc bag/I've put them in a drawer/ They've refused my prayers/For the umpteenth time/ So I'm evening up the score."
The concluding verse goes:
"Small metal gods/Cheap souvenirs/You've abandoned me for sure/I'm dumping you, my childish things/I'm evening up the score
."
"There's a sense of liberation in expressing this disillusion, whether it's true or not," reveals Sylvian. "It's the freedom to doubt. I think it's in the Tibetan Buddhist religion where they have these gatherings, I think even on a daily basis, where they dispute the teachings of the Buddha. They argue against him. That is extremely healthy for any community, for any democracy. Let alone a religious group."