One day in 1999 I was visiting Berlin when I discovered a "thematic bookshop" being assembled in a tiled butcher's shop on Alte Schoenhauser Strasse. Hand-painted in the window was a sign outlining the themes we could expect when the place opened in July 1999: the city, politics, pop, economics, architecture, design, art and theory.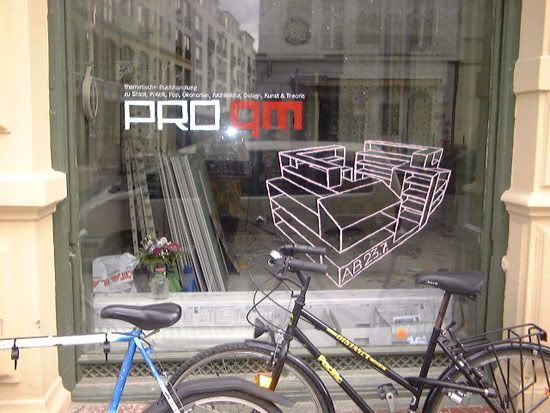 When I moved to Berlin in 2003,
Pro QM
-- the bookshop I'd seen -- looked
like this
. Even if I didn't have money to spend on the gorgeous books and magazines they stocked, just visiting felt like recharging your creative batteries. That thematic butcher's shop seemed to suggest a better, more elegant, more intelligent world. Now on Almastadtstrasse, just around the corner from the original site, Pro QM continues to ride high in my list of things to see in Berlin -- usually right at the top.
If you're in town tonight, there's another reason you might want to come to Pro QM. At 8.30pm I'll be doing
a dramatized reading
(which means putting on pantomime accents, basically) from my new book,
The Book of Scotlands
:
Solution 11-167. The Book of Scotlands by Momus
(Sternberg)
Book presentation with the author
Saturday, 15 August 2009
20:30 - 23:30
Free
Pro qm, Almstadtstr. 48-50, Berlin, Germany
Phone: 03024728520
Email: info@pro-qm.de
Map
There's a nice symmetry to the fact that I've just been asked to write an article about Pro QM's ten-year history for the next edition of
032c magazine
, so I'll be featuring them even as they feature me.
Oh, and there's apparently (I only learned about this by reading the small type on the
Facebook event page
) a "semi-official after-party" at Kim Bar afterwards, starting at 10pm and featuring DJs Nan-Hi Kim and Alex Bechberger. The party's been titled Don't Leave after my 1986 Brel cover.
Berlin Unlike
describes the Kim Bar (
Brunnenstrasse 10
) as "a very minimalistic Mitte bar, with a small DJ table and just about enough seating for a successful birthday party". Things might get tight: in the strange numerical language of Facebookese, the Pro QM event has 100 confirmed guests, 128 might attend, 321 are not attending, and from 428 we are still awaiting reply.