On Sunday I was cycling up Ohlauerstrasse -- the part of Kreuzberg that begins just over the canal from our part of Neukolln -- when I spotted a rather witty poster. "
I WOULD HAVE PREFERRED A BLANK WALL RATHER THAN THIS GREAT PIECE OF SHIT
," it said, in crossed-out Verdana letters.
What I liked about this poster at first was the thought that it was complaining about -- and therefore effacing -- itself. It was a paradox, a speech act that condemns speech acts. There's an infinite regress built into this (and emphasised by the crossing-out): the condemnation is also condemned, the effacement effaced, and so on. Later, it occurred to me that the poster was a good example of what Pat Kane, citing the Italian thinker Paolo Virno
in his review of my books the other day
, called "the negation of the negation".
I put the image up
on my Flickr page
last night and within hours two people had linked to similar posters they'd seen in Paris and London. Someone called
acb
(oh, it's Andrew Bulhak!) had seen these two posters on a mural on Chance Street in Shoreditch, London:
IN AN IMAGES SOCIETY, PRODUCE IS MORE IMPORTANT THAN POSSESS
, says one (crossed out), and
SORRY ABOUT IT, BUT IT'S NOT AN ACCIDENT
, says the other. Meanwhile, Flickr user
Fufurasu
(oh, it's my Greek friend Orestes!) showed a poster in Paris:
JE N'AIME PAS BEAUCOUP LES GENS QUI POURISSENT NOS MURS AVEC DES AFFICHES
, it says; "I don't much like people who foul up our walls with posters". Misreading the small print at the bottom of the poster, Fufurasu links to a clip-art site called Retroart.com. In fact, the posters are signed
Reroart.com
.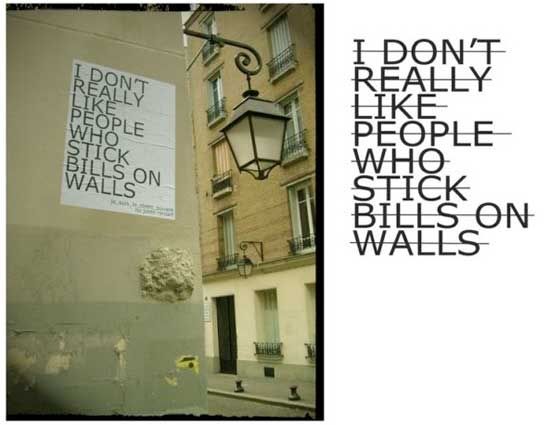 Réro, we learn from the site, is based in Paris (which explains the slightly tilted English) and makes graphic design and street art. He (assuming it's a he) has a show coming up in September at Antje Oklesund's
"audiovisual laboratory"
on Rigaerstrasse, Berlin. There's a big
page of photos
of the posters in Réro's Next Customer (le client suivant) series on his website, with an artist's statement about his intentions.
After looking at the
images
on this page we can add a few new "negation of the negation" slogans to our collection:
ART IS GREAT TO WASTE TIME BEFORE DYING
THIS IMAGE IS FREE COPYRIGHT
I'VE JUST WON AT THE LOTTERY AND YOU CAN FUCK OFF
RESERVATION FOR TWO PEOPLE
THIS POSTER IS INDIRECTLY SUBSIDISED BY THE TAXPAYER WHO FINANCES ITS CLEANING AND THEREFORE PERMITS IT TO DISAPPEAR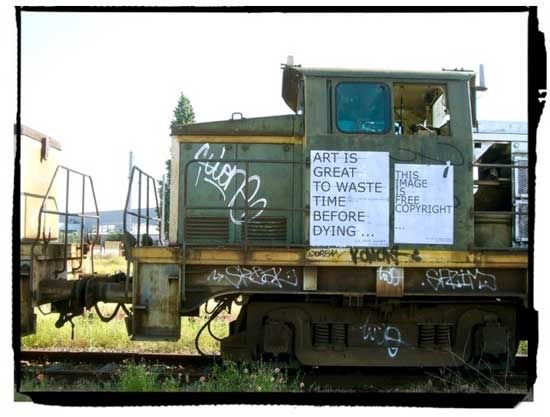 Réro also explains the "next customer" idea (I've translated from the original French) in a text:
"On the theme of the image illustrated by a text, "I am the next customer" is the person who, even before having paid for his goods, is proud to mark the limits of his property at the supermarket check-out, even before the products actually belong to him. This little psychological barrier might seem harmless, but it's also a very good index of our time.
"With irony, these posters -- which represent exactly the opposite of what they seem to be saying -- raise a smile. Then, the fact that the text is crossed out leads to a new reflection on whether it's a simple mistake the artist thought it best to preserve, or another negation by image... This project has, as its objective, to make the passerby think about the notion of the physical and intellectual ownership of a work."
After reading Réro's artist statement, I almost feel I know too much about his intentions and ideas.
PERHAPS HE SHOULD HAVE CROSSED THESE TEXTS OUT TOO
.