September is the big American month for our big American books. When I say "our", I mean Tao Lin, Nick Cave and myself, and when I say "books" I mean novels. Cave's sophomore effort
The Death of Bunny Munro
comes out in the US on the 1st, and on the 15th Tao Lin publishes
Shoplifting From American Apparel
. The same day, my debut
The Book of Jokes
comes out.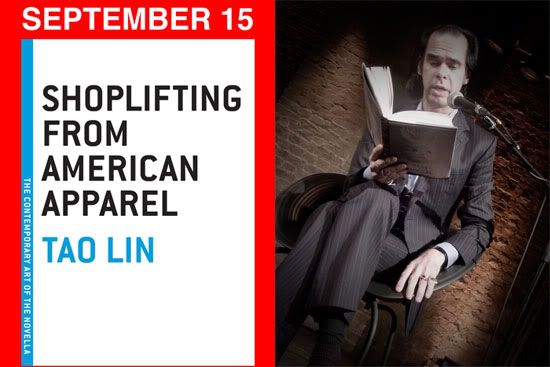 This morning I received finished copies of The Book of Jokes. My first impression was that they are made of paper, which is odd, because the book was put together on a computer screen, two years ago. Paper doesn't shine as brightly as a computer screen, you have to get used to that. There's a faint scent of paper and ink, of course. The back cover mentions Rabelais, Martial and Boccaccio as my peers and references, which is odd but nice. They're a sexy bunch, and so are Cave and Lin.
Without even bothering to dress, I snapped a couple of pictures of myself proudly holding my novel. I held it like a fig leaf, covering my genitals, because for me culture does that; it covers our genitals, blurs our primal instincts, softens our shove.
So now I have to think about promotion. I'm not nearly as inventive a self-promoter as Tao Lin, who's currently
selling his stuff on eBay
(including this nice
moleskin journal
) in a bid to draw attention to a novel about shoplifting he financed innovatively by
selling shares
(he raised $12,000 by selling six 10% shares at $2000 each).
Nick Cave, meanwhile, is issuing a
7-CD / DVD set
of himself reading the whole of his new book. I actually was supposed to shrinkwrap a CD of some sort with the French edition of my novel, but talked the publishers out of it, because I wanted the book to stand on its own as a book, not as a side project from a musician.
Nick Cave has already done a bunch of readings from Bunny Munro, and run excerpts in Vice magazine. Oh, wait, I've also done readings from The Book of Jokes! It's just that they happened so long ago it seems like another era, another life. Two years ago I read this one:
And one year ago I performed an artier reading at Tranzit/Display Gallery in Prague:
On September 17th I'll do a performance reading a bit like the Tranzit/Display one at
Staalplaat Working Space
in Berlin, too. Still deciding whether to wear clothes or not.