Hisae and I spent yesterday showing Sachiko -- a Japanese patisseur based in Marseilles -- around our favourite corners of Berlin. We'd promised to show her cakes and patisserie, but ended up showing her books (the patisseurs seemed mostly to be on holiday). But the books were, in their way, quite cake-like. Here, let me show you some tasty ones.
We started at
ebertundweber
, a really gorgeous little bookshop at 44 Falckensteinstrasse. I particularly like their back room, where there's a sofa and a selection of children's books. I was really impressed by an album-shaped children's book called Die große Reise des kleinen Mouk, written (well, drawn mostly) by Marc Boutavant and published by
Hanser
. This "around-the-world" tale featured incredibly vibrant drawings of Indian and Japanese rituals -- on closer inspection they turned out to be stickers you could peel off.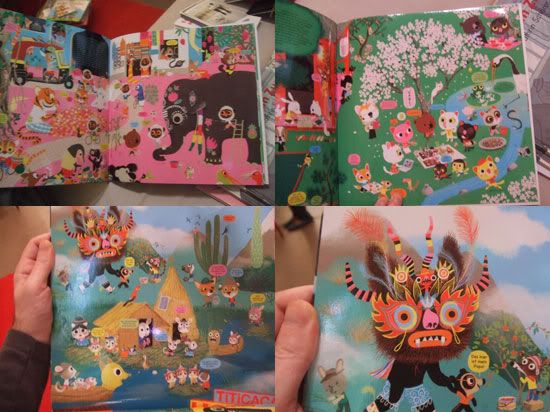 I like my books, like my cakes, either very ornate or very stark. The publishing house
Verbrecherei
issues wonderfully bold papery blocks, millefeuilles of plainness. The one shown here -- the title translates as Sister Midnight -- is a sci-fi novel written by a rock journalist. The only thing I ended up buying from ebertundweber was a Japanese magazine, "worldwide creative journal"
Quotation
.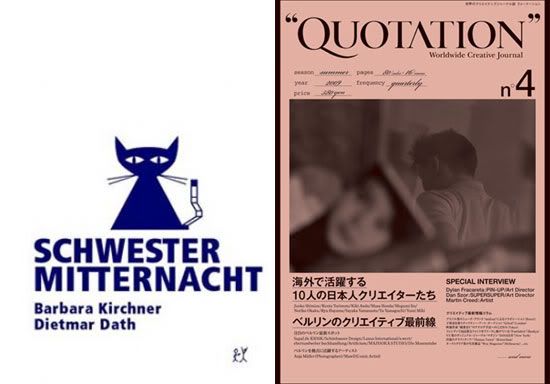 Quotation is one of those magazines (it reminds me a bit of
Atmosphere
or +81, with which it shares some editorial staff) with people I know and places I go on every page. When I asked the shop why they stocked it, they said it was because the mag had featured them in its next issue -- they were selling, in other words, the free copy the writer had given them! (Quotation has also interviewed me for their next issue.)
Our next stop was
Motto
at 68 Skalitzerstrasse. The fantastic-ness of Motto cannot be stressed enough; this is a sort of book gallery featuring tables laden with self-published and artist-published books and magazines. The selection is absolutely cutting edge. Greeting Akiko, who runs the Motto store, I showed her Quotation magazine and -- guess what! -- she said they'd just interviewed her as well! (Thank God Twit Opera doesn't exist any more, they'd tweet-thrash me for such trumpet-parping, back-slapping in-groupery!)
The "cakes" that caught my eye at Motto (this "book bakery" fascinated Sachiko so much that we could hardly prise her away) were mostly plain ones. I was particularly interested in Stuart Bailey (from Dexter Sinister)'s re-editions of two novels by E.C. Large (
Hyphen
). Published in 1937 and 1938, Sugar in the air and Asleep in the afternoon are the work of an English industrial chemist, writer, and plant scientist best known for his book The advance of the fungi (1940), a history of plant diseases. His novels have a pleasing exactitude, a pipe-smoking plain-spokenness which the hardbound covers emphasise.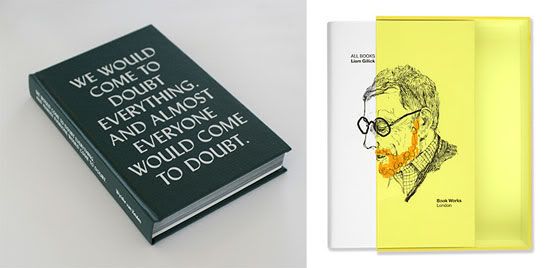 We would come to doubt everything. And almost everyone would come to doubt.
by Wystske van Keulen, designed by Adriaan Mellegers, concerns a dentist who leaves his village in the south of Holland and goes to live in Garabandal, Spain, convinced that the place will play a crucial role in world history.
All Books
by Liam Gillick (Book Works) collects together all of Liam Gillick's major fictional texts. "The utopias and alternative visions of society envisioned by writers, filmmakers, philosophers, and scientists are presented and speculated on, often through the fictionalised voices of secondary historical characters," says the blurb. I'd have bought it, only it's £375. The jacket (with a special yellow plastic slipcase) is by M/M Paris, those celebrated cake-makers.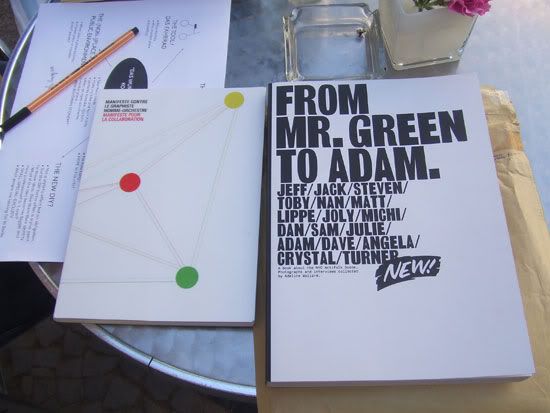 The kind francophones at Motto slipped me consolation for being unable to afford the Gillick in the form of a copy of
Graphic
, a Korean graphic design magazine, a special on self-publishing, full of full-page shots of interestingly quirky zines and booklets. Motto will stage their own
One-Day Self-Publishing Fair
on September 5th from noon to midnight. Above you can see a self-published photo book by
Adeline Mollard
, with whom I had a meeting on Monday and may be doing some kind of book project.
Finally -- on the topic of books -- the Village Voice this week runs a feature comparing my Book of Jokes with Nick Cave's second novel and a book by Joe Pernice.
Lit Seen: Momus, Joe Pernice, and Nick Cave Trade Guitar Picks for Pens
by Zach Baron examines "the improbable return of the rock-star novel". Just for the record, I never used a guitar pick to make my records and didn't use a pen to write my novel either. I'm also not a rock star. If these are all metaphors, why couldn't they have chosen more interesting ones -- cakes and patisserie, for instance?