A criticism leveled at the daily press is that it runs stories in the heat of the moment (often before the facts are clear) then fails to follow up with developments, corrections and more considered longterm views. You could say the same about Click Opera; stories come and go on a daily basis, and no sooner has an emotional head of steam built up around one narrative than it's swept away by another. Certain themes do recur, but what we rarely do is go back and pick up on "dead" stories from the archives, to see how relevant they still are and follow up what happened to the people featured. So I thought today I'd highlight the last five September 1sts, and give you brief follow-up information about the things I was writing about.
September 1st 2004
Water is the new drugs
The Bishoen sento described here recently closed, Hisae tells me. My taste for bathing led, three years later, to my learning to swim, and for about a year Hisae and I went swimming regularly in local pools in Berlin. But somehow the fad faded; this year we swam just once, in the sea in Greece. We really should get back into it.
We'll next be in Japan in December and January, where I'll be talent-hunting for the
Aftergold
Olympic-linked art show to be held at Loughborough in 2012.
September 1st 2005
Rinko Kawauchi keeps a diary
Rinko Kawauchi
's
keitai
snap diary -- which supplied (via Google Translate) a lot of
the lyrics
for my Ocky Milk album in 2006 -- was discontinued a year or so later, replaced by an
occasional travel diary
of her trips to her exhibition openings around the world. Rinko's gallery, Foil, now has an
English-language blog
. Her work also appears in the new edition of Dutch photography magazine
Foam
, themed around the idea of "everyday wonder". Kawauchi's last book was called
Semear
and came out in 2007. It contained photos of the Japanese "Nikkei" community in Brazil, who mostly came from Kobe. I'm fairly sure I was browsing a newer Kawauchi photo book -- images of old people in a care home -- at
Motto
the other day, but I can't find any references to it.
September 1st 2006
Yokoland just got bigger
I score my first design press cover in a feature (headlined "Barely legal") about young Norwegian designer team Yokoland. I hope I didn't turn them into one-hit wonders; their
website
hasn't been updated since January 2008! Maybe they're just too busy with other stuff?
September 1st 2007
Masterpisses of the quintocento
Probably the most telling entry about ideas underpinning The Book of Jokes, which I was then in the middle of writing. "If you go back 500 years, you find that modern distinctions between sacred and profane, respectable and vulgar, refined and ribald, collapse." Much of this has now been transmuted into the
Dalkey blurb
for the novel, which comes out in two weeks, almost exactly two years after it was written.
September 1st 2008
Fake de rue
This entry was a dialogue with Marxy, who'd suggested that the grassroots narrative of street photography is something of an illusion, because when you look at the occupations of people shown in street style features you find they're often fashion professionals. I partly agree, but say that it's a beautiful illusion.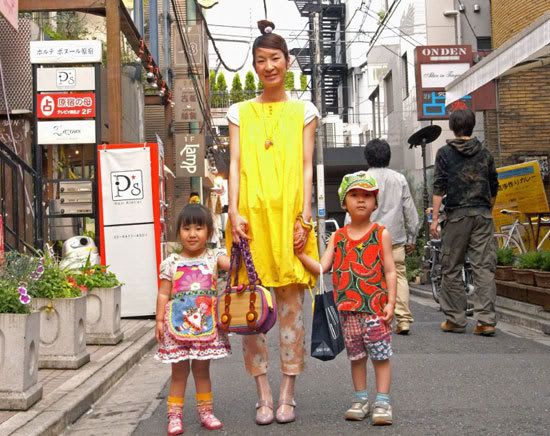 Looking at MiLK magazine's kids' streetsnap feature
Look de Rue
(still going strong) I say -- in a theme which relates to
yesterday's entry
about Tavi -- "the adorable thing about Look de Rue is that the captions present the kids as tiny, fully-formed individuals, masters of their own destiny." While I
don't
believe kids have this kind of agency, I think it's nice to believe they do. Their outfits, I conclude, might alternatively be the expression of a collectivity based on love. The same attitude applied to Tavi would say that it doesn't matter whether she's a "sock puppet" and has parents or other svengalis guiding her behind the scenes, so long as the motivating force is love.