This is a great weekend for lovers of visually-oriented and self-published books in Berlin; there's tons going on. Today I'm going to list the most interesting Berlin book events, then give you a run-down of what I'm up to in Europe (puppet shows, Brel tributes, unreliable tours, panel talks, concerts and so on) for the rest of the year.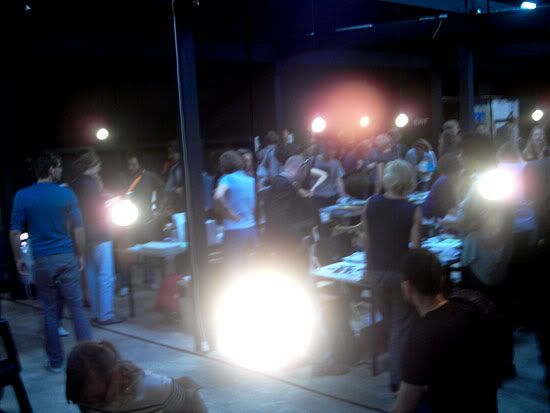 Okay, first, we have
Miss Read
, an event up in the attic of Kunst-Werke in which international publishers are showing their art books. Hisae and I went to the opening last night. The most interesting thing I saw was Simon Morris'
re-jigged and jumbled edition
of the Penguin edition of Freud's Interpretation of Dreams; the artist scrambled the book with a computer program designed by his wife. The result is full of expectedly unexpected double entendres, gobbledygook poetry, and spooky resonances.
Then, from midday to midnight today at Motto we have
Motto Berlin's One-Day Self-Publishing Fair
, which showcases self-published zines and books made and distributed by artists.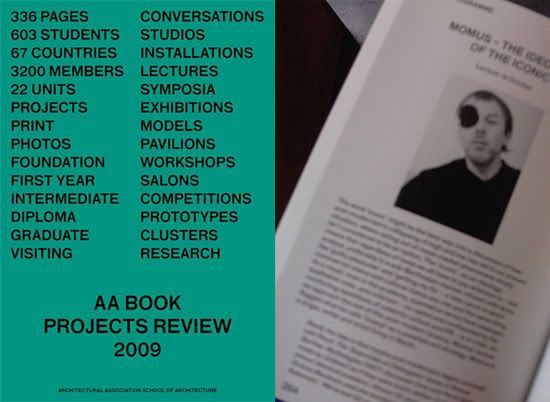 Tonight at
Pro qm
at 8.30 there's a talk by Zak Kyes entitled Investigations into Graphic Design and Other Forms of Publicity. Zak of course designed the
Book of Scotlands
jacket; he's also designed the
AA Book Projects Review 2009
, which contains an account of my lecture on
pop, populism, unpop and apoptosis
, The Ideology of the Iconic.
On the subject of Pro qm, it was while interviewing them for the next edition of
032c magazine
that I learned about the new
Walther Konig art and theory store
at Burgstraße 27. Although it will never replace Pro qm in our hearts, this is a pretty amazing art bookstore; after I
interviewed him for Art in America
nearby, Michael Portnoy spent four hours browsing in there.
Then Sunday sees a pretty impressive series of panel talks at
Kunst-Werke
:
3 pm: Stuart Bailey (
Dexter Sinister
)
4 pm: Antonia Hirsch: "Letters from the West Coast"
5 pm: Axel John Wieder: "Publishing activism" (Axel John Wieder is one of the people running Pro qm)
6 pm: Jonathan Monk: "Beginning/Middle/End etc."
Finally, a quick round-up of Momus appearances over the next couple of months (I'm often reproached for not giving people enough notice of these things):
11th September
Momus concert at
Kikker Theater
in Utrecht, Netherlands.
16th September
Recording Angels: Audio Poverty
An event organised by Ekkehard Ehlers at Haus der Kulturen der Welt.
At 8pm I'll be part of a panel discussion focusing on global archives and the ethics of listening. At 10pm I'll perform a set of my embarrassing teenage compositions (a reconstructed archive). Both events are free.
17th September
With sonic background by radiophonic duo Radio On and violinist Nick Reddel, I'll stage readings from The Book of Jokes in the form of a puppet show at
Staalplaat Working Space
, Berlin. The novel is still on
advance order
on UK Amazon, but is now actually shipping on
US Amazon
; the first copy arrived yesterday (first accredited reader: Mr Philip Kret of Boston).
19th September
Momus live in concert at
La Pequeña Bety
, Madrid, Spain.
23rd September
A reading in French of Le Livre des Blagues (published by La Volte on October 15th) in the form of a puppet show
La Société de Curiosités
9 Cité des Trois Bornes Ville : Paris 75011
8.30pm
Reservations: lasocietedecuriosites@gmail.com
10th October
Momus appears as The Unreliable Tour Guide during the Nuit des Musées at
MUDAM
, Luxembourg.
22nd October
Momus performs three songs (in new translations) by Jacques Brel during
Carousel: The Songs of Jacques Brel
at the Barbican theatre, London.
23rd October
Momus in Carousel: The Songs of Jacques Brel at the
Warwick Arts Centre
.
24th October
Momus in concert at
BBMix Festival
, Paris.
18th November
Momus in an experimental improvised concert at
Staalplaat Working Space
with Seiji Morimoto and Tomoko Miyata.
Phew!