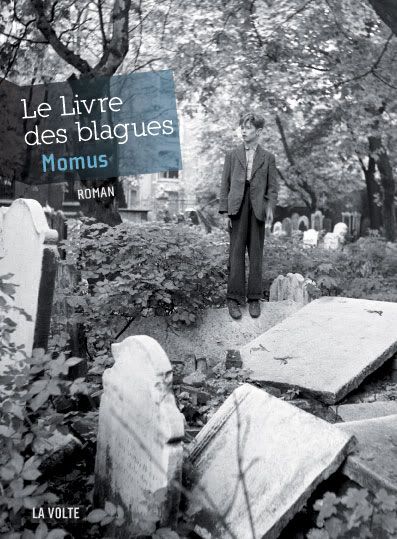 Here—
en exclusivité!
—is the first glimpse of the finished cover of the french edition of The Book of Jokes, Le Livre des blagues, due from La Volte on 8th October (if you believe
Amazon France
) or 15th October (
La Volte
themselves). The image is by photographer
Izis
, and it's one I like very much.
I first saw this photo in an old copy of Studio Voice magazine I happened to be leafing through in
Floor Café
in Kichijioji, Tokyo, in January 2006. I snapped a digital picture of it, along with the copyright information. When it came to suggesting covers for the french edition of The Book of Jokes, I submitted a mock-up: this photo with some Helvetica light dropped over it. By amazing co-incidence, it turned out that Xavier Belrose—the man who first commissioned me to write a novel, back in 2005 (although back then it was going to be called Lives of the Composers and be a sort of absurdist musical encyclopedia accompanied by a CD)—had put together a book of Izis photographs for another publisher and had an excellent relationship with Izis' son, so getting the rights to the image was fairly easy. The only stipulation was that we shouldn't crop the original composition (as Studio Voice—Amaterasu forgive them and
rest their souls
!—actually had). The layout and design is by Stéphanie Aparicio who—it turns out, in another co-incidence—used to work in Paris alongside my ex-wife.
Something rather bizarre occurred last night as I prepared this entry. I stumbled across a YouTube video of a man wearing what looks like a Franz Kafka mask, reading a particularly salty and blasphemous joke, in french, from chapter 27 of my novel!
Sacre bleu!
He reads, obviously, much better than
I do
, and the room he's sitting in is an elegant white space with high vaulted roof beams and floor-to-ceiling bookshelves. Here, have a look:
Now, I have a theory that this
might
be the man who commissioned the book. It certainly looks like his ears. But—I swear!—I've had no word from the publishers about this. I did genuinely find it by chance, and am posting it here as a curiosity.
La Volte now has a
Facebook page
about Le Livre des blagues. The blurb says:
"Here's a literary object which could be a sort of freakshow, a book in which monstrosity becomes law, while beauty and ugliness tussle out of control. It's naive, totally raw and cruel. The Book of Jokes is hard and violent like A Clockwork Orange, stunning and prolific like The Arabian Nights. Realistic to excess—to the point of de-realisation, you could say. From a glass house to a prison—where violent fathers and words multiply like maladies—The Murderer, The Molester and the Narrator deconstruct the real. Or the world. Or people. How? By telling jokes. By living jokes. By being jokes. We joke about everything, but isn't it jokes, isn't it low culture which mirrors us back in the worst and truest way?
"Here, jokes become tales. Very current tales. Bad jokes are the tales we deserve. The 14th century had The Decameron, we have The Book of Jokes. Momus was the greek god of mockery. His words are painful, but they hit home. He writes what can only be spoken, blurted during break time by 9 year-olds who think or know that the only important thing is to fuck cows and bugger nuns. Or bugger cows and fuck nuns.
"Watch out! Our collective unconscious lolls in this nightmarish book. A forbidden book, one it's wiser to hold at arm's length. Can a book and its reader be each other's uncles?"
I like this blurb, though my own points of orientation for the novel would be Alice in Wonderland, Monty Python and
Sir Henry at Rawlinson End
rather than A Clockwork Orange, The Arabian Nights and The Decameron. But it's definitely a book you should keep at arm's length.