I only have one digital magazine subscription (to UK music magazine
The Wire
) but I find reading mags off my big bright iMac screen pretty much as good as "the real thing". Sure, there's a certain clumsiness to the navigation, but there are benefits -- having the chance to grab a perfect screenshot of any image, for instance -- that paper can't compete with. And, when you can slip an iPhone or iPod Touch into your pocket, paper's portability is no longer the unique asset it once was. I've been known to read my digital copy of The Wire in the bath on my Touch. (No, it hasn't fallen into the water. No, I don't get shocked. Yes, it still works.)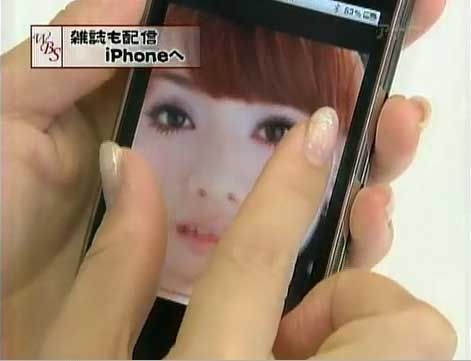 Now, Japan is at the forefront of digital distribution; manga and books in digital format have pushed domestic spend on these products to 73 billion yen a year. Japanese commuters are far more likely to be on trains than in cars, using their cellphones to access the internet. Magazines have been slower to come to mobile platforms. Now, though, they're arriving, thanks in part to the scalability of the iPhone's touch screen.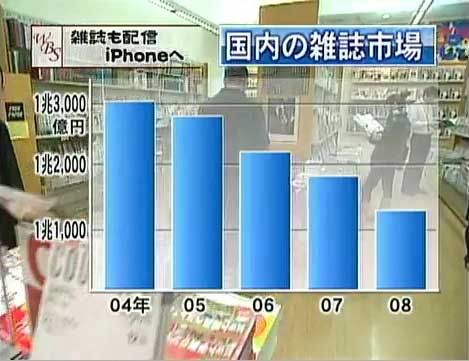 Hoping to arrest the year-on-year decline of magazine sales you can see in the chart above, advertising company Dentsu is just about to launch a new service called
Magastore
in Japan. Due "at the end of the summer", it may be going live as soon as next week. Magastore is an iPhone app which will cost 115 yen (there'll also be a free trial version), with magazine content ranging from 115 to 600 yen, depending on the magazine. You can download whole magazines, read them later (even when you're offline) and store them on a digital bookshelf. Dentsu
say
they have 20 publishers signed up and will have 30 by the end of the year. It'll be an iPhone service initially, then spread to other phone platforms.
One glimpse of what Magastore will be like when it launches is available in the form of another iPhone app,
Zasshi
(
zasshi
means "magazine" in Japanese). Now, Zasshi just allows you to preview pages (up to eleven, which you can flip through in their reader with a satisfying "schloop" that sounds more like wrapping paper than a magazine page); if you want the whole magazine, you have to order it as a physical object that gets delivered through the mail.
Zasshi gives quite generous previews of some quite interesting magazines:
Street
,
Tune
and
FRUiTS
, for instance, show 11 pages of their signature straight-up fashion shots (though of course they're facing stiff competition these days from street fashion blogs). There's rather less to see (just the contents page, in fact) of
Ku:nel
.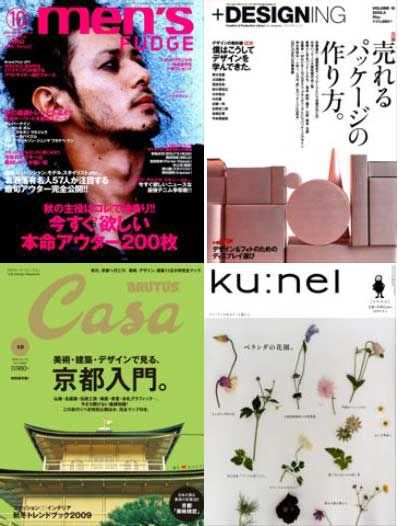 My personal selection of mags to watch on Zasshi also includes
Brutus
,
Men's Fudge
(no, it's
not
about "fudge packing", at least not explicitly),
IDEA
and
Designing
. On the downside, there's no Ecocolo on Zasshi, no Quotation, no Paper Sky, no Foil, no Spoon, no Ryuko Tsushin.
The sad thing is that, if digital editions really can save magazines from their slippery decline, it's too late for a whole swatch of them: titles like Studio Voice, Relax, Esquire, Cawaii, Koukoku Hihyou and Planted dematerialized before they got a chance to... well, to dematerialize.