One of the pleasures of being in Paris last week was catching up with musician
Kumi Okamoto
, and being given a copy of her long-delayed, excellent debut Kumisolo album, My Love For You Is A Cheap Pop Song, which features a song we co-wrote,
Confiance Absolue
(hear it on LastFM via that link).
Kumi was looking fresh and well; after a period with long hair, she's reverted to the bobbed hairstyle she had when I first met her on a beach in Kamakura in 2001. After more than five years in a tiny studio apartment in the 13th arrondissement, she's moved up to Pigalle, and on the day I met her she was dealing, in her somewhat Amelie-like way, with some crooks who'd convinced her she needed her chimney swept and that her landlord would re-imburse her (neither was in fact the case).
But Kumi will be the last Japanese to be hospitalised with a case of
Paris Syndrome
. She may project naivete and cuteness, but she's tough, determined and realistic too, the kind of person who gets what she wants. After living there for several years, she knows what Paris is like, just as
she knows what boys like
.
The
Kumisolo album
(released officially on October 15th, but already available
in digital form
) has a sleeve by Medhi "Shobo Shobo" Hercberg (a member of extraordinary hasidim house supergroup
Moishe Moishe Moishele
) and begins -- in retro-Trattoria style -- with a Disneyesque fanfare, and an American voice saying: "Ladies and gentlemen, boys and girls, this is Jonah from Yacht proudly presenting the first album from Kumisolo, a festival pageant of good time magic and imagination in thousands of sparkling lights..."
That's a direct allusion, of course, to Shibuya-Kei, to Cornelius and Kahimi Karie and the mid-90s Japanese pop scene (Cornelius' 69/96 album, for instance, has Kahimi singing "Welcome to this new tape, it's gonna blow you away..." at the start). Kumi's delayed record -- it took so long to come out that her label, Active Suspension, almost disappeared in the interim, and there almost wasn't any music industry left to deliver it -- is like the last and best Shibuya-kei album (the clearest, lightest, and most purely pop), but also feels like one of the last releases of what became my own personal favourite music scene immediately after it, the Paris noughties electronic pop scene centred on Active Suspension and Clapping Music and featuring talents like o.lamm, Domotic, Shinsei, Davide Ballula and Hypo.
I was chatting with Olivier Lamm last week about my sense of disappointment that this scene hadn't crossed over and become as mainstream as it deserved to be; I remember upbraiding the manager of Other Music in New York, for instance, for stocking Phoenix and Air records but not Hypo and o.lamm records. But whereas Phoenix and Air are now huge -- the Jean-Michel Jarres of our time -- these much more interesting musicians are still forced to operate almost completely under the radar, putting out records when they can, and working day jobs on the side (Kumi works in the fashion industry now, after serving for several years in a bakery). It's enough to give you a bad case of Paris Syndrome, seeing how things like that play out. But these artists will have their day; the indefatigable Hypo is preparing a new record.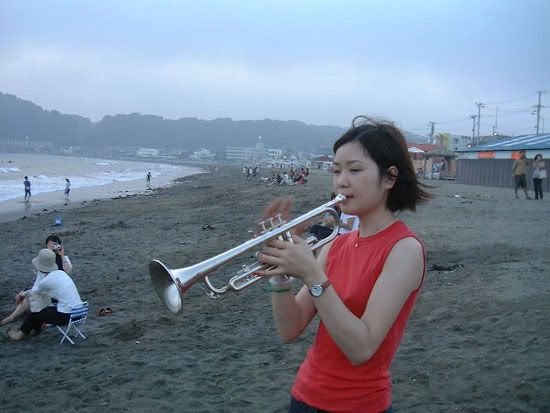 My Brussels friend Pascalino recently asked me for a text for a Kawai Pop fanzine he was putting together, a sort of Festschrift for Kumi. I wrote:
"Somewhere I have photos of a young Kumi Okamoto playing trumpet on the beach at Kamakura. I'd trekked out to the Pacific resort, with its temples and surfers and mysterious hills, to see her band Crazy Curl playing in a temporary marquee erected on the beach. She'd sent me her debut EP, and I'd really liked the breezy acoustic pop music with its explicit references to él Records and Shibuya-kei. My girlfriend at the time came along grumpily; I think Kumi's short skirts and ingenue manner made her "dangerous".
"The next time I saw Kumi she was in Europe, in Paris, hanging out with a totally different crowd. She'd shaken off the retro-90s references and was now making experimental music with a group of musicians around the labels Clapping Music and Active Suspension. If the él and Trattoria labels had inspired her to make backward-looking pastiche music in Japan, this new crowd was edging Kumi towards something experimental and futuristic, some intriguing mixture of girlpop, microsound and glitch folk. She moved into the old Chinatown apartment of one of my best friends, Florence Manlik, and financed herself by working in a bakery and various clothes shops.
"Kumi's music evolved through the decade, and the experiments led her (and collaborators like o.lamm) back full circle to a pure pop sound. Kumi may have become more daring and more fashionable in her Paris years, but she's still adorable, still an ingenue, and still highly dangerous."