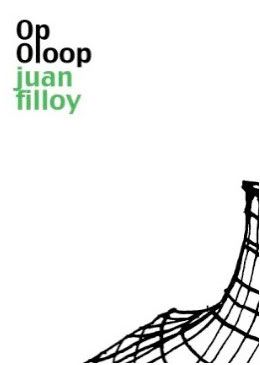 This is one of those ego-surfing autopilot entries where I just tell you that I've written a little piece about
ProQM bookstore
in the new edition of
032c magazine
, that I wrote about the logobi dance craze from Cote D'Ivoire for my next Playground column, and that Dr David Woodard has filled
two pages
in the new edition of Spike, the Viennese art magazine, with a review of my Book of Jokes, which is also reviewed
in the LA Times
(and the
Chicago Tribune
, if you prefer to read your reviews there).
Or I might mention the curiously interesting (to me, anyway) fact that the book most frequently basketed on Amazon in tandem with
my novel
is
Op Oloop
, Argentinian writer Juan Filloy's 1934 novel about a Finnish statistician, and a book Freud apparently liked so much that he sent the author a hand-written letter of congratulation.
I like how different reviews have different fields of comparison and reference, though there are overlaps. The book The Book of Jokes has most been compared to so far, across all reviews, is The Naked Lunch by William Burroughs. The LA Times review mentions Robert Coover and John Barth, Joyce and the Arabian Nights. In an interestingly eccentric review on
The Endless Bookshelf
, Henry Wessells (reviewing my recent music concerts on the Eastern Seaboard as much as the book) notes in my work "a fruitful list of dualities and juxtapositions : want/need, make/destroy, Pygmalion/Moreau, impotent/omnipotent, lament/disinfect, situationist lap-dogs/Beowulf, Valhalla/virus (Wagner/Burroughs) ; the range of associations was broad : from Edmund Wilson to Noh theater, from Beardsley and Wilde and decadence to the machinery of academia (" bad but intimate poetry ") and vaudevillean nostalgia."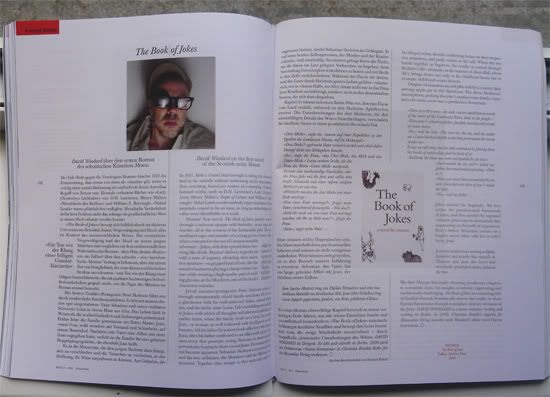 Meanwhile, in the
Spike article
, Dr Woodard manages to make the novel sound Firbankian without actually mentioning
Firbank
, which is quite a feat. Authors he does mention in his review: Lawrence, Miller, Burroughs and, indirectly, Woody Allen and Nietzsche.
Wessells has a theory that my novel reads best when seen in a tradition of "Celtic modes of resistance": "It is not implausible to connect Currie with a Scots literary heritage that reaches from Robert Burns to Ian Rankin, by turns bawdy and visceral, dour and outrageous, and always conscious of being in confrontation with the English respectable other (John Buchan was so driven by the wish to assimilate with the establishment of domination that he must be excluded : contrast Richard Hannay and Dominick Medina in The Three Hostages ). There are analogous strains of Irish, Welsh, and Catholic contrariness (Joyce, Thomas, and Chesterton, to name three authors). It is also not unreasonable to note here that these Celtic modes of resistance form the most interesting portion of literature in English."
He begins this essay on "the function of Celtic humor" with a quote from Adrian Dannatt which delineates some characteristics of the sub-genre: "verbal wit and linguistic dexterity in whatever tongue it might be expressed, a cunning born of a long history of being in the minority, the marginal, maverick even". This is almost a colonial studies reading of my book (I should say "books", because it neatly links
The Book of Scotlands
and The Book of Jokes), and I rather like it. I've spent so long othering others that it's rather refreshing to be seen as some kind of other myself. Perhaps I should daub my face with some woad?