I was particularly interested in the
Derek Ridgers pictures
The Observer ran yesterday documenting the New Romantic scene at the Blitz Club. Ridgers once photographed me for the NME (and his girlfriend was the infamous Betty Page, who wrote the NME's backlashing zero-out-of-ten review of my Hippopotamomus album). Here, his pictures accompany an interesting article by David Johnson,
Blitz Kids and the New Romantics
, which dates the style movement very specifically and, I think, accurately.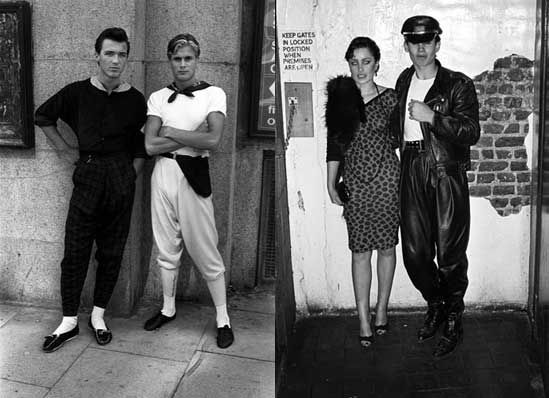 "If we recast the 80s as a subcultural timeline," ponders Johnson, "the decade actually spanned six years. They began in June 1978 when David Bowie's world tour hit the UK and ended with Do They Know It's Christmas? in December 1984, when Band Aid confirmed rival groups who had risen on the same wave as a new pop establishment."
Now, Johnson is careful to disentangle the New Romantics from Thatcherism, which he says wasn't really invented until Thatcher's second term. But there is something about the New Romantic style that feels... right-ish, in a political sense. Looking at Ridgers' pictures, one sees the elements: heightened, theatricalised punk, proto-Goth, Blade Runner-esque sci-fi dystopia, World War II (apparently there were pictures of Churchill on the wall at the Blitz Club, a shabby basement wine bar), a dialectic between austerity and opulence, and a style I'd triangulate with the style specification:
pierrot / matelot / aristo / gigolo / fascista.
Locating the start of New Romanticism in Bowie's 1978 tour is wise, because a lot of this style did originate there. Those of us who attended those concerts (I caught the Glasgow Apollo gig) were given a tabloid-style publication entitled ISOLAR, consisting mainly of full-page photos of Bowie in production stills from the Just A Gigolo film and examples of the painting and drawing he'd done in Berlin. In Just A Gigolo Bowie plays a Prussian aristocrat. On stage -- as this Japanese video attests -- Bowie was in role as a blond matelot or sailor, a look which you can see directly copied by Spandau Ballet in Derek Ridgers' photo. Later, he would pose as a pierrot and recruit Blitz kids (paying them just fifty quid each) to appear in his Ashes to Ashes video. The pierrot, matelot, aristo and gigolo were all Bowie roles. Even the fascista wasn't outside his repertoire; Bowie had, in 1976, proposed himself as a possible dictator for Britain, praised Hitler's stagecraft, and professed a fascination with the links between the Nazis and Arthurian legend.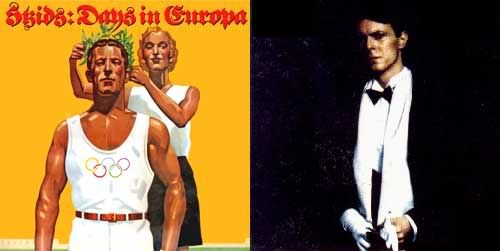 For someone of a leftish disposition, New Romantic style could be somewhat disturbing. Scottish band The Skids issued their 1979 album
Days in Europa
in a sleeve which seemed to celebrate the 1936 Berlin Summer Olympics, generally thought to have whitewashed Hitler's regime and its Aryans-only sporting policies. The Skids' label Virgin later re-released the album with a
less controversial
sleeve.
My
Book of Scotlands
contains a reference to this anxiety. Scotland 137 reads: "When David Bowie was calling himself the "Führerling" in his 1970s interviews, most people took the declaration that he would make a great fascist leader of Britain with a pinch of salt, or some other white powder. But Scotland took him seriously, and by 1980 he was firmly established in power in our land. The main result, as I recall, is that we were all forced to wear baggy "Bowie trousers," emphasise our cheekbones, and tease our hair into New Romantic styles featuring blond highlights. Following the release of his disappointing Tonight album, however, Bowie's Gleneagles HQ was the target of a swift and decisive military coup. Since then, singers have been explicitly forbidden to run countries, and trousers tend to be tighter."
The reason that even lefties like me were willing to give Bowie (and, to a lesser extent, the New Romantics who picked up on his late 70s style, making it the style of the early 80s) the benefit of the doubt is that between the coke-spun provocations of 1976 (the Victoria station "salute" and so on) and this articulate interview he gave Alan Yentob in 1978 -- still my favourite Bowie interview ever -- the Führerling of New Romanticism seemed to swing significantly leftwards in his attitudes. He later attributed this to sane friends in Kreuzberg taking him aside and challenging his views; whatever the reason, on his 1979 and 1980 albums Bowie was singing responsibly about how "to be insulted by these fascists is so degrading", championing immigrants and refugees, and decrying domestic violence. The intelligent, charming and disarming man in the Yentob interview displaced the alarming fascist apologist.
Then again, Bowie would never again inspire an entire movement. Perhaps there are more connections between right-wing populism and popularity -- and between fashion and fascism -- than we care to admit.