This is Kaori, and this is Kat.
I first met Kaori Mitsushima at a Tokyo concert I gave in 2004. She was working at the time at Onsa Records in the Roppongi ThinkZone, and that's where she first met
Mika Johnson
, the tall, talented and handsome Finnish-American boy who would later become her husband. At my gig she told me she was moving to Berlin, and gave me a homeburn CD of her music, which was like a Japanese girl's take on Harry Partch. When she arrived in Berlin, I asked Kaori to join me in making incidental music for a production of Martin Crimp's play
Attempts on her Life
. Later, Hisae and I took over Mika and Kaori's flat in Friedrichshain and lived there for a year, while they decamped to Prague. There they started making films, the latest of which is in the early stages of production. It's called
Amerika: A Notebook in Three Parts
, and it tells the story of Kat, a seductive young Japanese club hostess who treks across the States following a postcard trail left by her father, who disappeared when she was young. Kat is played in the film by Kaori. The soundtrack will be by
Colleen
.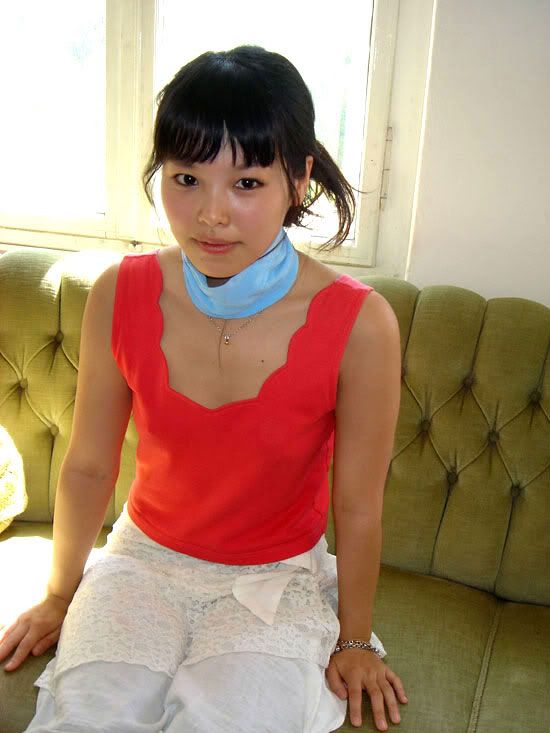 I asked Hank Williams how lonely does it get.
Mika and Kaori anticipate that it will cost $775,000 to make their film the way they want to make it. They're currently trying to raise the money themselves, and are living at Oberlin College in Ohio, Mika's old
alma mater
, making use of the resources of the film department there. As for the film's budget, well, Mika and Kaori are hoping it will come from Yoko Ono. If not directly -- Yoko is, after all, rather rich -- then from private donors impressed by an endorsement from Yoko Ono. To this end, they've launched a blog called
Amerika Wants Yoko
, created a
set of postcards to Yoko Ono
, made a short film in which Kaori plays Kat (you can see it on the blog), written an open letter to Ono (Japanese version
here
), started a
dedicated Twitter feed
, made bags and t-shirts, solicited donations, and begun an online petition to get Yoko's attention. Their campaign has attracted some press coverage (
Art Couple Obsesses Over Yoko Ono
) but so far Yoko Ono has remained silent.
Imagine Peace.
Yoko Ono has remained silent, that is, about Mika and Kaori's film. In other respects, the 76 year-old is making quite a lot of noise at the moment. She's just released a new Plastic Ono Band album entitled Between My Head and the Sky. You can hear clips
here
. Sean Lennon is involved, and Cornelius has contributed to the production, which is quite a career jump for him; Cornelius' big dream was to produce Michael Jackson. That clearly won't happen now, but Yoko Ono is a big consolation. Yoko's voice is still surprisingly youthful, and
the record
sounds quite good to me. I'm a fan; I have the Yoko box set.
You keep a-knockin'.
Now, I love Mika and Kaori dearly, and I know they'll create a
great
film. But something about their Yoko Ono campaign disturbs me slightly. It's not something I would do myself. It seems a bit like doorstepping, or shaming, or pressurizing, or challenging Yoko Ono. There's really no reason why Ono should finance this film, or endorse it. It seems that if she were going to respond, she would have done
so by now. Then again, having read biographies of John Lennon, I get the impression that the young Yoko Ono might have acted exactly the same way; she strikes me as a determined, dogged, ambitious and relentless person. Even reviving the Plastic Ono Band name (which I'm sure some purists think should only be for records John Lennon was involved in) shows that side of her.
White courtesy telephone please.
What's more, I've heard of Yoko encouraging young artists to get in touch with her; when she had a show in New York a few years ago, Ono installed a white telephone in one room, a sort of hotline to Yoko. She'd call this phone from time to time and talk to visitors to the exhibition. My friends Travis and
Phiiliip
happened to be visiting when the phone rang, and both ended up speaking to her. Ono asked Travis what he did, and he said he
wrote novels
. "Oh," said Ono, "you should send me a copy." When Travis asked where he should send it, Yoko said: "You know the address. The Dakota Building." He duly sent a copy, but never heard anything back.